Sylvain Loosli Talks Global Poker Masters, 2013 WSOP Main Event Final Table, and More
Julien Tissot

Giovanni Angioni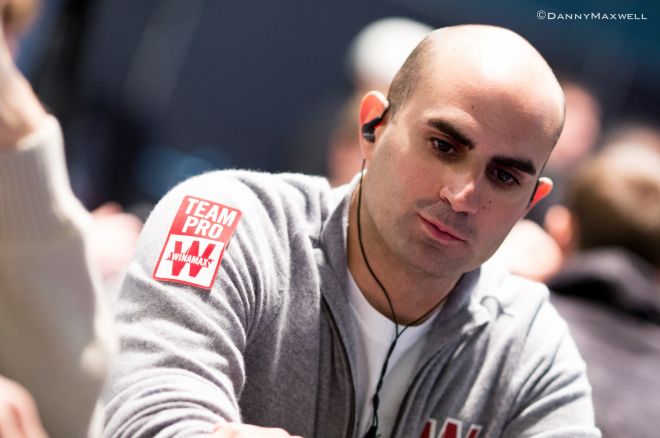 Back in 2013, France's Sylvain Loosli made a big splash in the live poker world thanks to a fourth-place finish in the World Series of Poker Main Event for $2,792,533.
Since then, Loosli became a member of Team Winamax together with the likes of Davidi Kitai, Gaëlle Baumann, Michel Abecassis, and Patrick Bruel, and kept putting together a remarkable series of results in both online and live poker.
A regular in high-stakes cash games on Winamax, Loosli managed to cash in nine different live events during 2014, including two at the WSOP and two main events on the European Poker Tour. Thanks to his solid record of results, Loosli has earned himself a spot in France's dream team at the upcoming Global Poker Masters, the competition organized by the Global Poker Index that will take place in Malta March 21-22.
To understand his expectations about the event, PokerNews France's Julien Tissot met with Loosli to speak about the Global Poker Masters and about how he invested the monster cash prize he won at the WSOP.
PokerNews France: You will soon be in Malta to represent France at the first edition of the Global Poker Masters. What's your opinion about the event?
I think it's a beautiful project. The event has been discussed a lot on many different forums and on social networks, and I have seen that some expressed their love for it while others seemed less enthusiastic. As for myself, I think it's a good idea.
I am sure that Alexandre Dreyfus (the organizer of the event and CEO of the GPI), as a businessman, has quite clear how he can benefit from it. Regardless, I think this is a good thing for poker — and I can tell you that I am very excited to be a part of it. There will be the cream of the poker world and there will be big media coverage of the event. I am proud to have the opportunity to wear France's colors there.
Can you tell us something more about the other members of the Team France at the Masters?
Erwann Pécheux and Paul-François Tedeschi are two very brilliant online players who have earned a lot of experience in the past few years.
As for Bertrand "ElkY" Grospellier, what more can I say about him? He's a legend in poker. Although some are asking questions about his game, I think he's still a very good player and — what's perhaps even more important — he is also a humble guy.
Finally, Patrick Bruel is the surprise. I think he will be very motivated to do well in the tournament and he is an excellent player and name to promote the event.
What is your take on the whole ranking system introduced by the GPI? Is that anything you take into consideration when you play
Yes, I'm really interested in this ranking. Right now, I am working hard to get into the world's top 100 and to become the number one player in France, but Benjamin Pollak is in top form at the moment and it will be hard to pass him there. To me, it looks like the GPI's ranking system is very well-structured and it has everything it needs to be a true reference. For sure, it's an extra motivation when I play!
Let's talk about the EPT's decision to take Deauville out of the schedule in Season 12. What do you think about that?
We have seen a drop in the attendance at the last EPT Deauville Main Event, but, nevertheless, players reacted well to the side events, and this is a good sign for poker in France. Of course, I am sad that we will not have an EPT in France anymore and I think it's a bit of a shame. At the same time, Deauville in winter is quite sad.
After your fourth-place finish at the WSOP in 2013, you walked home with an almost $2,700,000 prize. Did you do anything crazy with all that money?
No, let's say that I tried to be reasonable and to keep my feet on the ground. I bought myself a nice watch, but besides that I have made some investments and then I played in high roller events.
Competition is in my blood and I find those tournaments very exciting, especially as you get to play against the best players in the world. Also, let's not forget that there is good money to be won in these tournaments thanks to the businessmen who join the field.
Right now, I feel that $10,000 and $25,000 buy-in events are definitely within my bankroll. Beyond that, I'm not ready to sit in super high roller events with for $50,000 or $100,000.
Thinking back to that final table in 2013, what do you remember the most? Do you have any regret about the way it ended?
It was a great experience and I am quite happy that I had the chance to live it. My only disappointment is that I was so close to the title — it would been my best achievement ever. I think I was probably a little too careful, although I was really well prepared. Yet, once you are there, you do feel the pressure. Everyone at the table was stressed.
What players do you look up to?
In 2014, I often played with Ole Schemion and I think he is an excellent player. He has an atypical aggressive style that I find very interesting to analyze. The analysis of his poker strategy allowed me to make some progresses in the game.
What are your plans for the months to come?
I am happy to have played the Winamax Poker Tour in Paris earlier this month because I found it a great tournament. Later in March, I will go to Malta for the Global Poker Masters and for the EPT. Then, I plan to head to Monaco for the EPT Grand Final, to Marrakech for the Sismix in June and, obviously, I look forward to playing the WSOP in Las Vegas.
For news, updates, and more follow PokerNews on Twitter and Facebook.