Pushing for EPT Player of the Year and Spending How He Wants, Meet Giuliano Bendinelli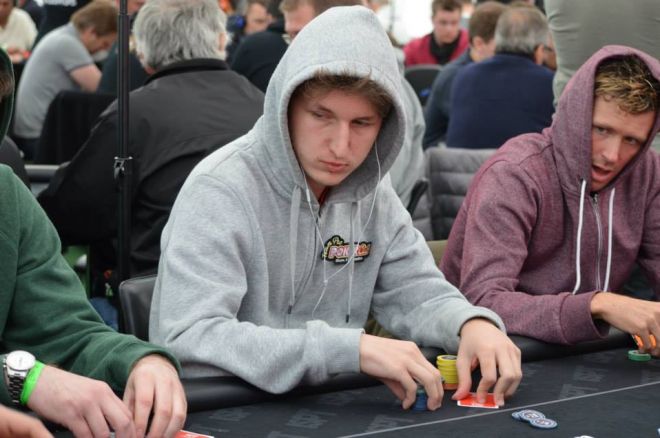 In less than a month, some of the world's best poker players will land in Malta to take part in the first-ever Global Poker Masters, one of the Global Poker Index's attempt to "sportily" the game through the introduction of a true world cup of poker.
Representatives from the US, Canada, Germany, France, Italy, Ukraine, UK, and Russia will head to the Hilton Hotel in Portomaso, St. Julian's, to engage in a battle that is finally supposed to answer a historical question: which country is the best in poker?
To bring the title home, Italy will bring to the Masters a deadly line-up composed by skilled poker pros such as Mustapha Kanit, Dario Sammartino, Andrea Dato, and Giuliano Bendinelli, a 24-year-old London-based young gun that we suggested you to keep an eye on during the 2014 World Series of Poker here on PokerNews.
To know more about Italy's chances to win the event, PokerNews sat down with Bendinelli and discussed the meaning of the Global Poker Masters and his mission to win the European Poker Tour (EPT) Season 11 Player of the Year (POY) race.
PokerNews: Since you publicly stated that you want to win the POY race for EPT Season 11, you have managed to climb to the second spot on the leaderboard and to be only 95.31 points from the leader. How important is for you to reach this goal?
Bendinelli: On a scale of 1 to 100, I would say 1,000. I have often said that I play poker more for the glory than for the money, and there's nothing more valuable to me than this.
I don't want to sound too arrogant, so I would prefer not to discuss the chances that I think I might have to come out on top of the leaderboard and I don't want to say that I believe to be the favorite for the title, but let me just say that I think I have some solid chances to make it.
I am only a few points away from the Dzmitry Urbanovich, and there are enough events left for me to get even closer, pass him, sit atop the leaderboard, and win the title.
I believe this means that we will see you playing a lot of events during the upcoming EPT Malta and the EPT Grand Final in Monte Carlo. Is this your plan?
You are absolutely correct. Should this mean that I will have to multi-table live, I plan to play as much as I can. I am ready to play any tournament I find, even the €500 buy-in side events that I usually skip. Right now, I need to put together as many points as I can to win that leaderboard.
Usually, I tend to be an aggressive player. I may cash less often than many other players, but when I make it I usually run pretty deep. However, since my goal is now to win the Season 11 POY leaderboard, I think I need to adjust my strategy to my new objective as I need to focus on getting more points.
This means that, especially around the bubble, I will have to be a little more careful than usual and remember that I play for the points more than for the money.
You know, a goal like this one can really change the way you play at the table, and I have seen that during the High Roller at the French Poker Series in Deauville. When we got close to the bubble, I found myself in a bunch of spots where I usually would be quite aggressive and push all my chips in the middle. Just, this time, I decide to play in a more conservative way as I knew that this would have helped me to go deeper and put together some useful points.
Unfortunately, that did not pay as good as I wanted. I ended the tournament in 47th position and Urbanovich closed it in 19th position and earned more points than I did. Yet, I am not worried, there is time. I plan to play some 12-13 events both in Malta and Monte Carlo, and this means that there's plenty of time to get to the first position, lose the leadership, and then win it back again. Let's see what happens.
What is sure, as I wrote some time ago on my personal Facebook page, is that should I win the POY title, I am ready to organize a memorable party right in Monte Carlo. You will see.
Party aside, does the POY really mean this much to you? Or is it just that since you don't have an EPT main event title, you have found something different to focus on?
Personally, I believe that to win this title is much more important than to win a single EPT event. True, an EPT main event win would bring me some €600,000-€700,000 that would double my bankroll, but that's not as important as to come on top of something that is based off 100 tournaments, not just one.
To be completely honest with you, the pleasure to say "I won the EPT POY title in Season 11" would be much, much bigger than the one that comes from saying "I won the EPT Main Event in Deauville." In the end, that's only a single event.
Looking at leaderboards, your 2014 did not goo too bad either. You came fourth in the Global Poker Index's Italy Player of the Year race, right behind more known players like Max Pescatori, Salvatore Bonavena, and Rocco Palumbo. How does that feel?
I closed my 2014 in front of everyone, but three real champions like Mustapha Kanit, Dario Sammartino, and Andrea Dato. I can tell you that a result like this feels just great.
In the past, I often said that I considered myself one of the top five players in Italy. Before 2014, the numbers showed that I may have been right in online poker — right now, it seems that I was also right about live poker. This said, I hope I will finally manage to hit some very big win soon, as that would boost my bankroll and help me to play more €25,000 buy-in events. Up until now, I usually play events buy-ins up to €10,000.
The thing is, since I consider myself a very good player and I think I have some chances to make it even against the best players out there, I would like to grow my bankroll until the point I will feel comfortable to sit at €25,000 events because those are the ones that really make a difference and give you the opportunity to snap titles like becoming a super high roller champion. It's sad to say that, but if you don't sit in those games, you are totally cut out from a completely different level of the game.
Don't get me wrong, though, I am really happy about how things went last year, and I know that the three who finished 2014 in front of me deserved their results. Now, it's only up to me to work hard and do better than them in 2015.
[I]Speaking of Kanit, Sammartino, and Dato — later this month, you will be in Malta to join the first-ever Global Poker Masters. What do you think about the event?[I]
Well, that's another super-exciting event I look forward to. Some people compared the Global Poker Masters to the World Cup organized by PokerStars during the 2010 Poker Caribbean Adventure and won by the Italian team guided by Luca Pagano.
The truth is that the two events are completely different from each other. At that time, Pagano won the Cup with some players who qualified to the event from some online freeroll tournaments. At the Global Poker Masters, you will see 32 out of the top, let's say, 50 players in the world. It's something at a completely different level.
As for the chances we have to win the event, I don't have any problem to say that we have some. I want to be more aggressive than Sammartino and Dato, who believe that Italy is somewhere in between the third- and the fifth-strongest team in the competition. I think we are at least the third-strongest one.
I think Germany is ahead of us, and I see us right behind the German team together with Canada. Then comes the Team USA, mostly because Dan Colman has already said that he will not be in Malta to play. Everyone else is far behind us.
You said that you play poker for glory and not for money. Can you expand on this?
Competition is just inside me. It is everything for me and I can't do anything about it. I know that some people see the way I behave and think I am simply arrogant, but I think many fail to distinguish arrogance and someone's confidence in his skills and means. And yes, I am extremely competitive and self confident.
As for the glory, I believe that in 10 or 15 years — when I will probably be done with poker — I will look back at this great adventure in the game and I will not remember that on Jan. 12, 2013, I won €20,000 or that a week later I lost €5,000. I will remember that I (hopefully) won poker's World Cup or the EPT POY leaderboard in Season 11. It's not the money you win that you are going to remember, it's the trophies.
Sure, I am lucky since I come from a wealthy family and I have never had the urge to win incredible sums to afford to play poker, but I also think that this way I seek for recognition and glory is part of my character. I want to leave a mark in what I do, not just fatten my wallet.
In Italy, you are known for an expensive lifestyle — especially since you do not do much to hide the money you spend to spoil yourself off the felt. Somehow, your story reminds me of Faraz Jaka's — who said that it's very easy for players to lose touch with reality and now lives traveling the world with nothing more than a small suitcase. What do you think about that?
I don't want to be misunderstood here, but sometimes I have the impression that Jaka is just so rich that he can afford to try something and leave as if he wasn't. Far from me to judge him or anything, but I feel like he's just trying to see how it would be not to be as rich as he actually is.
Yet, it's true that it's extremely easy for a player to lose touch with reality. Even better, it's impossible not to. Italy's average salary is somewhere in between €1,200 and €1,500 and, well, that's the buy-in of totally uninteresting tournaments.
If you are used to spending tens or hundreds of thousands of Euros in buy-ins every month, what do you do when you go out? Do you go to McDonald's? When you play that much, you don't care if you spend €2,000 or €3,000 when you go out; if your session went well, it means you won much more than that. If it went bad, well, unfortunately that sum is not going to make any difference.
I know that some people criticize me for the money I spend on myself, but I think there's something they don't understand about me — and that's the way I value money. My point is: if I like something and I can afford it, I can have it. At the same time, if I have the money to afford something that I don't like too much, then I won't waste my money on it as it would feel immoral.
I don't care about watches and I am not a fashion freak, so I don't wear a Rolex even if I could, and I am completely fine to go out with a pair of sneakers. But I like nice hotels and good restaurants so, seeing that I can afford like that, what's wrong to spend some €200 or €300 every time I go out for dinner? If I have the money to do that, why shouldn't I?
I enjoy to spend money on the things I like, but I don't like to toss my money away. It's just that some people, sometimes, do not seem to understand this.
Image courtesy of Facebook
For news, updates, and more follow PokerNews on Twitter and Facebook.