Vegas NHL Franchise Name Announced; Negreanu Comments on His Role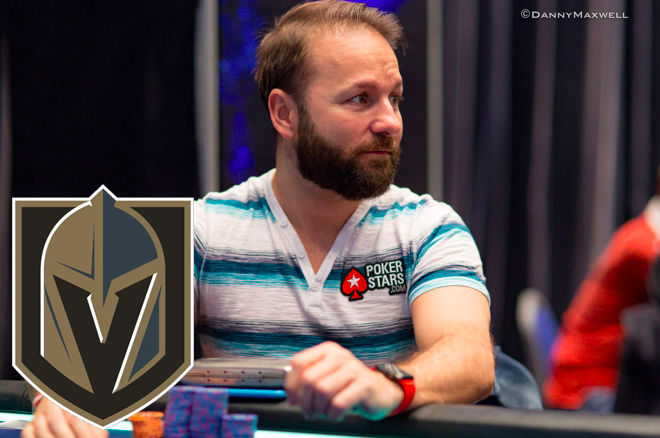 As the National Hockey League announced the name of its new Las Vegas franchise on Tuesday, the Golden Knights, certainly no one was happier than professional poker player and hockey nut Daniel Negreanu.
Sponsored by online poker site PokerStars, Negreanu is the most successful player in poker history with more than $32 million in tournament winnings, six World Series of Poker bracelets and two World Poker Tour titles.
Now a resident of Las Vegas, Negreanu grew up in Toronto and is a huge Maple Leafs fan. As a boy, he cried after losses and played street hockey until dark almost every day after school. "Kid Poker," his nickname in the card-playing world, even offers up his playoff wagers on his Twitter feed.
When team owner Bill Foley launched his efforts to land an NHL franchise in Sin City, Negreanu was a natural to help lead the charge – helping launch a ticket drive and promoting the team at every opportunity.
Initially, reports even had Negreanu as a potential minority investor in the team, which will play in the new T-Mobile Arena, which can seat 17,500 fans for hockey. The ticket effort eventually reached the group's goal of 10,000 season tickets and NHL commissioner Gary Bettman officially awarded the franchise to Sin City in June.
When the franchise begins play next season, Negreanu believes Vegas has one strength other cities may not have: a thriving tourism industry. Many hockey fans will schedule trips to coincide with their hometown team's road game in Vegas, he says, a quick trip for some gambling and hockey fun.
After the announcement, Negreanu was quick to tweet his excitement about the Golden Knights taking the ice.
PokerNews recently caught up with Negreanu at the PokerStars Festival in Atlantic City, where he was emceeing at the Chad Brown Memorial Charity tournament. He talked a bit about the franchise, the possibility of the Oakland Raiders NFL franchise relocating to Vegas and even about PokerStars' renewed efforts at live poker events in New Jersey.
Are you going to have any ownership in the new Las Vegas NHL team?
I was heavily involved with ticket sales and a group of 75 of us who were basically trying to prove to the NHL that hockey would work in Las Vegas. I helped to do that. As far as investing in the team, I'm just going to be a supporter, a fan.
I'm just going to be a supporter, a fan.

Have you already purchased seats?
I bought four seats for myself down low and I also bought 12 seats for kids that I'm mainly going to donate to a school called Cambeiro Elementary, which is a very underprivileged school. The kids are on assisted lunches and don't have a lot of opportunity. I thought it would be good at a grassroots level and they would enjoy the game.
What's the hockey vibe like in Las Vegas?
We did have the Wranglers, an ECHL team. And we do have a UNLV college team now, which is new, and they're doing quite well.
What do you think about the NFL's Oakland Raiders' interest in moving to Las Vegas and how that could affect the NHL team?
It seems like the NFL is also likely to come in and I'm a little nervous about that because I'm a hockey guy and I'm nervous about how much entertainment dollars families have to spend. Hockey needs a head start because football is already sort of ingrained in the culture in Las Vegas. Hockey's not, so I hope that they get a head start and people really fall in love with it before football comes here.
The festivals are designed to be more fun.

One last question about poker – can you talk about PokerStars' changes to its live events and efforts at bringing them back to the United States via Atlantic City?
There's a new model for how PokerStars is doing things. We have the festivals, which are going to be smaller buy-ins, to hit a wider range of people. And then of course we're going to have the championships for the high rollers. These include $100,000 buy in events and other events with qualifiers throughout the series.
So for this first event here in Atlantic City, the goal was just to get one off. Hopefully from this one we can start to grow, not just in Atlantic City, but across America. The festivals are designed to be more fun. As you can see, at this one we have a game room, we have all kinds of kooky tournaments on the schedule and things like that. These are not necessarily geared toward the high-end professional, but more the recreational player who just wants to have fun.
---
Sean Chaffin is a freelance writer in Crandall, Texas. His new book is Raising the Stakes: True Tales of Gambling, Wagering & Poker Faces, available at Amazon.com. Follow him on Twitter @PokerTraditions. Email him story ideas at [email protected]
---