Commentary to Crushing: Mike Sexton's WPT Journey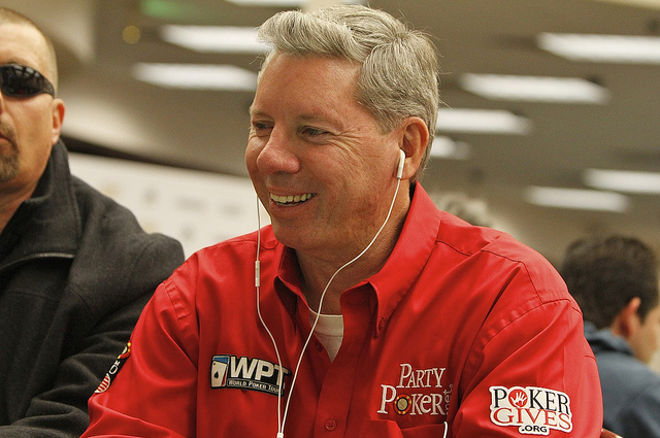 For almost any poker player, winning a World Poker Tour title is the culmination of a dream.
In that way, Mike Sexton's victory at partypoker WPT Montreal was like any other WPT winner's story. Like many players who finally climb the WPT mountain after years of grinding, Sexton had fired countless WPT tournaments over the years. He finally defeated a field of 648 players to claim $317,817 in prize money and his quotes wouldn't look out of place coming from any other WPT winner.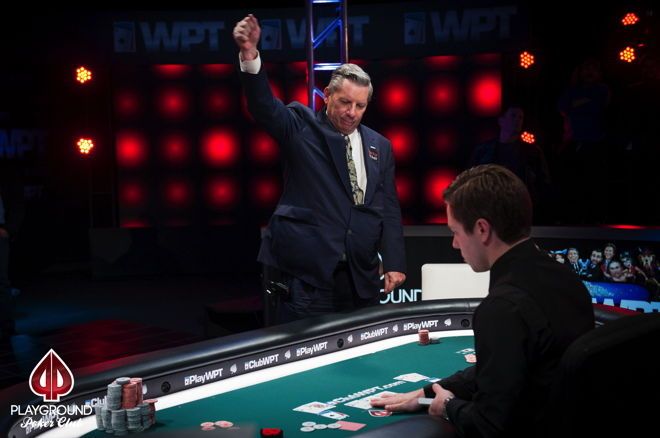 "I just can't say how thrilling it is for me to have won a World Poker Tour title, to get my name on the Champion's Cup with all the great players," he said. "[If you're a poker player], one of your dreams in life is to win a big-time WPT event; there's no question about it. It should be if poker's your passion. Fortunately, that finally took place for me."
However, Sexton's story of WPT glory isn't merely one of grinding away until variance lined up for him and he finally shipped one. Sexton has long served as commentator of the WPT from day one, helping lay the foundation for a show that brought poker to mainstream America and playing a major role in the poker boom. His tireless work promoting the game has had a dramatic impact on its popularity today, making him something of a poker celebrity.
Yes, Sexton has worn many hats for the WPT. He shared with PokerNews how he helped take the WPT from a mere idea hatched by a friend to a name almost synonymous with tournament poker itself. It all start with a different "role" — that of poker punching bag.
"I Just Made Poker My Life"
Sexton began playing poker when he was 13 years old. Occasionally, there is the tale of a poker player who is so immensely talented — and perhaps so fortunate to be learning against other weak players — that he or she is a winner right away and forever thereafter. That is not how Sexton's story begins.
Like most poker neophytes, Sexton was initially a losing player. Young Sexton had a damn good excuse though. His poker tutor was none other than Danny Robison, an eventual World Series of Poker bracelet winner who would one day be known as perhaps the top seven-card stud player in the world.
The 15-year-old Robison taught his young friend in Dayton, Ohio, and Sexton paid well for the lessons.
"When I was young and got started and he kept me broke all the time, who knew how good he was?" Sexton said. "When I got away from Danny, when I got to college, I started winning."
At Ohio State University, Sexton engaged in gin rummy, hearts, bridge and poker games with other students and quickly realized that although he may have been the fish in his games with Robison, he was the shark in these games. He played bridge or poker "almost every day" and, looking back, considers his real major to have been cards.
After college, he joined the Army, eventually making his home in North Carolina. There, he found home games where he thrived and eventually made a decision.
"I just made poker my life," he said.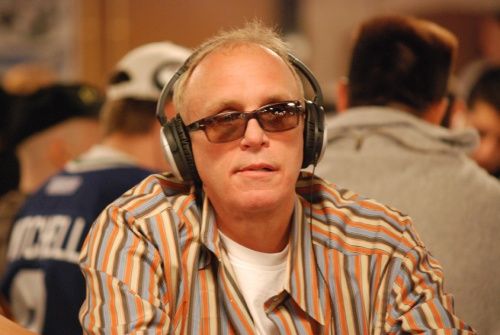 In the mean time, his old friend Robison had migrated Las Vegas and begun the process of becoming a legend. As the tale goes, Robison and Chip Reese arrived in Sin City in 1973 and began crushing the seven-card stud cash scene. Legend has it they turned an $800 bankroll into over $2 million, earning the moniker of "Golddust Twins" in the process.
Sexton began making regular trips to Las Vegas in the 1970s, staying with the Twins. Through them, he met all of the big names in the burgeoning scene: Doyle Brunson, Johnny Moss, Stu Ungar and the like. The legendary Ungar — Sexton calls him "one of a kind" — even staked Sexton for a time.
In 1984, Sexton had his breakthrough year. He enjoyed a big summer at the WSOP, making his first two WSOP final tables. He finished fifth in a pot-limit Omaha event and sixth in a stud hi-low event for a little over $13,000. Along with his continued success in cash games, it was enough to convince Sexton to make the jump and move to Las Vegas the following year.
Established as a pro, Sexton continued to grind for the next decade or so until he met a man who would eventually change the course of his poker career.
A New Role
Sexton's initial poker media appearance came, unsurprisingly, as the subject of the camera rather than the voice behind it. He was competing in the WSOP every year and had claimed his first bracelet and over $100,000 in a 1989 stud hi-low event. He had also won a number of smaller tournaments across the nation and was something of an established name in poker.
So, when Steve Lipscomb shot a documentary about the WSOP in the 1990s, he selected Sexton as one of his interview subjects. The two got to talking and Sexton was hosting an upcoming poker event. He asked Lipscomb if he'd like to film the event and Lipscomb agreed to do so. When the final table was reached, commentary was needed. As it was Sexton's event, he agreed to provide that commentary.
He made at least one fan in the process.
"Wow, that was the best job of commentary I've ever heard," Lipscomb told Sexton.
"I said thanks and didn't think much about it," Sexton now recalls.
A couple of years later, Sexton and his fellow eventual Poker Hall of Fame member Linda Johnson flew with Lipscomb to a tournament in Costa Rica. Lipscomb let the two in on his idea to start the World Poker Tour.
"Of course, Linda and I were over the moon about it; we thought it was the greatest thing since sliced bread," Sexton said. "We loved the idea of creating a new sport."
Lipscomb remembered well how Sexton's poker talents were not limited to merely sitting at the felt. He wanted Sexton to be the commentator on his ambitious venture, but there was a catch, one he knew Sexton would have a hard time accepting. If Sexton were to sign on for commentary duties, he'd be unable to play in the tournaments.
we thought it was the greatest thing since sliced bread. We loved the idea of creating a new sport."
Million dollar prize pools were completely outside the norm at that time, so Sexton didn't quite realize the opportunity he was passing up. He agreed to the stipulation and became the face of the WPT.
"It was a new challenge for me, one I was thrilled to have the opportunity to do," Sexton recalled. "It was a fantastic concept; it proved to be true; and, literally, the WPT changed the poker world forever."
Taking Poker Global
Indeed, the WPT proved to be popular. But, it took some selling to get the ball rolling. As Sexton recalls, Lipscomb spent months shopping the show to major networks and being consistently turned down. Finally, using his old contacts with the Travel Channel, Lipscomb landed a deal to get the WPT televised.
The result? What Sexton says was the No. 1 show on the Travel Channel every year it was on there and a major role in driving the poker boom years.
Being in the driver's seat of one of the primary vehicles moving the poker world forward has given Sexton a firsthand look at the way the game has changed in what's coming up on two decades. For one thing, the style of play in those early years is barely recognizable when juxtaposed with the games of today.
"For most players back in my day, tournament poker was all about survival," Sexton said. "Survive, survive, survive and hope you get lucky near the end, catch a rush of cards and win the tournament.
"Nowadays, the young players understand the power of having chips, the power of aggression, the power of dominating your table. They're aggressive right from the get-go in Levels 1 and 2; if they bust out of the tournament they don't worry about it. They fire the chips in there so in case they get to the final table, they're one of the chip leaders and it gives them a good chance to win."
It's not just the how that's changed, but the who as well. The average education level of today's poker player, both in the game and in general, is something Sexton has seen climb exponentially.
"Back in the day, it was guys like Puggy Pearson and Amarillo Slim that were pool hustlers that found poker games in the back of the pool hall they could make more money in," Sexton said. "Now, it's the young guys that are college-educated, very bright; they catch on very quickly."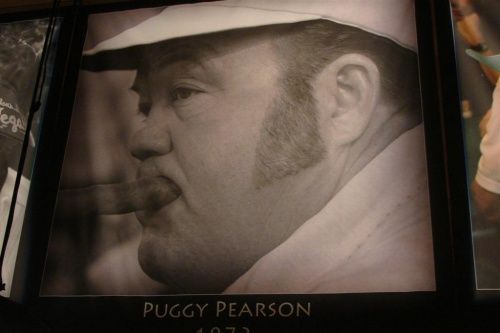 And while many think of the poker room as a U.S. phenomenon, and there's no doubt that's where the most explosive growth happened, the WPT has helped expand the game's popularity globally. The first few seasons were mostly centered around North America with occasional ventures to destinations like Paris and Costa Rica. Nowadays, the WPT counts the Netherlands, U.K., South Africa and the Czech Republic among its recently visited locales.
"Poker used to be America's game," Sexton observed. "It's not anymore, it's a global game. Every country in the world has great poker players."
As the WPT became a global, money-making enterprise with Sexton helping steer the ship, the company gained the means to give back. The WPT Foundation has hosted a number of charity events every year to help raise money for different causes. Sexton often plays a starring role.
Poker used to be America's game. It's not anymore, it's a global game.
The charity endeavors are something Sexton takes great pride in, something he believes everyone should do if they're fortunate enough to make a living through a card game.
"I think the whole poker world should be proud of the fact that poker is now the No. 1 way to raise money for charities, surpassing golf tournaments," Sexton said. "I believe if poker's your profession, you should do whatever you can to not only improve the game but help those you can such [by] supporting charity poker."
Sexton's poker results and his long-running work promoting the game for the WPT resulted in an induction in the Poker Hall of Fame in 2009, something he still calls the absolute pinnacle of his life's work.
"Nothing will ever top that," he said.
Becoming a Champion
As poker evolved, Sexton observed the changes from the commentary booth at the WPT events. He could see things changing, but only got a look at poker's new realities when he got a break from his WPT work schedule and played other events. Sexton and commentary partner Vince Van Patten would fly in at the end of events and cover only the final tables.
That all changed after the first eight seasons of the show. When the WPT was hammering out a new television contract, one of the perks in the new deal was for the talent to be available for the duration of a WPT event. That meant Sexton, Van Patten and other on-air personalities would arrive at host venues before the tournaments even started.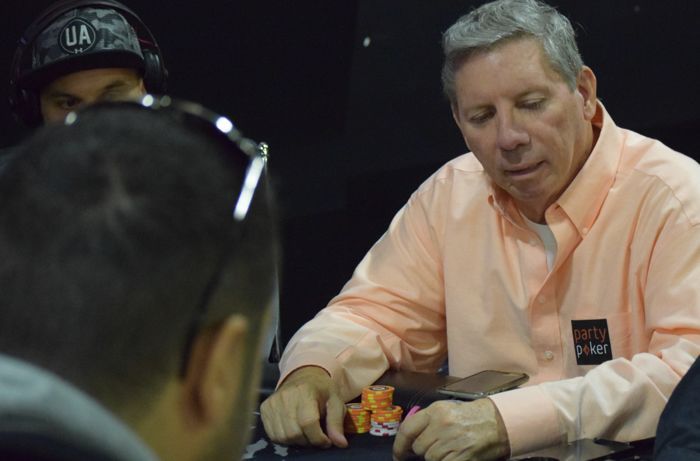 WPT brass decided that since Sexton and Co. would be on-site for the duration of the tournaments, it would be OK for them to play. Sexton was thrilled and he believes it's a change that benefit everyone involved.
"It was fun for me because I love to play them," Sexton said. "It's much better for the casinos, it's better for the players, they like to be around us. All the young guys think we're old guys, we're dead money anyways so naturally, they're thrilled to have us. Now, I play in almost all the televised events and Vince plays in about half of them."
Sexton believes when he and Van Patten get more firsthand looks at the WPT regulars, it makes them more effective commentators as well. That makes for a better broadcast for the fans at home, improving the overall product.
So, Sexton moved from the commentary booth to his old familiar spot on the felt, at least temporarily. He booked his first WPT cash in Season 9, coming 20th in the Borgata Poker Open. Later that same season, Sexton advanced to his first WPT final table, finishing sixth at Bay 101 Shooting Stars for $148,000. He came close again with a third-place finish at an event in Italy in 2013. Despite his efforts, adding a WPT title to his career accomplishments eluded him.
Finally, 15 years into his WPT journey, Sexton's moment came. He looked the favorite heading into the final table at WPT Montreal with the chip lead. He finished the job against the likes of Benny Chen and Jake Schwartz, taking a victory that was a long time coming.
Many in the poker world were thrilled to see it happen for the longtime ambassador. Sexton himself was left to reflect on his road from those days of being cleaned out by a budding legend to having a hand in helping the WPT grow into what it's become today. He's seen and done a lot in this industry, and while plenty has changed, one thing never has and likely never will.
"There's just nothing like winning," he said. "I've been around long enough to recognize how tough it is to get to finals, how tough it is to win 'em. As you get older, you appreciate it a little bit more than you do when you're young. When you're young, you just think it's going to happen all the time.
"Trust me, it doesn't."
** Additional reporting provided by Marty Derbyshire **
Lead image courtesy of the Flickr/World Poker Tour