KO Watches Takes the No. 1 Spot on Our Holiday Gift Guide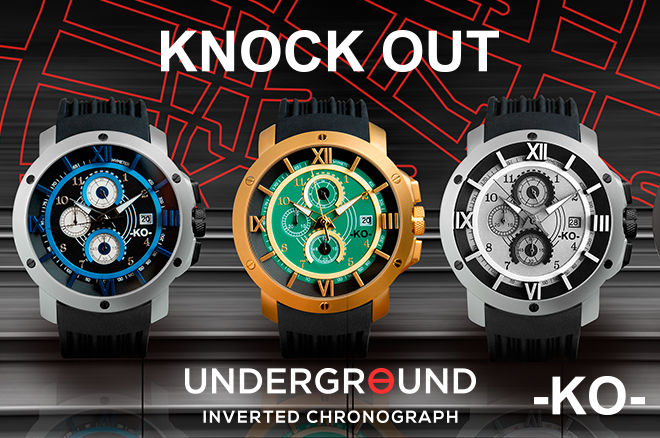 Gift giving can be a stressful time for anyone, but it's especially stressful when the person you're gifting is involved in an industry you know nothing about. Like poker.
Or maybe you are a poker player yourself and you want to give awesome gifts to your friends in the industry. Better yet, maybe you should treat yourself.
A great piece to have going into any poker game is a watch. Why, you might ask? Well, because not only do you get swag but you also can keep track of the time flying by during intense tournament action.
That's where KO Watches comes in. The company, Knock Out Watches, will do just that. Your friends and family will be blown away by the quality and beauty of these classy timepieces.
The newest line in the Knock Out watch chronograph family is called Underground. This watch was inspired by subterranean flows, the idea that a city is just waiting underneath the surface.
Motivated by subway trains in an exhilarating metropolis and drawing inspiration from classic train control dashboards, these Knock Out watches feature clean lines, classic shapes and a subtle yet visually striking watch face. This Underground Collection is a tribute to unseen worlds.
Use that as a selling point to your loved ones who've never been to top poker tournaments or want to play under the radar because their poker face isn't all that good.
The chronograph function on these watches are ideal for measuring elapsed time. This watch is distinct because it's got a bold style and what KO calls an inverted chronograph: The watch multifunctionally keeps track of daily time ("above ground") and has an advanced stopwatch function ("underground").
This watch has three separate dials: one for seconds, one for 30 minutes and a 24-hour indicator. These dials have luminous hands, a tachymeter (measures speed) and a date display.
Each watch is named after a city; there is Berlin, New York City, México City, Paris, Stockholm. Each watch is made for men and women. These stainless steel, ultra-thin watches are anti-reflective, made with Sapphire, held together with a rubber strap. Each is water resistant.
These entrepreneurs want this gift to allow its wearer to pass the time as they wish, cherishing the moments and reinventing the perception of telling time with distinguished quality and clean designs.
What more could you ask for in a watch? Keep track of time and your memories at the table with this stunning Underground line from KO Watches.
Click here to visit KO Watches' website and get your Underground watch today!
Everybody needs an account at one of these online poker rooms! They're the biggest, the best, and we get you the best poker bonuses. Check out our online poker section for details on all the online poker rooms around.