DraftKings and FanDuel Sleepers for NFL Divisional Round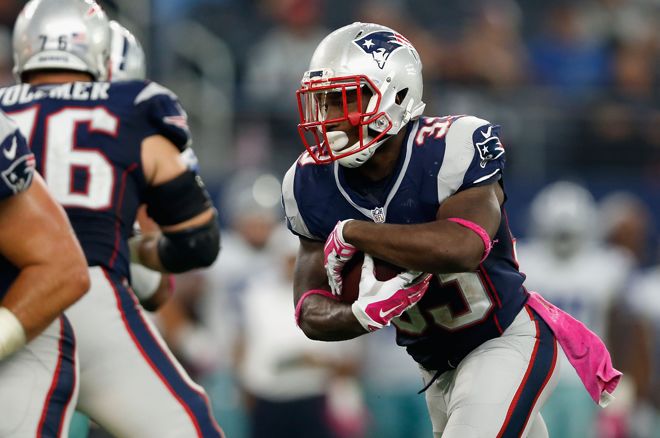 For me, the NFL playoffs are much like Christmas morning for a kid. Unfortunately, the Wild Card Weekend this year was like that first Christmas where you are an adult. Most of your gifts are practical things like socks, underwear and if you live in the Northeast, some sort of mechanism to clean your car. Outside of one half of the Giants-Packers the games were mostly blowouts. We did get to see Matt Moore nearly decapitated on live television, so that was nice.
The good news is the Divisional Round is normally the best football weekend of the year in terms of talent and volume. I absolutely love three of the games this weekend, and the fourth features my beloved Patriots taking on a team that would barely win the MAC title in college.
Let's dive into this week's top fantasy plays. During the regular season I posted my weekly "1 Percent" sleeper picks for DraftKings and FanDuel over at FantasyWired.com. I scoured each game on the NFL schedule for desperation DFS plays that (almost) no one else would consider, hoping that they would hit.
This approach will be even more important during the playoffs this weekend. On a four-game slate, trying to give you someone with 1% ownership is going to be near impossible. So, we're going to try and find some low ownership spots for each game.
Seahawks at Falcons
You know it's been a weird season when we were only 1 point away from the Seahawks being involved in the highest/over under game of the weekend in a game which they are underdogs. Remember last week when I said Thomas Rawls week came and went? I was talking about 2016, not 2017. All kidding aside, I'll be standing on Fade Thomas Rawls Corner for another week. Especially if CJ Prosise somehow can find a way to dress in this game. Prosise checks in at the minimum price on FanDuel and is very rosterable at his price on DraftKings. As you can imagine, the major issue here is health and rostering CJ this week is going to require you paying attention you roster at 3 p.m. ET. My roster strategy on DraftKings this week will be do a lot of Alex Collins ($3,500 DK/$5,500 FD) with the Patriots D and then pivot to Prosise/Chiefs D (the math almost works) if I get word CJ is active. I do like Collins again despite a lackluster performance last week with Rawls having a big game.
Since this is a sleeper column I don't expect to have to tell you to roster some of the Seahawks passing game this week (especially if you don't roster any of the running backs). As far as cheap, low-owned receivers here I like Jermaine Kearse ($3,300 DK/$4,900 FD) better than Paul Richardson this week even though I did call a touchdown for Paul Richardson in last week's column.
The Falcons have a couple mildly intriguing options in Mohamed Sanu ($4,000 DK/$5,400 FD) and Taylor Gabriel ($4,400 DK/$5,500 FD). Sanu saw 10 targets when these two teams played in Week 5! If we thought Sanu could see even close to that number of targets again, I'd sign up in a second. Gabriel is a little more interesting here as he had not had his breakout in the offense yet when these teams first met. I slightly lean Gabriel because of his propensity to make a big play here but I can make cases for rostering a bit of both. I have zero interest in Austin Hooper. Good luck if you are trying to figure out who gets the production in the Falcons running game.
Texans at Patriots
The most painful part of this column is that I have to do a deep dive on potential Texans roster options. Starting at the top, I wouldn't drug test you if you rostered Brock Osweiler this week ($5,000 DK/$7,000 FD). I fully expect the Texans to be down significantly in this game and that should mean a lot of pass attempts and some garbage yards for Brock. It also lets you stack some of the more attractive players in the two NFC games. The Patriots run defense is really good and that will prevent me from rostering any Lamar Miller. Logan Ryan has actually done a decent job in the past of neutralizing DeAndre Hopkins. I think Hopkins has low ownership and some upside here but he's not my favorite target. I think the play is going to be to grab one of the Texans tight ends. My preferred play (if you roster anyone) would be CJ Fiedorowicz ($3,600 DK/$5,200 FD) given I think his ceiling is significantly higher than Ryan Griffin.
The Patriots side of the ball is much juicier but maybe as difficult to figure out with the way the Patriots tend to spread the love. Legarrette Blount ($5,800 DK/$7,300 FD) sat out of practice on Wednesday and Thursday with an illness. Normally Blount wouldn't belong in a "sleeper" column but the injury report designation could deter some people from owning him, especially on a slate where people we be looking to pay up for Le'Veon Bell and Zeke Elliott. Regardless of Blount's status, I will be rostering a lot of Dion Lewis ($3,900 DK/$5,400 FD) this week. Lewis has been significantly more involved in the offense late in the season. It's also interesting to note that the Patriots have never lost a game in which Lewis has played. Side note: If by some chance Blount didn't play, Lewis should be on 100% of your lineups. If you want to fade both Blount and Lewis, I don't mind James White ($3,400) on DraftKings given his target upside. The big problem with White is if the Patriots jump out to a lead, he could see limited touches in the passing game.
Due to game flow I see very little interest in trying to roster the Patriots receiving game. Push come to shove, I'll take Malcolm Mitchell ($4,700 DK/$5,600 FD) if he plays because I get big play potential along with a willingness of Brady to throw his way in the red zone (something we don't see as much with Chris Hogan). If Mitchell misses the game, I may throw a dart or two in Michael Floyd's direction but I'd try and find better spots this weekend.

Steelers at Chiefs
I always get uneasy when I start a game analysis with Weather.com. Winter Storm Jupiter could play a significant role in this one, so I'm going to write the narrative here that we do need to consider weather. If something changes over the next day or two, then continue to proceed with caution, but as of now I'm significantly downgrading both passing games.
Antonio Brown might be the one weather proof on the Steelers guy but his upside could still be limited given the price tag. If I assume short passes are going to be my only option in this game then I will give an uptick to Eli Rogers ($3,900 DK/$5,000 FD) as the slot receiver. Ladarius Green appears to be on track to miss another game so you could roster Jesse James on Sunday if you're interested in four points from your tight end slot.
My initial inclination given the weather report here is that I may come out and roster way more Chiefs D/ST ($3,400 DK/$4,800 FD) than I originally anticipated.
On the Chiefs side of the ball, Spencer Ware ($5,200 DK/$6,900 FD) is the obvious and only choice in the running game. Again, not someone I'd normally mention in this column but the weather here could be a reason to have higher ownership with Ware than you'd normally want.
In the "passing" game, I'm going to have all the Tyreek Hill ($5,500 DK/$6,600 FD) this week. Andy Reid is 16-2 in the regular season and 4-0 in the playoffs off a bye. Incidentally he has the same record against the Golden Corral buffet. Last hot take here-Terry Bradshaw shouldn't have said what did about Mike Tomlin given his place in Steelers history but he isn't wrong. Given the coaching matchup and the weather, I know Hill isn't a sleeper but I think the spot is so good that you have to roster him. I also like Jeremy Maclin ($4,300 DK/$5,500 FD) as a short passing game option with low ownership.
Packers at Cowboys
I could have saved about 1,500 words last week if I just said roster Randall Cobb. I think if you asked most football fans what the impact would be if the Packers lost Jordy Nelson and the Giants lost DRC — that they would have said a wash or the Packers would be slightly more affected. That turned out not to be the case at all as Aaron Rodgers absolutely demolished the replacement players on the Giants D.
In looking at the Packers running game, I kind of wish this wasn't a playoff matchup because I'd be 100% on the Christine Michael revenge factor game as a narrative here. Rostering Ty Mongtomery ($5,300 DK/$6,000 FD) would be a big time contrarian play with Ware and Blount at similar price points but I also think it'd be a bad idea.
Jordy Nelson is out this week, so I shouldn't need to tell you to roster Davante Adams. But the second target for Rodgers could draw some differing opinions. I think a lot of people will look roster Randall Cobb after his monster week but I for one am very excited about Geronimo Allison ($3,900 DK/$5,300 FD) going under the radar after last week's performance if Jordy is out. Allison is one of my favorite value plays on the slate with Jordy out.
The Dallas offense should be summed up in these words: roster Zeke Elliot. If I'm forced to look for sleepers here, I don't mind taking a flier on either Brice Butler ($3,200 DK/$4,900) or Terrance Williams ($3,100 DK/$4,500 FD). Williams has burned us before in this column but he's the guy I like better here than Butler. I have little interest in taking a lot of Dez here but I will roster him a bit as I think he will still be bitter over the infamous "Dez caught it" game.
Good luck this week!

Finding a trustworthy room to play online poker can be a monumental burden. That's all the more true if you're just looking for a place to play poker for free. We've listed five of the best play-money poker sites to enjoy and help hone your skills.