NFL Playoffs Divisional Round Betting Odds and Picks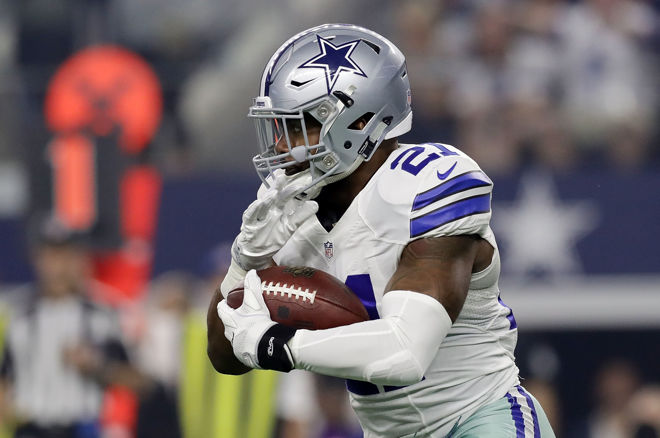 What was perhaps the most miserable weekend in recent NFL playoff history has passed. Every game was a beatdown almost from start to finish, as only one game was decided by less than two TDs — and even that required a fourth quarter Raiders TD to make the game look competitive when they were never really in it against the Texans.
Thus, the Divisional Round has arrived with one massive underdog and three other games that look interesting and competitive on paper. We'll take a look at all three of those games, plus the expected rout, and offer up some predictions and betting picks for your enjoyment this weekend.
Saturday, January 14
Seattle Seahawks at Atlanta Falcons (-5) — O/U 51.5
Everyone was pointing to the Seahawks' poor passing defense without star safety Earl Thomas in advance of the game against a solid Lions passing game, but they held Matt Stafford and Co. to 205 yards and no TDs on 32 attempts. The difficulty level ramps up considerably against the Falcons, who have put together a historic campaign on offense.
Matt Ryan and his WRs blitzed these guys in the second half of their game at Seattle back in October, exploding out of the second-half gate for three TDs to erase a big lead. Only a late Seattle charge aided by a blown pass interference call kept the Dirty Birds from grabbing an impressive road win. While Seattle proved they could be competitive without Thomas, virtually everyone who has stepped on the field against this Falcons offense has been shredded. It's hard to see anything else happening in their offense-friendly home confines with extra time to prepare.
The most bizarre thing about tracking Seattle recently has been the on-and-off performance of the running game and specifically RB Thomas Rawls. He looks like an unstoppable train some weeks and totally disappears others. Will Seattle stay with him if they fall behind or abandon the run? The Falcons have a pretty poor defense, but Vic Beasley is a dangerous pass rusher whom they need to keep honest.
It feels like both teams should put up points here, so we like the over even with a high total. Playoff totals are rarely this high, so see if it drops late in the week.
Best Bet: Over 51.5
Houston Texans at New England Patriots (-15) — O/U 44.5
The lone squash match of the week has a line that's usually reserved for college football, but the Pats are justifiably monster favorites against a pretty uninspiring Texans bunch.
How are the Texans going to move the ball? That's the big question here. This offense is bad enough in a vacuum, but facing a New England defense that closed the year playing its best football and will be playing in the tough environment of Foxborough makes things look almost impossible. The Texans are rounding into good health, and Brock Osweiler finally started throwing to DeAndre Hopkins against Oakland. But they just don't have the running game — Lamar Miller did nothing against the Raiders — to keep from putting it in their worst player's hands here at a high volume.
One thing the Texans do well is defend the pass, as only four teams were better. They have solid corners and a fearsome pass rush led by Jadeveon Clowney. If he can get to Tom Brady often, this might actually be a game. But Bill Belichick is notoriously amazing at taking away the thing the opposition does best, so someone else will probably have to step up against schemes built to slow down the phenom.
A backdoor cover here seems unlikely with Houston's lack of passing game, and the Pats will force them to play from behind.
Best Bet: Patriots -15
Sunday, January 15
Pittsburgh Steelers at KC Chiefs (-1.5) — O/U 44
This game is a rematch of an ugly blowout that took place way back in Week 4. The Chiefs traveled to Pittsburgh and got throttled 43-14 and even that overstated how close the game was as the Chiefs scored two fourth-quarter TDs.
Why might this meeting be different? Start with the Andy Reid. The well-fed KC head honcho has a legendary record with an extra week to prepare, sitting at 16-2 between his two NFL head coaching gigs, which is pretty amazing. Reid has his faults — he's a poor in-game manager — but game planning is not one of them. He'll have a great plan of attack cooked up for the offense, which has looked positively spry with the emergence of Tyreek Hill and, more importantly, the newly discovered plan to throw to the best player on the offense. Travis Kelce has been crushing lately, and the Steelers have been about average vs. opposing TEs, so that's a matchup to watch.
Ben Roethlisberger has been hobbled with a foot injury sustained during the team's blowout of Miami in the Wild Card round, which could be huge. There's not much doubt Roethlisberger will play, but how effective will he be? The history of Roethlisberger playing hurt isn't too pretty. The team scuffled to a loss as huge favorites at Miami earlier this season, and back in the Tim Tebow days, the Steelers lost as road favorites to Denver in the first round of the playoffs. Justin Houston looks likely to play for the Chiefs, and he's a key pass rusher who could make Roethlisberger's life miserable.
The public likes the underdog here, but we trust in Reid off the bye, plus Arrowhead will be rocking.
Best Bet: Chiefs -1.5
Green Bay Packers at Dallas Cowboys (-4.5) — O/U 52.5
The Cowboys crushed Green Bay on the road 30-16 back on Oct. 16, but things are looking up for the Packers as their MVP candidate Aaron Rodgers is absolutely on fire right.
He has put together an incredible string of outstanding games to close the season with Green Bay looking on the verge of collapse after a home loss to the Colts, and it's hard to see a Dallas defense that ranks 18th against the pass stopping him. However, there's a key injury in this game as well: Jordy Nelson. He got hurt against the Giants and didn't practice Wednesday. Nelson's re-emergence as a deep threat in his return from a torn ACL has coincided with Rodgers returning to his old Hall of Fame levels after a bizarre downturn for about a year. Should Nelson sit, it could have a huge impact, even though Davante Adams turned things around this year and looks like a decent player now.
Dallas really used its running game to bludgeon the Pack into submission in the first meeting, running wild for 191 yards on 33 carries behind its bulldozing line and Ezekiel Elliott. A Green Bay defense that had been great vs. the run was exposed and hasn't really looked all that great since. The Cowboys had a week to rest up and get Tyron Smith ready, and Green Bay doesn't look like they can match this offense score for score unless Rodgers turns in a truly legendary performance.
Best Bet: Cowboys -4.5
Finding a trustworthy room to play online poker can be a monumental burden. That's all the more true if you're just looking for a place to play poker for free. We've listed five of the best play-money poker sites to enjoy and help hone your skills.