DraftKings Picks and Sleepers for the 2017 CareerBuilder Challenge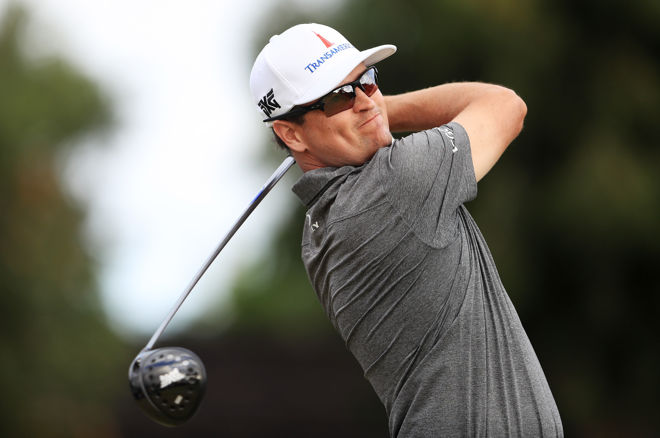 The third week of 2017 brings us to California for the start of the five week West Coast Swing on the PGA Tour. The CareerBuilder Challenge is played on three different courses and has a cut after 54 holes. Each golfer will play one round at PGA West Nicklaus Course (Par 72 – 6,972 yards), one round at La Quinta CC (Par 72 – 7,060 yards), and at least one round at PGA West Stadium Course (Par 72 – 7113 yards). PGA West will also play host to the final round on Sunday.
Like the previous two weeks, these are all very easy courses with all of them ranking near the bottom in terms of difficulty last season. There is not a lot of course history as two of the courses were just added last season, so recent form and stats are weighted a little higher this week when putting together our DraftKings projections.
Key Stats: Par 5 Scoring, Approaches 125-150 yards, Strokes Gained: Approach, Strokes Gained: Putting (Bermuda grass), Scrambling.
Top-Tier Plays
Zach Johnson ($10,200)
Johnson, although not very long off the tee, still ranked 60th in Par 5 scoring last year. During his Masters win in 2007, you might recall that he laid up on every single Par 5 while shooting 11 under on them for the week, which bested Tiger Woods by two strokes. Sometimes you don't have to be long to dominate Par 5s.
Johnson is well above average with his irons, ranking 41st in approaches from 125-150 yards last year and 63rd from 150-175 yards. With higher elevated greens this week, scrambling will be a key stat; Johnson ranked 25th in 2016. Johnson practically putts the same whether its Bermuda or bent grass greens so his No. 25 ranking in SG:P is valuable here. He is coming off a sixth-place finish at the Sony Open last week and although he missed the cut here two straight years, he recorded two top 10s in the last five years. Johnson is a great lineup builder this week.
Brendan Steele ($9,300)
Steele was abysmal last season in all putting stats and all stats around the green but still managed 11 top 25 finishes during the year. This season has begun much better for him in putting (40th in SG:P compared to 149th last season) and scrambling (6th this year compared to 162nd last season). The lanky long hitter ranked 13th in Par 5 scoring last season and 11th in ball striking. He has always been a great driver of the golf ball, ranking 15th in total driving last season.
Steele placed sixth at the Tournament of Champions two weeks ago has solid history at the CareerBuilder, finishing 34th in 2016 and runner-up in 2015. With the way the pricing works this week, you can fit Steele and Johnson in the same lineup and still build a nice team. That should be a great approach as this is a good "studs and duds" week. Although getting all six of your golfers through the cut still holds value, it is not as important this week with the cut coming after 54 holes.

Value Picks and Sleepers
Na ranks third overall in our ranking system this week. He is a borderline top tier play at his $9,000 salary, but is on our radar as a "value play" because of the tremendous upside he offers. Na placed third at the CareerBuilder Challenge last season and was 48th in 2015, so there's some course history to examine with him this week.
Na's stats also match up well with this course. Although he ranked only 93rd in Par 5 scoring last season, he ranked 2nd in approaches 125-150 yards, 11th in approaches 150-175 yards, and 2nd in SG:App. He also ranked 30th in Birdie or Better %. One key stat that jumped out to us is the difference between putting on Bermuda and bent grass. Na averages 1.478 SG:P on Bermuda compared to .604 on bent for a difference of .874. That's close to a stroke per round!
Na is always a safe pick on Bermuda greens especially against a weak field like this. Sticking with our "studs and duds" approach this week, you can fit Na, Johnson, and Steele in a lineup and have and average of $7,233 left to spend on your three remaining spots.
Ryan Palmer ($8,000)
Ryan Palmer loves this tournament. His last four appearances at the CareerBuilder: 17th, 10th, 2nd and 6th. Palmer started 2017 hot with a 66 in the first round of the Sony Open last week, but followed it up with a 75 and missed the cut. Hopefully that rust has been shaken off and he can contend at the CareerBuilder Challenge again.
Palmer ranked fourth in Par 5 scoring last season and ranked seventh in BoB%, so we see why he plays well at this tournament. He ranked 66th in SG:App, including 52nd in approaches 125-150 yards and 48th in approaches 150-175 yards. Palmer might fly under the radar this week after missing the cut last week, and we are going to take full advantage. He is a great pivot off of Na, or you can play him with the all three of the aforementioned golfers and still have an average $6,850 left.
Andrew Loupe ($6,200)
Loupe had thumb surgery in September and began swinging fully again at the end of November. He stated he is feeling 100 percent again and will be making his first start of the season this week.
Loupe might be one of the lowest-owned golfers of the week but has tremendous upside as he can take advantage of the Par 5s. He finished third here last season, largely in part to his nine-under on the Par 5s. Although his approach stats did not rank very high last season, Loupe is a great putter on Bermuda greens. He ranked 37th in SG:P last season with a 1.505 on Bermuda and a -.672 on bent grass. His putting on Bermuda was a whopping 2.177 higher than on bent grass, but that comes as no surprise as the Baton Rouge native has played on Bermuda greens practically his entire life. He has said he loves these courses at the CareerBuilder Challenge and he definitely has the game to contend here. He is a great "dud" to use on your in your "studs and duds" lineup this week.
For more insight, be sure to visit FantasyLabs for player projections, podcasts and even DFS lineup optimizers to help you build winning lineups this week!
Finding a trustworthy room to play online poker can be a monumental burden. That's all the more true if you're just looking for a place to play poker for free. We've listed five of the best play-money poker sites to enjoy and help hone your skills.