Champions League Football: Betting Odds and Predictions for Feb. 14-15
Stuart Garlick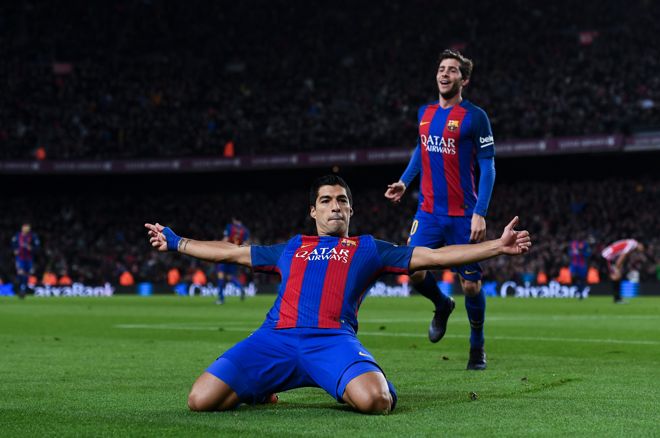 The Champions League really gets exciting in the knockout stages, and that's where we are now. The first eight games of the Round of 16 taking place this Tuesday and Wednesday, giving us the first chance to see if clubs like Paris Saint Germain and Arsenal can hold their own at this exulted level. In this article we take a look at the best betting odds, predictions and DraftKings fantasy picks from this week's opening games.
TUESDAY, FEBRUARY 14
Paris Saint Germain vs. Barcelona
Both of these European giants have had Februarys without defeat, though the domestic situation is harder for PSG, chasing Monaco at the top of Ligue 1 with manager Unai Emery aware that the Qatari owners will not countenance finishing behind the league's other superclub.
PSG, therefore, could be forgiven for having eyes on two prizes at once, while Barca has an almost impossible task to catch Real Madrid at the summit of La Liga, which may well mean the heavy artillery is fully-focused on winning the Champions League. The French side has never beaten the Catalans over two legs in Europe, and this game is likely to be a narrow away win.
Top Bet: 3/1 with Bet365 for Barcelona to win by one goal
DraftKings Pick: F Luis Suarez, Barcelona ($8,600)
No shock here, as you have to pick one of Messi, Suarez and Neymar if Barcelona is on the slate for DFS. All of the MSN scored in the 6-0 thumping of Alaves in La Liga last time out, and it's a high probability that if you don't get a goal, you'll get an assist.
Benfica vs. Borussia Dortmund
Benfica has not won a European trophy since, legend has it, a mystic placed a curse on the club, but when you're picking a winner for this match, you ought to look more closely at recent form than any superstition. The Lisbon team has lost two winnable games recently, a Portuguese Cup game against Moreirense and a league match against Vitoria de Setubal. It's still a point in front in the league, as much due to the inadequacies of Porto as its own supremacy.
Dortmund lost last weekend to Darmstadt in the Bundesliga and is a huge fifteen points behind Bayern Munich in a German season many had thought would be close. As a result, Benfica has more to lose from a tough European night, and may play for a draw, a result that would suit Thomas Tuchel's visitors at the moment.
Top Bet: 49/20 with 888sport for a draw
DraftKings Pick: M/F Ousmane Dembele, Borussia Dortmund ($7,600)
The 19-year-old Frenchman has had to compete with an enviable group of attacking players for his chance in the Dortmund team, but he's contributed five goals and 13 assists across the Bundesliga and Champions League, making him one of the most important members of the side. Benfica will not want to give him an inch.
WEDNESDAY, FEBRUARY 15
Bayern Munich vs. Arsenal
If you want to talk about bad luck in Champions League knockout stages, talk to Arsenal fans. The hope must have been to avoid Barcelona or Bayern Munich, both of whom seem perpetually too strong for Arsene Wenger's team. However, now that the Gunners are out of the running for the Premier League, at least they can go at it with both barrels against the Bundesliga leader.
Bayern has only conceded 12 goals in a Bundesliga season where Carlo Ancelotti's side initially seemed to struggle. Arsenal, having to defend against Arjen Robben, Robert Lewandowski and the rest, is a rank outsider for this.
Top Bet: 28/13 with 10Bet for Bayern Munich to win by one goal
DraftKings Pick: D Mats Hummels, Bayern Munich ($3,400)
The experienced German centre-back hasn't made much of an attacking contribution during the Bundesliga or Champions League, but he's a reliable player who rarely makes mistakes, is likely to be fit, and is unlikely to be overwhelmed by facing Alexis Sanchez, Theo Walcott and friends.
Real Madrid vs. Napoli
Madridistas, impressed with the way their team is taking La Liga by storm this season, might be tempted to call this now: Napoli, a very good side that hasn't lost, anywhere, since October, will beg to differ. Napoli's recent wins have come against Milan, Fiorentina, Bologna (a 7-1 thrashing) and Genoa, all decent teams, and with only one injury, the team is settled.
Real Madrid misses Gareth Bale for this game, he's been out since November, and this means more burden on the wide shoulders of Cristiano Ronaldo. Though most of the betting deposits will go on Madrid for the win, look further for value.
Top Bet: 6/5 with Ladbrokes to back Napoli in a Real Madrid Win No Bet
DraftKings Pick: G Jose Reina, Napoli ($4,100)
The Spaniard once sold by Liverpool because it was said he had lost his sharpness is one of the best goalkeepers in Italy these days, and has only let in four goals in the past six games. Although Reina has a tough day ahead against Real's strikeforce, a clean sheet or a one-goal match are certainly not out of the question.
Finding a trustworthy room to play online poker can be a monumental burden. That's all the more true if you're just looking for a place to play poker for free. We've listed five of the best play-money poker sites to enjoy and help hone your skills.