Fantasy Golf: Top Picks for the AT&T Pebble Beach Pro-Am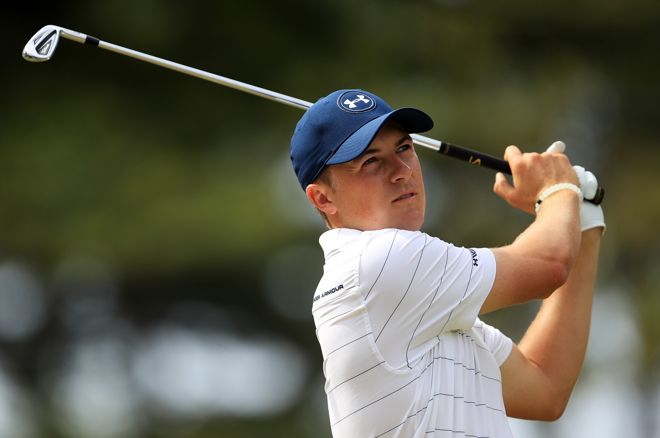 The AT&T Pebble Beach Pro Am begins this week from the beautiful Pebble Beach Golf Links in California. The event features 156 PGA Tour players, each paired with a celebrity. The pairings will all play three rounds across three different courses on Thursday, Friday, and Saturday, and the pros inside the top 60 (plus ties) will make the cut and play Pebble Beach on Sunday.
The rotating courses this week are Monterey Peninsula (Par 71 – 6,850 yards), Spyglass Hill (Par 72 – 6,958 yards), and Pebble Beach (Par 72 – 6,816 yards). Since every player plays three rounds, we recommend focusing on players who can get you DraftKings scoring bonuses like eagles instead of keying in on cut-makers. This puts Par 5 scoring and BoB% as our top stats this week. On the flip side, it is difficult to range approaches within 25 yards at Pebble Beach, so using >100 yards or 50-125 yards is the top approach yardage stat this week. Putting this week will be a joke as players will be playing on soggy and bumpy Poa greens, so we recommend not using the SG:P stat as an indicator unless you can find SG:P for only Pebble Beach.
The weather looks to be the worst on Thursday and Friday (rain and wind), so we recommend looking at players rotating on the Spyglass – Pebble Beach – Monterey draw as well as the Monterey – Spyglass – Pebble Beach draw. The latter of those two always features the most top players for better TV coverage on Saturday.
Key Stats: Par 5 Scoring, BoB% (Birdie or Better), Scrambling, Approaches 50-125 yards (or <100 yards), Rough Proximity
Top-Tier Plays
Jordan Spieth ($12,000)
Spieth is one of the hottest golfers in the field this week. Coming off three straight top 10s (including a ninth and two thirds), he looks to add on to an already-successful four trips to Pebble Beach where he has four top 25s. His best finish in this event came in 2014 when he finished fourth.
Spieth's stats line up well for the three courses this week. He ranked fourth in BoB% and Par 5 scoring last season, and this year ranks second in both. Since putting is a crap shoot, having a golfer who can hit it close is a must. Spieth ranked 80th in approaches <100 yards last season and ranks 46th this season. His tee-to-green game is one of the best on tour, so it's no surprise that Spieth is one of our top-ranked golfers in our DraftKings projections this week. He also fits the mold of the Monterey – Spyglass – Pebble Beach draw.
Try The Fantasy Fanatics today and build your own PGA DFS projection model.
Justin Rose ($9,200)
Rose, like Spieth, is one of the hottest golfers in the event this week. He's coming off of a fourth-place finish at the Farmers and a runner-up at the Sony. In his first time playing the Pebble Beach Pro Am last year, Rose finished sixth. So he already checks the recent form and course history boxes.
Although Rose didn't excel at shots between 50-125 yards last season, he did excel at approaches 200-225 yards, which will be highly important on the Par 5s across these three courses. The 2016 Olympic Champion is proving his back is a non-issue and that he is a top 10 golfer in the world once again. The time off to heal his back has seemed to helped his short game as he ranks 24th in scrambling this season. Rose is always a threat in less than normal conditions and this week is just that.
Phil Mickelson ($9,300)
We were high on Phil in Phoenix last week and he got it within two strokes of the lead making the turn on Sunday before posting a four-over 40 on the back nine to finish 16th. He will look to turn that around this week at a place he absolutely loves. Phil has five top 10s in his last eight years at Pebble, including a win in 2012 and runner-up result last year when he lost in a playoff to Vaughn Taylor. Lefty is one of the few who putts soggy Poa Annua greens well.
Mickelson is in great form, has great history and is ready to get his first win in what seems like a decade.

Value Picks and Sleepers
Jimmy Walker ($8,800)
To most DFS players, Walker will seem overpriced this week. And they may be right after two straight missed cuts. But don't count the Texan out yet. He loves this golf course and even won here the last time there were major weather concerns (2014).
While he's been awful at Par 5 scoring and BoB% so far this year, it was only a year ago that Walker finished seventh in Par 5 scoring and 14th in BoB%. Regression could be coming. Walker could be the lowest-owned golfer above $8,000 this week, and with his upside it makes him a great GPP play.
Sean O'Hair ($7,300)
With no picks under $8,800 so far, we have to give you a low-salaried sleeper. The soon-to-be 35-year-old O'Hair has seen the good, bad and ugly as a PGA Tour player. With most of his demons in the past, he has played some great golf over the last two years and has begun this season on fire with three finishes inside the top 11 in his first five events.
O'Hair is no stranger to Pebble as he has cashed a check there every year since 2009, including a pair of top 12 finishes. He can make birdies with the best of them as he finished last season ranked 19th in BoB%. Like Walker and Mickelson, O'Hair really loves putting on these Poa greens. He ranks in the top 20 of our TFF projections and is one of the top players under $8,000.
Other Players to Consider: Dustin Johnson ($11,800), Chris Kirk ($7,500), Matt Jones ($7,000), Brian Gay ($6,700)
Player projections, stats models, DFS lineup builders and much more! Try The Fantasy Fanatics for FREE today and start dominating fantasy golf on DraftKings
Finding a trustworthy room to play online poker can be a monumental burden. That's all the more true if you're just looking for a place to play poker for free. We've listed five of the best play-money poker sites to enjoy and help hone your skills.