Daniel Colman Wins Triton 6-Max Title in Manila (HK$ 3,641,600)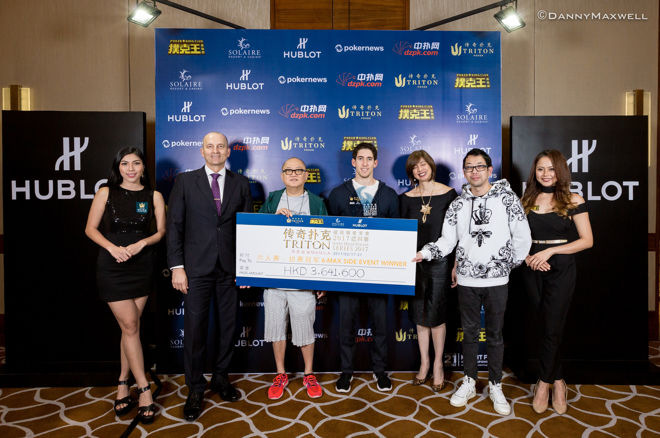 After just over 12 hours of play on Day 2 of the 2017 Triton Super High Roller Series Manila HK$ 250,000 6-Max Event (approximately $32,200), a winner has been crowned in the stunning Solaire Resort and Casino. Ultimately, it was 2014 The Big One for One Drop champion Daniel Colman, who is also 4th on the all-time money list, who emerged victorious after a short but intense heads-up battle with Erik Seidel.
Seidel is 2nd on the all-time money list and added another big score to his impressive resume, he also finished 4th here in Manila one year ago in the HK$ 200,000 Suncity Cup as well. Colman started into 2017 with two final table appearances and a cash in the inaugural PokerStars Championship Bahamas Main Event for more than $1,100,000, and added another HK$ 3,641,600 - approximately $473,408 - to his scores for the current year.
Final Result 6-Max Event
| Place | Winner | Country | Prize in HK$ | Prize in USD |
| --- | --- | --- | --- | --- |
| 1 | Daniel Colman | USA | 3,641,600 | 473,408 |
| 2 | Erik Seidel | USA | 2,326,000 | 302,380 |
| 3 | Rainer Kempe | Germany | 1,466,000 | 190,580 |
| 4 | Sergio Aido | Spain | 1,011,000 | 131,430 |
| 5 | Timofey Kuznetsov | Russia | 708,000 | 92,040 |
| 6 | Mustapha Kanit | Italy | 556,000 | 72,280 |
| 7 | Mikita Badziakouski | Belarus | 405,000 | 52,650 |
Before the start of level 10, another two players opted to fire a second bullet after busting the previous night, as Bryn Kenney and Mustapha Kanit came in with a fresh stack of 50,000. This created a total field of 43 entries, including eight re-entries, and the prize pool of HK$ 10,113,600 was awarded to the top seven spots. While Kenney missed out on the money, Kanit made the unofficial seven-handed final table with just over four big blinds.
Timofey "Trueteller" Kuznetsov led the survivors into Day 2 and kept his dominating pace early on to further build the stack. Early casualties included John Juanda, Dan Cates, Jack Salter and Paul Phua. Salter flopped a set of sixes against Kuznetsov and got his stack in after the turn of a king-high board. Kuznetsov held seven-five suited for the straight and flush draw, and got there with a three on the river. Phua was among two players in a row that sent their stacks over to Rainer Kempe, and the German, now based in Brighton, established himself in the second spot.
2016 Triton Super High Roller Main Event winner Wai Kin Yong never showed up for Day 2 and was blinded out without playing a single hand. President of Poker King Club Winfred Yu also missed out on the money and he was followed to the rail by Dario Sammartino, Stanley Choi, David Peters, and Pratyush Buddiga. Choi first lost most of his stack with pocket nines against the king-nine suited of Marius Torbergsen and bowed out one hand later. Koray Aldemir's tournament came to an end on the last two tables as well, when Kempe snap-called his three-bet shove with ace-king and the German only had ace-nine.
Torbergsen was next to follow before Yu Liang bowed out in 9th place. In a hand that lasted several minutes into a scheduled break, Kempe bet an eight-high turn and check-raised the river when a king appeared. Liang eventually called all in and mucked when Kempe showed pocket eights for a set.
That reduced the field to eight and it was Triton Founder Richard Yong who would become the bubble boy. While Kanit folded with very few chips behind to a shove by eventual-champion Colman over on the other table, Yong three-bet shoved for 15 big blinds with ace-mine and Sergio Aido called with ace-jack suited. By the river, there were three spades on the flop, giving Aido the nut flush and the bubble was burst.
The remaining seven players combined to one table and Kempe was in the lead with twice as many chips as Aido in second place:
| Seat | Player | Country | Chip Count | Big Blinds |
| --- | --- | --- | --- | --- |
| 1 | Timofey Kuznetsov | Russia | 286,000 | 47 |
| 2 | Mikita Badziakouski | Belarus | 161,000 | 26 |
| 3 | Erik Seidel | USA | 319,000 | 53 |
| 4 | Rainer Kempe | UK | 700,000 | 116 |
| 5 | Mustapha Kanit | Italy | 26,000 | 4 |
| 6 | Sergio Aido | Spain | 351,000 | 58 |
| 7 | Dan Colman | USA | 307,000 | 51 |
After Kanit immediately tripled up his stack, it was Mikita Badziakouski who was the first casualty in the money. Badziakouski raised to 50,000, for more than half of his remaining short stack, and then called the shove of Seidel from one seat over with ace-ten. Seidel had the ace-king and flopped a king to leave Badziakouski drawing dead on the turn.
Kanit then bowed out in 6th place, getting his last nine big blinds in from the small blind. Aido called in the big blind with queen-eight and trailed Kanit's ace-king, but a queen hit on the river to eliminate the always-smiling, talkative Italian.
Kuznetsov eventually had to settle for 5th place. He lost most of his stack against a set of threes of Seidel and shoved the very next hand with king-deuce suited. Kempe found pocket eights in the big blind and there was no king, straight or diamonds on the board to help "Trueteller".
Down to the last four, Aido became the shortest stack and remained there despite doubling up once. The Spaniard eventually shoved out of the small blind with seven-six off suit and Colman looked him up from the big blind with king-seven suited. The board ran out queen-high and Colman made a king-straight.
The last three players experienced a roller coaster of emotions and former runaway chip leader Kempe ultimately ended up with the bronze medal. Down to three big blinds he first doubled and his comeback was then halted when pocket queens failed to hold up against Colman's ace-six suited. A six on the flop and the turn gave Colman trips and Kempe was gone.
Colman had an almost 2-1 lead over Seidel when heads up began and both showed their master class in an intense battle over the next half an hour. Seidel called a three-barrel shove by Colman with ten-eight for second pair on the flop and fourth pair on the river, which was good as Colman was caught bluffing with jack-high. A big call by Colman changed the lead again and right after it was all over. Seidel got his stack in with ace-six off suit and Colman had ace-jack suited. Two jacks on the flop and an ace on the turn gave Colman a full house and that brought the tournament to an end.
While the 6-Max champion has been crowned, the highlight of the high-stakes festival in Manila awaits tomorrow. Day 1 of the elusive 2017 Triton Super High Roller HK$ 1,000,000 (approximately $128,800) Main Event gets underway at 1 p.m. local time and will feature nine levels of 60-minutes each. Unlimited rebuys are available for the duration of Day 1 and the registration then closes at the start of Day 2.
The PokerNews live reporting team will be there to provide all the action from the floor and the details of the next Triton Super High Roller Series festival in Macau later this year will soon become available on the Triton Poker Series website as well.