Inside Gaming: Adelson Pulls Out of Vegas Stadium Deal, LV Sands Eyes Asia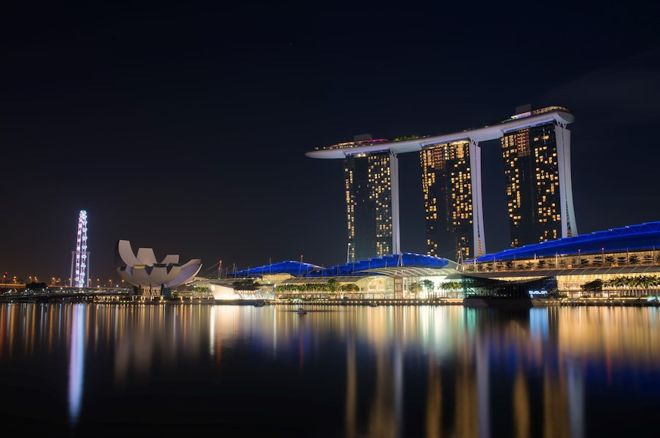 This week's installment of Inside Gaming considers a couple of announcements from the Las Vegas Sands Corporation, one concerning its operations in Asia and the other involving chairman and CEO's withdrawal of involvement in a possible NFL stadium construction in Las Vegas. Other news shared includes the launch of a new multi-channel sports betting network and the American Gaming Association's yearly report on Super Bowl wagering.
Las Vegas Sands Looks to Sell Marina Bay Sands Mall Stake
From Singapore comes news this week that the Las Vegas Sands Corporation is looking to sell nearly half of its stake in the world-famous mall in its Marina Bay Sands property, reports The Straits Times of Singapore. The sale would allow the company to pursue another investment in Japan or South Korea, says chairman and CEO Sheldon Adelson.
At a briefing on Wednesday, Adelson related details of the company's desire to sell 49 percent of its stake in the 800,000-square-foot Shoppes at Marina Bay Sands. "We are looking at potentially US$3 billion to US$3.5 billion" for the stake, an amount which would make the Shoppes "the most expensive mall ever sold in the world," says Adelson.
When it opened in 2010, the Marina Bay Sands cost a then-record $8 billion total, the highest cost for any casino property at the time. In addition to the Shoppes, the resort features a 2,500-plus room hotel, a 1,300,000-square-foot convention center, two theaters and numerous celebrity chef restaurants among other features. The casino has 500 tables and 1,600 slot machines.
According to the agreement that allowed Las Vegas Sands initially to build the resort and casino, "the company cannot sell any part of the... mall for at least 10 years, and only then after official approval," explains The Straits Times. Thus while the 10-year period expires in March, Adelson and the company will still need approval from Singapore's government in order to proceed with its efforts to find a buyer.
"There are more noises coming out of Korea, now that Japan is legalizing casino gaming," explained Adelson. "We will want to see what the development opportunities are. We can always get money to develop properties."
A formal request to the Singapore goverment to approve a sale has yet to be made. An analyst cited by The Straits Times, Alan Cheong of the research team Savills Singapore, suggests the 49 percent figure reflects the government's desire for "Las Vegas Sands to still have commitment to its investment in Singapore."
For more on LV Sands current machinations and future plans in Asia, visit the Straits Times.
Adelson Withdraws Support from Las Vegas Stadium Project
Meanwhile you might have heard the other news regarding Adelson this week. After having previously pledged $650 million toward the construction of a new $1.9 billion football stadium in Las Vegas, Adelson issued a brief statement on Monday indicating he and his family "will no longer be involved in any facet of the stadium discussion," the Associated Press reports.
Just two weeks ago we passed along news that the Oakland Raiders had filed relocation papers with the National Football League to move the franchise to Las Vegas. The filing followed Nevada lawmakers having last October voted in favor of legislation to raise $750 million for the new stadium via an increase on hotel taxes.
Those funds, plus a $500 million commitment from the Raiders, were to have been supplement by Adelson's pledged $650 million to meet the costs of the new stadium. Now, however, team officials are looking for new investors to replace Adelson's contribution.
The NFL owners will vote on the relocation request at their annual meeting in March, with 75 percent (24 out of 32) needing to approve for any franchise move to occur. With Adelson no longer involved, the Raiders will not have to ask NFL owners to waive the league's rule prohibiting casino operators from having ownership roles in its teams — an obstacle many, including NFL Commissioner Roger Goodell, had believed would have made the move very unlikely.
In his statement, Adelson "declared that he had been shut out of talks that led to the lease proposal last week between the team and the public board tasked with building and owning the stadium," explains the AP. "We were not only excluded from the proposed agreement, we weren't even aware of its existence," said Adelson.
Las Vegas Mayor Carolyn G. Goodman remains optimistic that other investors will be found. "I believe somebody will call us and offer us a date to the prom and we'll get there," she told the Los Angeles Times.
Alluding back to the legislation passed last fall, Nevada Governor Brian Sandoval noted "the state's contribution will not increase as a result of [the] announcement" of Adelson's withdrawal.
Read the AP's report on Adelson's withdrawal at CDC Gaming.
Brent Musberger Retires from Broadcasting, Joins New Sports Betting Network
After calling games on a variety of networks for nearly 50 years, Brent Musberger did play-by-play for a final time this past Tuesday at a college basketball game between the Kentucky Wildcats and the Georgia Bulldog. The 77-year-old will remain busy, though, having already announced plans to join the soon-to-be-launched VSiN (Vegas Stats & Information Network, a network devoted to providing sports gambling information.
VSiN will broadcast live from the sportsbook in the South Point Hotel, Casino and Spa in Las Vegas and "will be available to sports bettors across multiple channels, including web, live streaming, radio, mobile and social," a press release states.
Musberger will host a daily two-hour show five afternoons a week. His son, Brian Musburger, is the network's founder and chairman. The network is scheduled to premier on February 27, with content available via SiriusXM channels and at VSiN.com.
For more on the new network devoted to providing information to sports bettors, see the press release at Globe Newswire.
AGA Issues Annual Report on Super Bowl Betting
Finally, the American Gaming Association has once again issued its annual report regarding Super Bowl wagering in advance of the big game which will play out this Sunday.
This year the AGA estimates around $4.7 billion will be bet on the game — an increase of 11 percent from a year ago — with only $132 million of that total coming from legal bets placed in the state of Nevada. The estimates are created by combining a 1999 study with the Census Bureau's reporting on GDP growth to calculate current totals while also considering the amount of legal gambling activity in Nevada sportsbooks as proportionally indicative of how much is also being wagered illegally.
Along with other AGA reports, its annual one regarding illegal betting on the Super Bowl is part of the group's ongoing effort to lift the federal prohibition against sports betting in most of the United States.
Looking at what the sportsbooks are saying about Sunday's game, most list the AFC Champion New England Patriots as a three-point favorite over the NFC champion Atlanta Falcons, with the over/under on total points scored being 59.
See the AGA's report for more regarding betting on Super Bowl LI.
Photo: "Marina Bay Sands Singapore," Leonard Koh, CC BY-SA 4.0.