Inside Gaming: Mohegan's Soper Resigns, Taj Mahal "De-Trumped"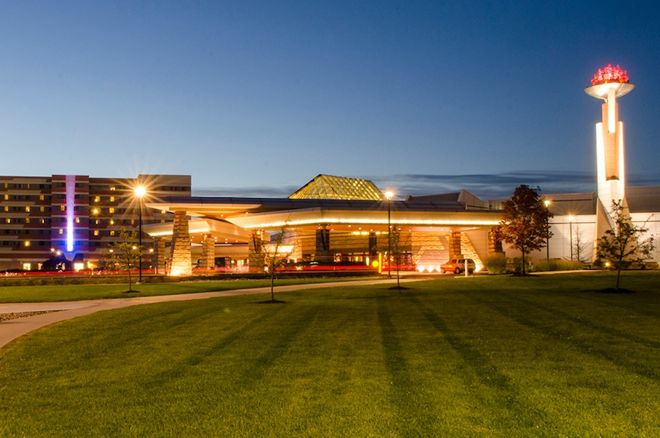 This week's installment of Inside Gaming reports on the abrupt departure of the Mohegan Tribal Gaming Authority's president and CEO, remarks on the removal of an icon's name from Atlantic City signage, and tells of a "Live Dealer" online casino game provider's huge revenue increase.
Mohegan Tribal Gaming Authority President and CEO Resigns, Irregularities Reported
On Wednesday the Mohegan Tribal Gaming Authority (MTGA) announced its President and CEO Robert Soper had "resigned to pursue other opportunities effective immediately." The resignation came just ahead of a filing with the U.S. Securities and Exchange Commission of "possible operational control deficiencies" at Mohegan Sun Pocono (pictured above) that would delay the filing of a quarterly report, explains The Day newspaper of New London, Connecticut.
The MTGA stated that based on "preliminary findings," the Pennsylvania Gaming Control Board's Office of Enforcement Counsel "anticipates the Mohegan Sun Pocono will be subject to disciplinary action including a fine and undertakings to remediate the issues identified," The Day reports.
The filing goes on to specify issues with the "tracking and reporting the issuance of certain customer incentivies such as free slots play" as being under review.
Meanwhile Soper told the newspaper he was "leaving on good terms" and that the irregularities being reviewed "did not occur while I was there," although he could not provide further details due to confidentiality agreements.
Soper served as the Authority's president and CEO for nearly two years. A tribal member, Soper's association with Mohegan gaming stretches back to 2001 when he first served as the MTGA's Chief Legal Officer and Senior VP of Administration. From there he moved onto head the Mohegan Sun Pocono property in 2005, then in 2012 became President and CEO for Mohegan Sun before taking the position with the MTGA in 2015.
According to the MTGA's presser, Mitchell Etess (who retired from the position in 2015 prior to Soper taking it on) has been appointed as the interim CEO subject to regulatory filings or approvals.
The filing also reported that the Mohegan Sun Pocono had terminated a six-year relationship with ReferLocal, a marketing and advertising company, after having learned Soper had a five percent equity interest.
For more about Soper's abrupt departure, seize The Day
Trump Name Finally Removed from Taj Mahal
Everywhere you turn these days, President Donald Trump's name is dominating the headlines for a variety of reasons. Well, one place you won't be seeing the Trump name — for the first time in decades — is on the Atlantic City Boardwalk. This week saw the "Trump" name finally removed from the exterior of the now-closed Trump Taj Mahal.
As philly.com reported, the "de-Trumping" of the Taj Mahal began on Tuesday as the first of 17 different Trump signs was removed from outside the casino and other nearby locations.
"This is historic," tweeted David G. Schwartz, Director of the Center for Gaming Research at the University of Nevada-Las Vegas and author of several books on the history of gambling. "Since 1984, his name has loomed over Atlantic City."
Following declining revenue and a bitter workers' strike, the Trump Taj Mahal shut its doors in October, ending a more than two-and-a-half decade tenure as one of the Boardwalk's most iconic destinations. The Trump Taj Mahal poker room — immortalized in the 1998 film Rounders — had closed a year-and-a-half before in early 2015.
Even before the Trump Taj Mahal opened in 1990, the businessman and celebrity turned politician was a conspicuous presence in Atlantic City. His Trump Plaza Hotel and Casino operated from 1984 to 2014 before closing. In 1985 he opened a second casino, Trump's Castle (renamed Trump Marina in 1997), that was eventually sold in 2001. Trump additionally took over ownership of the Resorts Casino Hotel in 1987, though lenders took over that property in 2010.
In truth, Trump's involvement in the Taj Mahal — a casino he once touted as the "eighth wonder of the world" — had ended prior to the casino's closure last fall. In February 2016, billionaire business magnate Carl Icahn helped Trump Entertainment Resorts out of bankruptcy by making the company a subsidiary of his Icahn Enterprises, thus extinguishing the last 10 percent ownership stake Trump had in the property. (In December, Icahn was named a "special adviser" to President Trump.)
However the Trump name continued to be used despite the fact that he had no ownership and in fact had not been involved with the property's operations since 2009. In August 2014, Trump sued to have his name removed from both the Taj Mahal and the Trump Plaza (that would close a month later). According to NorthJersey.com, that suit was among "the last of Trump's approximately 1,800 casino lawsuits" marking his tenure on the Boardwalk.
As far as the property's future is concerned, in October the New Jersey Senate passed legislation designed to prevent Icahn from holding a license for the property for five years — or, rather, any owner who closes a casino from owning a license to reopen it (with Icahn being the sole owner potentially affected by the law). That legislation was subsequently vetoed by Governor Chris Christie, and it was just this week the NJ Senate came up just shy of the needed votes to override the veto.
It doesn't appear, however, that Icahn will pursue reopening the Taj Mahal himself, as Reuters reported earlier this month his plan to sell the property rather than invest any further in it.
Fly over to philly.com for more on the de-Trumping of the Taj.
"Live Dealer" Provider Evolution Gaming Posts Huge 2016
Finally, this week Evolution Gaming, providers of the popular "Live Dealer" games available for streaming directly to users' computers or mobile devices, this week reported a strong close to 2016 that saw the company's year-over-year revenue increase by 51 percent.
The Latvia-based company that launched its seventh studio in Europe last year earned €115.5 million in operating revenue in 2016, up from €76.4 million in 2015, iGamingBusiness reports.
Those totals were helped considerably by a strong fourth quarter in which Evolution enjoyed a 53 percent year-over-year revenue increase.
First founded in 2006, Evolution Gaming and its "Live Dealer" online casino games have seen considerable growth over the last decade, with chief executive Martin Carlesund sounding predictably sanguine about the what's to come for the company.
"We will continue to work according to our strategy where product innovation, regulated markets and land-based solutions are key areas," said Carelsund, who added that in addition to commercial objectives, "we are also preparing the company for a move to Nasdaq Stockholm in the second quarter" of 2017.
Read more about the evolution of Evolution at iGamingBusiness.
Image: Mohegan Sun Pocono.
Finding a trustworthy room to play online poker can be a monumental burden. That's all the more true if you're just looking for a place to play poker for free. We've listed five of the best play-money poker sites to enjoy and help hone your skills.