Charity Check: Big Game Big Give Makes Big Impact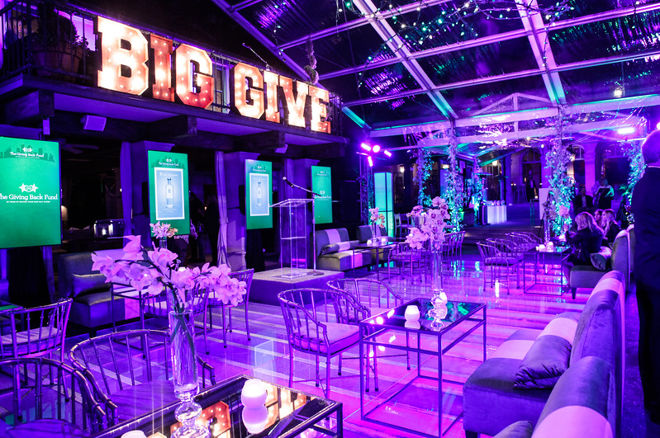 Charity Check is a new segment from PokerNews that will feature the charitable giving in the poker industry monthly.
The Giving Back Fund held its eighth annual Super Bowl charity event, Big Game Big Give, with a star-studded after-party Feb. 4 that had appearances from Olympian Michael Phelps, rapper Common, WSOP champion Jamie Gold and actor Rob Riggle.
Actor Josh Brolin hosted the event and David Schwimmer emceed the event at the home of Lisa and Michael Holthouse.
For the first time, the event also had a celebrity poker tournament, presented by BBO Poker Tables.
Follow through this gallery to see the highlights!
"It was such an honor to host the 8th annual Big Game Big Give fundraising event this year", said Brolin in a release. "Super Bowl weekend is something that I look forward to every year and I am so glad that I was able to be a part of something really special and help support the amazing work that The Giving Back Fund does."
The organization raised over $1 million auctioning off a NBA All-Star Weekend Extravaganza, a walk-on role in Brolin's film George and Tammy, tickets to the Hollywood premiere of Avengers: Infinity Wars, jewelry, designer bags, sports memorabilia and more.
Phelps hosted the poker tournament, which had winners taking home six months of private coaching from Gold, a seat at the Main Event of the WSOP, a VIP experience at the 2017 ESPY Awards and the 2017 Masters. Each of the top 20 players were also given a custom BBO Poker Table autographed by the celebrities they played with.
This year, The Giving Back Fund celebrates its 20th anniversary. The organization has worked with everyone from Ben Roethlisberger, Justin Timberlake, Yao Ming, Arian Foster, Magic Johnson to Britany Spears, Steve Gleason, Michael Bay and Mark Wahlberg.
Lemonade Day, a service-based organization designated to teach life skills, character and entrepreneurship, will receive a large portion of the night's proceeds, per request from the host committee chairs and the Holthouses.
All photos courtesy of Jill Photography
Please contact Katie Callahan on Twitter @katiecallawho to recommend future segments.