New York Could Pass an Online Gaming Bill This Session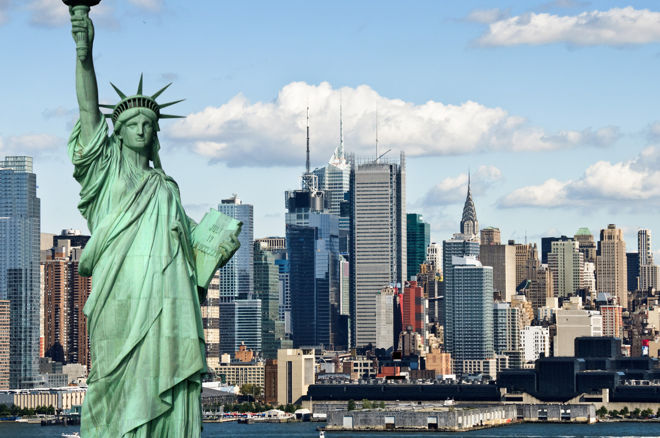 Since Black Friday rocked the poker world nearly six years ago, only Delaware, Nevada and New Jersey have passed state legislation to permit regulated online poker.
Last year, New York quickly gained momentum after online poker legislation introduced by New York State Senator John Bonacic passed the senate by an overwhelming 53-5 majority. However, hopes of regulation in 2016 came to a crashing halt once the state's other legislative body, the Assembly, failed to even vote on the bill and instead passed a daily fantasy sports bill before the session ended.
Hopes for online gaming legislation are rising once again early this year. On Jan. 27, Bonacic reintroduced an online poker bill titled S3898 to the New York Senate Racing, Gaming and Wagering Committee. The committee expects the bill to once again overwhelmingly pass the committee, which is chaired by Bonacic, before also being passed by the Senate again. Online Poker Report editor Dustin Gouker reported that Bonacic said the bill is a "front burner" issue this year and could be part of the state's budget.
What gives the bill a better chance to become law in 2017 is new support from the New York State Assembly. On Feb. 7, Assemblyman Gary Pretlow produced an identical bill to that of Bonacic, introduced to the Senate as A5250. Additionally, according to a tweet by New York political editor at FIOS 1 Andrew Whitman, the bill has support from Pretlow.
BREAKING: @JGPretlow - chair of Assemb. racing/wagering says he supports legal online & card room poker in NY - could happen this session

— Andrew Whitman (@WhitmanAndrew)
If passed by both houses, the bill would still need approval from New York State Governor Andrew Cuomo to become law. It is believed this would likely just be a formality.
If passed into law, the bill would enable the following:
New York State Gaming Commission empowered to grant up to 11 online poker licenses.
Licenses not limited to land-based casinos in New York.
A 10-year license would cost $10 million.
Online gaming operators would be subject to a 15 percent gross gaming revenue tax.
*Lead image courtesy of Wikipedia.org.