Playground Winter Festival: Daniel Le Leads Final 29 in The Wild $150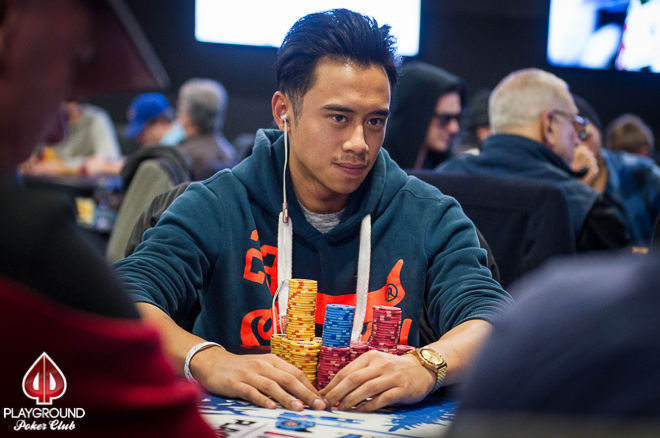 The field has been narrowed down to the final 29 players in Event #1: The Wild $150 at the Playground Winter Festival 2017. Leading the remaining hopefuls as they return on Thursday for the third and final day of play is Daniel Le. Le rocketed up the leaderboard with a huge three-way all in and ended Day 2 with 2,090,000.
With a few levels left to play in the night, Le found himself holding the best of it with pocket kings in a three-way all-in pot. One of his opponents had pocket queens and the other had ten-seven on a nine-seven-deuce flop. Le faded the turn and river and scooped the seven-figure pot to soar up the leaderboard.
Ending the day second in chips was Yan Nadeau who also benefited from a huge three-way all in. At almost the same time Le was raking in his pot, Nadeau was one of three players to see an ace-three-jack all diamond flop and made the call when the first opponent to act open-jammed.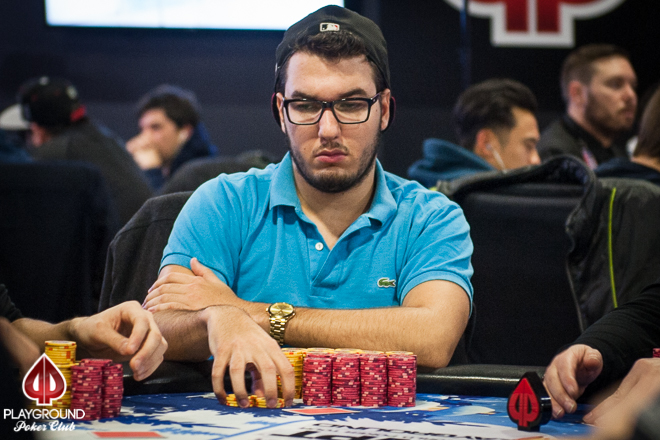 The third player in the hand also made the call and the cards were tabled. Nadeau, holding ace-ten, had the worst of it on the flop as he was up against ace-three for two pair and ace-king, but Nadeau held the only diamond and hit his flush on the river to rake in a monster pot. Nadeau finished with 1,475,000.
Also bagging top stacks were Christopher King (1,415,000), Day 1D chip leader Simon Pin-Disle (1,315,000), Mathieu Boucher (1,185,000), Nimer Ltaif (1,115,000), Karim Idrissi (1,095,000) and Daniel Campbell (1,045,000).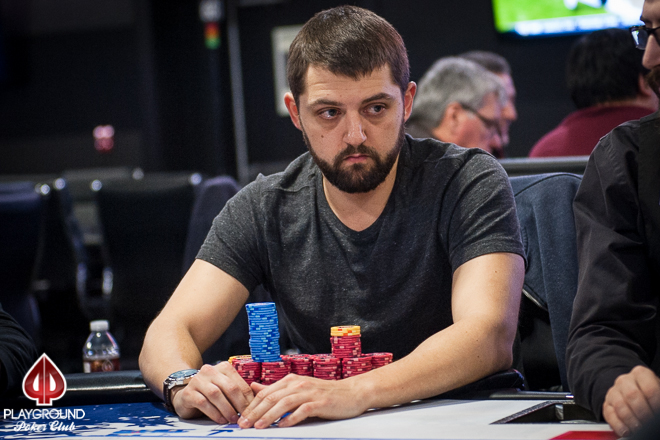 The day began with 240 players returning and the money bubble looming at 117th place. About three hours into play, Karen Kats made a huge hero call with a pair of fives to eliminate one of the start-of-day leaders to take the chip lead and force hand-for-hand action. Soon after, Naghibollah Noori was eliminated in 118th place and the remaining field was in the money.
A few to bust with some consolation include David Cadoch (34th - $680), Jason Conforti (41st - $620), Karen Kats (55th - $500), Nicholas Civitarese (63rd - $500), Marcello Simonetti (92nd - $330) and start-of-day chip leader Imran Hussain (115th - $280).
The remaining players are all now guaranteed $800 but their focus will be strictly aimed at the $28,000 top prize. Day 3 will resume at 7 p.m. Thursday evening at Playground Poker Club and will play down until a new champion is crowned.
Also on the docket, this evening is Event #2: $220 NL Hold'em 8-Max Freeze with a guarantee of $30,000. This one-day event features a 20,000 chip starting stack and 20-minute blind levels. The event kicks off at 7:30 p.m. local time with late registration until the end of the break following Level 4.
The Playground Winter Festival runs through Feb. 15 and PokerNews will bring you daily updates of all the happenings throughout the festival. For full coverage and details check out the Playground event blog here.
Have you ever wanted to write your own articles about poker? Maybe you've got some experiences or opinions about poker that you'd like to share. PokerNews is proud to launch The PN Blog where you can have a platform to make your voice heard. Learn more here.