888Live Barcelona Festival Tournament Schedule Released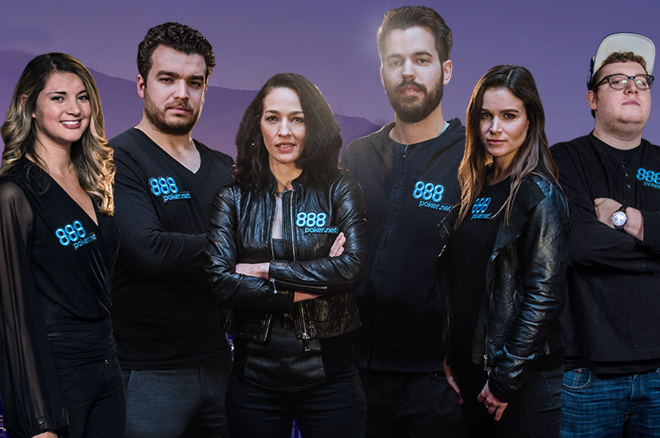 With a total guaranteed prize pool over €700,000, 888Live heads to its next destination, Gran Casino de Barcelona, for 12 days of poker at the 888Live Barcelona Festival.
The festival, which runs May 11 through May 22, comes just after the completion of the 888Live Kings Festival in Rozvadov.
Cate Hall is expected to attend along with William Kassouf, Michael Mizrachi and 888poker Ambassadors Bruno "Foster" Politano, Kara Scott, Dominik Nitsche, Bruno Kawauti, Nicolau Villa Lobos, Sofia Lovgren and Natalie Hof.
888poker is offering qualifiers to the Main Event and the Opening event with a $30 buy-in and a $12 buy-in, respectively. Players can also win their way into the festival in satellite tournaments, with buy-ins as low as $0.01.
Since prior to the festival's start in October 2016, the average live prize pool for a Main Event was $55,412, according to 888poker. Now, since the festival kicked off with 888Live Festival in London with a $250,000 guaranteed pool, 888Live has significantly grown to ensure at least $500,000 in this May festival in Barcelona.
In the latest festival in Rozvadov, Catalin Pop won the 888Live Main Event, granting him a seat in the Barcelona tournament. He said he hopes to walk away with the title, but he also has advice for other hopefuls.
"Have patience, be aggressive, and don't be afraid to bust," he told 888poker.
Here's the full tournament schedule:
| Date | Time (GMT) | Event | Buy-in | Chips | Re-entry | Level | Info |
| --- | --- | --- | --- | --- | --- | --- | --- |
| May 11 | 16:00 | Turbo Satellite to Opening Event 1A | €50 | 5,000 | Unlimited | 15 | Late registration six levels, 10 seats |
| May 11 | 18:00 | 888Live Barcelona Festival - Opening Event Day 1A | €220 | 30,000 | 2x re-entry | 30 | Late registration 11 levels, €100,000 |
| May 12 | 16:00 | Turbo Satellite to Opening Event 1B | €50 | 5,000 | Unlimited | 15 | Late registration six levels, 10 seats |
| May 12 | 18:00 | 888Live Barcelona Festival - Opening Event Day 1B | €220 | 30,000 | 2x reentry | 30 | Late registration 11 levels, €100,000 |
| May 12 | 20:00 | The Thunder | €88 | 15,000 | 2x re-entry | 25 | €10,000 |
| May 13 | 12:00 | Turbo Satellite to Opening Event 1C | €50 | 5,000 | Unlimited | 15 | Late registration six levels, 10 seats |
| May 13 | 14:00 | 888Live Barcelona Festival - Opening Event Day 1C | €220 | 30,000 | 2x re-entry | 30 | Late registration 11 levels, €100,000 |
| May 13 | 18:00 | 888Live Barcelona Festival - Opening Event Day 1D TURBO | €220 | 30,000 | 2x re-entry | 15 | Late registration 11 levels |
| May 13 | 20:00 | The Breeze | €110 | 15,000 | 2x re-entry | 25 | €20,000 |
| May 14 | 13:00 | 888Live Barcelona Festival - Opening Event FINAL | | | | | 40 |
| May 14 | 14:00 | High Noon Turbo | €50 | 10,000 | yes | 15 | Late registration six levels |
| May 14 | 18:00 | The Hurricane | €110 | 15,000 | 2x re-entry | 20 | |
| May 15 | 20:00 | The Swordfish | €55 | 15,000 | yes | 25 | €5,555 |
| May 16 | 20:00 | The Turbo Deepstack | €77 | 10,000 | 2x re-entry | 20 | |
| May 17 | 18:00 | The Lightning 8-Max | €66 | 20,000 | yes | 20 | |
| May 17 | 19:00 | Super Satellite to Main Event Day 1A | €110 | 8,000 | Unlimited | 20 | Late registration seven levels, 10 seats |
| May 17 | 20:00 | High Roller Day 1 | €2,200 | 100,000 | Unlimited | 45 | Late registration Day 2/eight levels, €50,000 |
| May 18 | 17:00 | High Roller Final Day | €2,200 | 100,000 | | 45 | Late registration until first hand, €50,000 |
| May 18 | 18:00 | 888Live Barcelona Festival ME Day 1A | €1,100 | 30,000 | yes | 45 | 12 levels/late registration Day 2, €500,000 |
| May 19 | 15:00 | Super Satellite to Main Event Day 1B | €110 | 10,000 | yes | 15 | Late registration eight levels, five seats |
| May 19 | 18:00 | 888Live Barcelona Festival ME Day 1B | €1,100 | 30,000 | yes | 45 | 12 levels/late registration Day 2, €500,000 |
| May 19 | 21:00 | The Mega Knockout [€50 Bounty] | €165 | 25,000 | 2x re-entry | 25 | Late registration eight levels |
| May 20 | 12:00 | Turbo Super Satellite to Main Event Day 1C | €110 | 5,000 | yes | 20 | Late registration six levels, three seats |
| May 20 | 15:00 | 888Live Barcelona Festival ME Day 1C | €1,100 | 30,000 | yes | 45 | 12 levels/late registration Day 2, €500,000 |
| May 20 | 20:00 | Omaha Pot Limit | €150 | 50,000 | 2x re-entry | 25 | Late registration eight levels |
| May 21 | 14:00 | 888Live Barcelona Festival ME Day 2 | €1,100 | 30,000 | yes | 60 | Late registration until first hand |
| May 21 | 16:00 | The Whale | €333 | 20,000 | 2x re-entry | 30 | Late registration 10 levels |
| May 21 | 19:00 | Ladies Event | €220 | | Unlimited | 25 | Late registration eight levels |
| May 22 | 14:00 | 888Live Barcelona Festival ME FINAL Day | | | | | 60 |