Dennis Fleig Wins the 2017 WNYPC $300 Pot Limit Omaha Event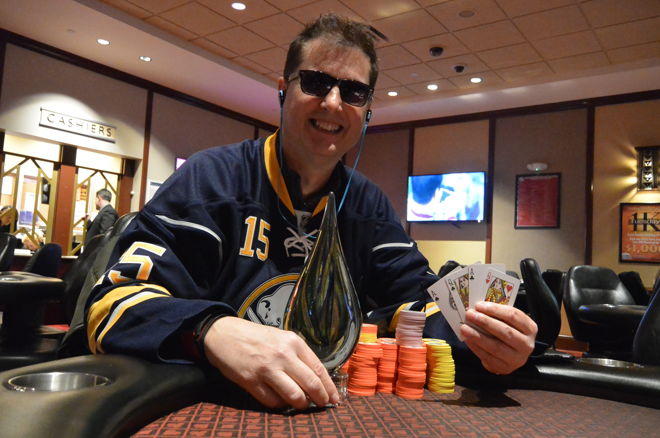 Dennis Fleig dominated the final table on the way to winning the 2017 Western New York Poker Challenge $300 Pot Limit Omaha event inside the Niagara Falls Poker Room at the Seneca Niagara Resort & Casino Thursday.
While the final three chopped the remaining prize money evenly at $3,825 each, Fleig earned the trophy and title by putting on a display of power PLO throughout the event and particularly short-handed.
The event drew 48 entries leaving the tournament fees to cover an overlay making up the $15,000 prize pool guarantee. The plan was to pay five spots, but money from the first three places was taken to pay sixth as well.
| Position | Player | Prize |
| --- | --- | --- |
| 1 | Dennis Fleig | $3,825 |
| 2 | Paul Bitterman | $3,825 |
| 3 | Mark Roberts | $3,825 |
| 4 | Dave Grana | $1,500 |
| 5 | Jay Clark | $1,125 |
| 6 | Alex Rivera | $900 |
By the time six players were left, Alex Rivera and Jay Clark both got short and busted out in order. Four handed, Fleig raised a good 80 percent of hands and picked his spots carefully whenever someone dared play back at him. At one point he had half the chips in play and appeared to be dominating.
A three-way all-in hand at the end saw Roberts get it in with a chance to knock out both Dave Grana and Paul Bitterman. In fact, Roberts would have taken a lead into heads-up play with Fleig had his straight held. However, Bitterman rivered a flush to stay alive.
Grana took fourth, and with the three remaining stacks looking relatively even, the deal was struck.
PokerNews' coverage of the 2017 WNYPC will continue Friday with the first of two starting flights in the 2017 WNYPC Main Event beginning at 11 a.m. local time.