Validation: Years After Main Event Win, Ryan Riess Adds WPT Title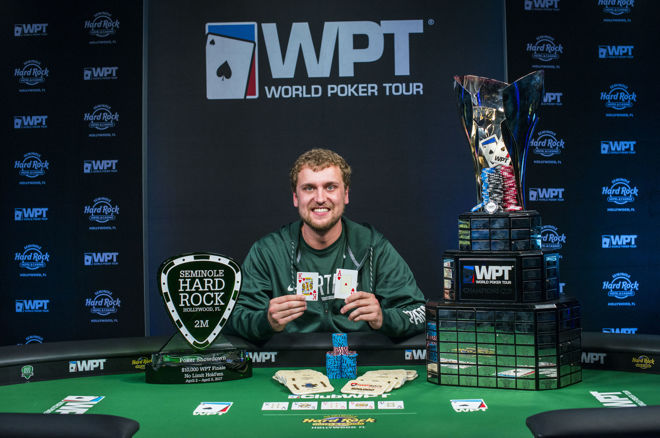 In what he admitted felt like a validation of sorts, Ryan Riess won the World Poker Tour $10,000 Seminole Hard Rock Poker Finale for $716,088, triumphing over a field of 349 players.
It's by far the biggest cash he's had outside of his win in the 2013 World Series of Poker Main Event for over $8.3 million, after which he famously proclaimed himself the best player in the world.
"It was something I said in the moment," he said. "Now, I realize how bad I was four years ago [laughs]. I've been working on my game a lot."
Official Final Table Results
| Place | Player | Prize |
| --- | --- | --- |
| 1 | Ryan Riess | $716,088* |
| 2 | Alan Sternberg | $491,081 |
| 3 | Terry Schumacher | $315,726 |
| 4 | Tim West | $204,466 |
| 5 | Jason Koon | $157,599 |
| 6 | Cliff Josephy | $130,370 |
Includes $15,000 Tournament of Champions seat
As the final table began, Riess trailed only former WPT champ Alan Sternberg in the counts, according to the live updates. Sternberg wasn't about to give up his spot as the man to catch early on, extending his lead when he eliminated November Niner Cliff Josephy just 18 hands in.
After Tim West opened for a big raise first to act, Josephy shoved all in for just under 1.3 million at 15,000/30,000/5,000. Sternberg called in the big blind, causing West to fold pocket queens faceup. That proved a smart play, as Sternberg held
.
Josephy needed help with
and found none on a dry ten-high board, giving Sternberg a monstrous stack over 200 big blinds.
Later in that same level, Jason Koon raised it up and got action from Terry Schumacher. The board ran out
, and Koon opted for a bet-bet-shove line. Schumacher looked him up with
, and Koon was forced to turn over his bluff:
for a missed straight.
On Hand #59, Riess got put in a sticky spot by Schumacher. Riess completed the blind to 50,000 and called a raise to 150,000 from Schumacher, with the two blinds seeing a
flop. Riess check-called 210,000. He check-called 450,000 on the
, and the river was a
completing a four-straight. Riess checked and Schumacher bet 600,000, a hefty chunk of Riess' remaining stack.
The man from Michigan went deep into the tank, getting clocked after almost eight minutes. Finally, he called with
, winning a showdown against
.
"That was so hard," he said of the hand. "Ace-jack was the only thing that made sense. I didn't think he would bet jacks the size he did on the flop. I thought he'd bet smaller or maybe even check. I'm kind of glad that they called clock on me, because if not, I might not have made the right decision."
West had been grinding a short stack awhile and survived a couple of all-ins, but the end came when he got his last few big blinds in with king-jack and found two pair, but that two pair helped make Riess' ace-ten into a straight.
Schumacher tried a classic squeeze shove for over 20 big blinds after Sternberg raised preflop and Riess called, but Riess had flatted a big hand and called with
. Schumacher was dominated with
and neither jacks nor hearts would appear on the community.
Sternberg had dominated much of the final table but had only a small lead on Riess heading into heads-up play.
What ensued was a back-and-forth struggle that played out over the next 117 hands.
"Alan played great," said Riess, who conferred with fellow WSOP Main Event champ Joe Cada for heads-up advice. "He was very aggressive and put me in a lot of hard spots."
Riess grabbed the lead early, but Sternberg battled right back when he got three streets of value with aces up. Riess came right back and moved into a big lead of his own, hammering Sternberg down to about 13 big blinds. He had a chance to put Sternberg away when they got all in preflop, but Sternberg's eights dominated Riess' sevens and held up.
In the end, the two were nearly tied when it came down to a flip — Riess'
against
. The drama was short-lived as Riess flopped a king and turned kings full, locking it up without even needing to see a river card.
Asked whether he still believes himself to be the best player in the world, Riess smiled.
"I feel like I'm one of them," he said. "If you don't think that you're one of the best players in the world, and you're playing the big buy-ins, you probably shouldn't be."
Next up for Riess is the WPT Tournament of Champions, and he said he's amped for the chance to play.
"Hopefully, I can go back-to-back," he said.
Photos courtesy of WPT