Feds Shut Down Bicycle Hotel & Casino for 'Criminal Fraud' Investigation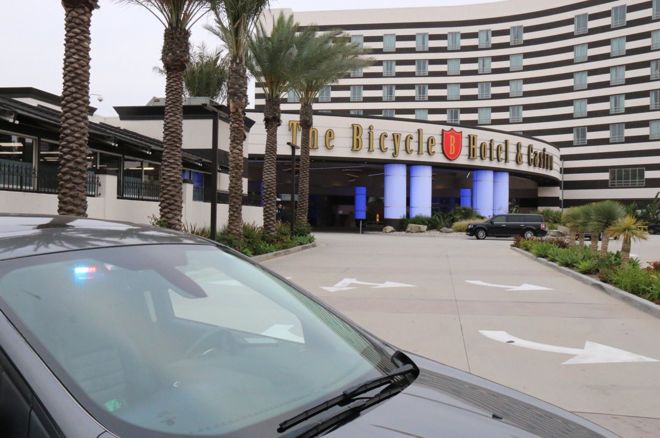 Federal agents served a search warrant at the Bicycle Hotel & Casino in Bell Gardens allegedly as part of a criminal fraud investigation, shutting it down April 4, reported CBSLA.com.
HLS/ICE leading multi agency raid/Bicycle Casino, Bell Gardens. Poss fraud/money laundering. @CBSLA @KCBSKCALDesk… https://t.co/PwnoRYsfrf

— Mark Dunn (@mobile2markdunn)
Officials with U.S. Immigration and Customs Enforcement's Homeland Security Investigations confirmed the raid to CBSLA, but would not comment further on the investigation.
KNX 1070 reporter Pete Demetriou broke the news on Twitter.
#BREAKING Federal agents shut down Bicycle Casino & Hotel in Bell Gardens for "criminal fraud" investigation. More… https://t.co/guG0F7bU0a

— Pete Demetriou (@knxpete)
Updated
#BicycleClub #FederalRaid 6 agencies close Casino action as criminal fraud probe goes on. Armored Car picks up evid… https://t.co/Z1MUgDCkGy

— Pete Demetriou (@knxpete)
Virginia Kice, a spokeswoman for U.S. Immigration and Customs Enforcement in Los Angeles, said in a statement that "a search warrant issued by a United States magistrate judge was filed under seal in relation to an ongoing investigation," but could not comment "on the scope or nature of the investigation" because of the seal on the warrant.
The warrant is being executed today by members of the Los Angeles High Intensity Financial Crime Area Task Force, which includes U.S. Immigration and Customs Enforcement's Homeland Security Investigations; IRS Criminal Investigation; the California Department of Justice, Bureau of Gambling Control; and the United States Attorney's office.
According to law enforcement sources who were familiar with the situation, the investigation was focused on whether Bicycle's gambling club was used to launder cash illegally obtained, reported the Los Angeles Times. In other words, this investigation should discover if gamblers used dirty money at the tables in exchange for clean money.
Kenneth Taylor, a regular Paigow player at the casino, told the Los Angeles Times the casino had not been evacuated. A casino employee was reportedly told that the casino floor would reopen at a later date so he could cash out chips.
IRS briefs media at Bicycle Casino. Warrant served/ongoing invst,no further info. @KCBSKCALDesk @CBSLA @KNX1070… https://t.co/rG6WTwLhNb

— Mark Dunn (@mobile2markdunn)
Bicycle Hotel & Casino provided a comment midday through its public relations firm.
"We are working with authorities and currently do not have additional information," the statement said. "As soon as the federal agents have completed their work, we will be in full operation."
Sources: @BicycleCasino raid related to possible complicity in laundering money for small # of individuals. Player money said to be safe.

— Todd Witteles (@ToddWitteles)
The casino will be closed until the completion of the investigation, possibly Tuesday or Wednesday, said authorities to KTLA.
Agents entered the casino around 7 a.m. and proceeded to tell guests to stop playing and keep their hands away from the tables, said a casino restaurant employee to KTLA.
Federal investigators remove boxes of evidence from Bicycle Hotel and Casino. https://t.co/9PPYhWm8GV

— Carlos Granda (@abc7carlos)
On April 4, the Bicycle Casino tweeted that they would reopen at 3 AM:
The Bicycle Hotel & Casino will be open and in full operation at 3am. https://t.co/YU5R8GP3Oh

— Bicycle Hotel Casino (@BicycleCasino)
Lead image courtesy of courtesy of Pete Demetriou and KNX 1070