In the Spotlight: David Dao's Poker Results Most Searched After Flight Incident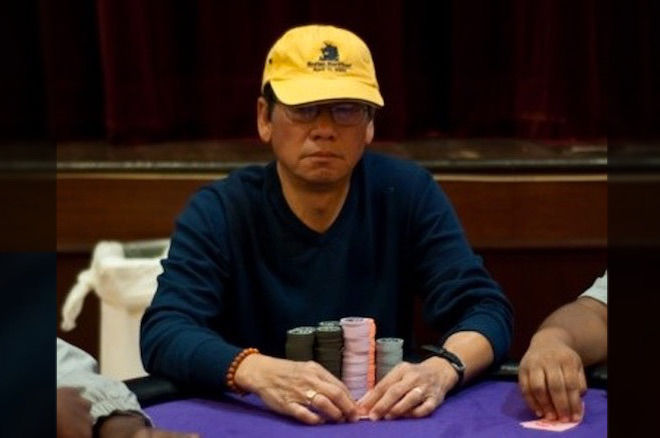 The Hendon Mob database of tournament poker results is a much-consulted site for poker players and fans alike. Among the many rankings available on the site are ongoing lists of most searched players over the last week. Such lists provide quick snapshots of which tournament poker players are currently "in the spotlight" with their profiles being looked at the most.
Here are the most searched players on Hendon Mob over the last seven days as reported by the site this morning, Saturday, April 15:
| Position | Player | Last Week |
| --- | --- | --- |
| 1st | David Dao | -- |
| 2nd | Fedor Holz | 1st |
| 3rd | Daniel Negreanu | 5th |
| 4th | Daniel Colman | 3rd |
| 5th | Erik Seidel | 7th |
| 6th | Justin Schwartz | 4th |
| 7th | Maurice Hawkins | 133rd |
| 8th | Jason Mercier | 8th |
| 9th | Phil Ivey | 10th |
| 10th | Steve O'Dwyer | 2nd |
This is the list typically featuring the "usual suspects" — that is, players like Fedor Holz (2nd), Daniel Negreanu (3rd), Daniel Colman (4th), Erik Seidel (5th), Phil Ivey (9th), Steve O'Dwyer (10th) and others about whom those who follow poker are always curious.
None of those players picked up cashes in the last week other than Seidel who finished fifth in the World Poker Tour Tournament of Champions won by Daniel Weinman last weekend. But they're among the group of players who routinely have their tournament results searched and viewed by Hendon Mob's visitors regardless of what they've done lately.
Sometimes, though, "real life" or non-poker news steps in to affect these rankings, and that's exactly what happened this week to make David Dao the most searched player on the site — and by a wide margin.
Dao was the individual at the center of a much-publicized incident occurring last Sunday involving a United Airlines flight. You've likely heard the story of passengers having been boarded for the full flight, then the airline asking for volunteers to relinquish their seats to accommodate extra crew members. Not getting enough volunteers, four passengers were selected at random to give up their seats, Dao being one of those picked.
However the 69-year-old physician refused to leave the plane, and security officers forcibly removed him, injuring Dao in the process. Video of the unsettling incident recorded by other passengers swiftly went viral, producing widespread negative response, with the airline's subsequent statements of policy further fueling the fire.
As it happens, Dao is a poker player, and those searching his page on Hendon Mob found he's cashed for over $265K in tournaments over the years, including a runner-up finish in the $5K World Series of Poker Circuit Harrah's Tunica Main Event in 2009. (The photo of Dao above is from the 2009 WSOP-C New Orleans Main Event.) Over the last seven days Dao's page has been viewed nearly four times as much as the next-viewed player's page (Holz).
Speaking of WSOP Circuit success, also jumping onto the list this week is Maurice Hawkins (7th), who collected his record 10th WSOP-C ring on Monday after winning the WSOP-C Horseshoe Council Bluffs Main Event for a second year in a row.
Finally, Jason Mercier (8th), winner of the $25K Seminole Hard Rock Poker Showdown High Roller a week-and-a-half ago, remains on the most-searched list again this week, as does 2015 WSOP Main Event 14th-place finisher Justin Schwartz (4th).
Hendon Mob also maintains a updated list of players with the biggest increase in unique hits over the previous seven days, a.k.a. the "Top Movers." This list usually changes a lot from week to week in response to individual tournament successes. Of course there's an exception to that trend this week, as we've already noted:
| Position | Player | Last Week |
| --- | --- | --- |
| 1st | David Dao | +130214% |
| 2nd | Sosia Jiang | +4900% |
| 3rd | Grigorij Orlov | +3518% |
| 4th | Marcin Chmielewski | +1868% |
| 5th | Elliot Smith | +894% |
| 6th | Andrej Desset | +795% |
| 7th | Daniel Weinman | +620% |
| 8th | Stu Ungar | +435% |
| 9th | Maurice Hawkins | +408% |
| 10th | Ari Engel | +167% |
We've covered the huge increase in interest in Dao's page. Those big tournament wins by Maurice Hawkins and Daniel Weinman mentioned above also explain their presence on this list.
Meanwhile many are looking up Sosia Jiang's page as well after her recent victory in the HK$103K Poker Championship Macau High Roller. Other recent tournament successes inspiring page lookups this week have included:
Also on the list are Lithuanian player Grigorij Orlov and the late Stu Ungar, the latter's impressive results (including three WSOP Main Event titles) having been the subject of some conversation over "Poker Twitter" this week.
Finding a trustworthy room to play online poker can be a monumental burden. That's all the more true if you're just looking for a place to play poker for free. We've listed five of the best play-money poker sites to enjoy and help hone your skills.