Inside Gaming: New Jersey Online Revenue on the Rise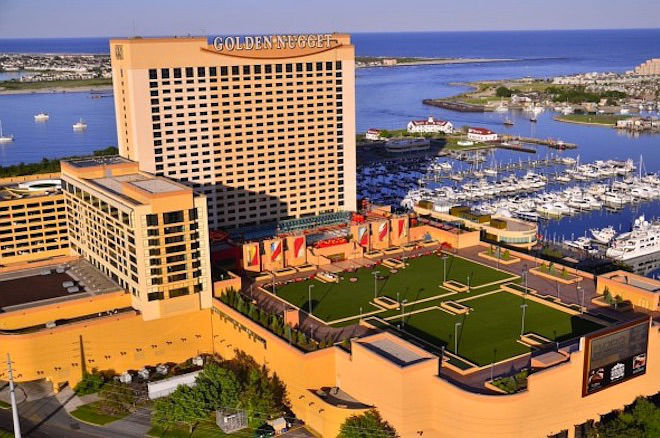 This week's installment of Inside Gaming shares good news from the Garden State regarding NJ's online gaming revenue, reports on plans to build a new eSports arena in Las Vegas, and notes the current legal woes of two famous sports bettors.
Record Month for New Jersey Online Gaming Revenue
March was an especially good month for online casinos in New Jersey — historically so, in fact.
PlayNJ.com summarizes the month's record-setting totals, starting with the state's online gaming operators earning over $21 million in March, topping the previous best-ever month of $18.8 million in January of this year.
According to the New Jersey Division of Gaming Enforcement, online casino revenue totaled close to $19.5 million with online poker revenue adding another $2.25 million. That represents a year-over-year increase of more than 40 percent in total online gaming revenue.
Such growth has been consistent ever since online gaming first launched in New Jersey, with positive year-over-year numbers for each and every month through nearly three-and-a-half years. The state has earned a total of $536.5 million in revenue since legalizing online casino games and poker in late 2013.
The Golden Nugget Atlantic City especially prospered during March with more than $6 million in online gaming revenue, a new high. Both Resorts Casino Hotel ($4.2 million) and Tropicana Casino & Resort ($3.8 million) also posted all-time best months.
In fact, Golden Nugget has now moved ahead of longtime leader Borgata Hotel Casino & Spa in terms of market share, explains PlayNJ.com, moving up to 28.4 percent and ahead of Borgata's 20.0 percent, with Resorts next (19.3 percent) followed by the Tropicana (17.8 percent) and Caesars Atlantic City (14.5 percent).
Check out PlayNJ.com for more New Jersey online gaming revenue number-crunching.
Luxor to House New eSports Arena
Some news this week regarding the Luxor Las Vegas and its plan to renovate a 30,000-square-foot nightclub into a venue to host eSports events. The renovation will be completed along with investor Allied Esports and MGM Resorts International, with hopes of opening by early 2018, reports PVPLive.
The new venue will take the space formerly occupied by the now-closed LAX nightclub, and will be managed by Allied Esports and Esports Arena.
In a press release from Allied Esports, the company's CEO Jud Hannigan expressed excitement about the new Vegas-based venue becoming a central hub for the burgeoning industry.
"Just as Yankee Stadium, Madison Square Garden and Wembley Stadium are considered their sports' most aspirational venues by players and fans alike, Esports Arena Las Vegas will be the iconic destination in eSports and complement the city's incredible appeal, attracting video gaming competitors and fans from around the world."
The new eSports arena will be the second to open in Las Vegas. Millenial Esports in Neonopolis opened a 15,000-square-foot arena in downtown Vegas early last month where it hosted a three-day Halo tournament.
PVPLive shares more about the new eSports arena.
Significant Legal Woes for Two Big Sports Bettors
Over the past week there were a couple of stories regarding high-profile sports bettors each facing serious legal trouble.
One we've covered occasionally here before at Inside Gaming, the insider trading case against 70-year-old gambler Billy Walters. Following two days' worth of jury delibration, Walters was found guilty last Friday of having made more than $43 million on trades based on information he gleaned from a board member at Dean Foods.
As the Financial Times reports, Walters was found guilty of 10 separate counts of conspiracy, securities fraud and wire fraud, and could "face several years in prison when he is sentenced at a later date."
The verdict came while the Masters golf tournament played out last week in Augusta, where Phil Mickelson was among the leaders for a while before finishing tied for 22nd. A friend of Walters, Mickelson once paid a sports gambling debt of $1.9 million to Walters, one of many stories of big sports bets Walters has won over the years.
That story surfaced during the investigation of Walters, and in fact Mickelson became ensnared in the case thanks to his own dealings in Dean Foods stock. The golfer was ordered by the Securities and Exchange Commission to pay $1 million in fines for having profiting from a tip from Walters regarding the company.
Carl Icahn's name also came up during the case as federal investigators looked into other dealings made by the billionaire business magnate and by Mickelson, in particular Walters selling shares of Clorox just as Icahn expressed interest in possibly buying the company. Unlike Walters, neither Icahn nor Mickelson faced any criminal charges.
Meanwhile on Wednesday professional gambler David Oancea, a.k.a. "Vegas Dave," was indicted on 19 counts by a federal grand jury for allegedly providing false Social Security numbers to casinos and sportsbooks.
Las Vegas channel KTNV reports how the indictment lists nine separate incidents of Oancea providing SSNs belonging to others but represented as belonging to him occurring in 2015 and 2016 at the Wynn Las Vegas and Westgate Las Vegas Resort & Casino.
Like Walters, Oancea achieved notoriety for big sports bets, including winning $2 million on the National Football Conference Championship game earlier this year and missing out on a $3 million payday when the Atlanta Falcons failed to hold their lead and beat the New England Patriots in Super Bowl LI.
For more on the Walters verdict visit the Financial Times, and head over to KTNV for more on Vegas Dave.
Photo: Golden Nugget Atlantic City.
Finding a trustworthy room to play online poker can be a monumental burden. That's all the more true if you're just looking for a place to play poker for free. We've listed five of the best play-money poker sites to enjoy and help hone your skills.