Best Poker Tournaments in Las Vegas 2017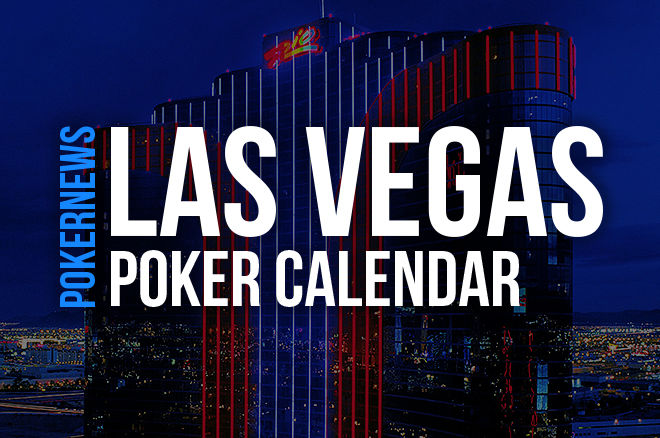 Heading to Las Vegas this summer? There are literally hundreds of poker tournaments to choose from, but deciding where and when you want to play can be overwhelming.
We're here to help. PokerNews has compiled all of the best events from the major tournament series during the summer to help you put together your own poker schedule for your trip. Below you'll find a day-by-day breakdown of the tournaments at Aria, Binion's, Golden Nugget, Planet Hollywood, Venetian, Wynn, and of course the World Series of Poker at the Rio. You'll be able to compare buy-ins, guaranteed prize pools and even rake and fees for every event.
We'll leave it up to you to decide which tournaments best fit your schedule and budget.
LAS VEGAS POKER CALENDAR SUMMER 2017
P.H. = Planet Hollywood
G.N. = Golden Nugget
THURSDAY, MAY 25
| Time | Room | Event | Guarantee | Buy-In | Fees |
| --- | --- | --- | --- | --- | --- |
| 11 a.m. | P.H. | Ultimate Goliath NLH Flight A | $250,000 | $600 | 13.3% |
| 12 p.m. | Venetian | NLH SuperStack | $40,000 | $400 | 14.5% |
FRIDAY, MAY 26
| Time | Room | Event | Guarantee | Buy-In | Fees |
| --- | --- | --- | --- | --- | --- |
| 11 a.m. | P.H. | Ultimate Goliath NLH Flight B | $250,000 | $600 | 13.3% |
| 12 a.m. | Venetian | SuperStack NLH Day 1A | $200,000 | $600 | 14.5% |
SATURDAY, MAY 27
| Time | Room | Event | Guarantee | Buy-In | Fees |
| --- | --- | --- | --- | --- | --- |
| 11 a.m. | P.H. | Ultimate Goliath NLH Flight C | $250,000 | $600 | 13.3% |
| 12 a.m. | Venetian | SuperStack NLH Day 1B | $200,000 | $600 | 14.5% |
SUNDAY, MAY 28
| Time | Room | Event | Guarantee | Buy-In | Fees |
| --- | --- | --- | --- | --- | --- |
| 12 p.m. | Venetian | NLH SuperStack | $40,000 | $400 | 14.5% |
MONDAY, MAY 29
| Time | Room | Event | Guarantee | Buy-In | Fees |
| --- | --- | --- | --- | --- | --- |
| 12 p.m. | Venetian | SuperStack NLH Day 1A | $250,000 | $1,100 | 10.9% |
TUESDAY, MAY 30
| Time | Room | Event | Guarantee | Buy-In | Fees |
| --- | --- | --- | --- | --- | --- |
| 12 p.m. | Venetian | SuperStack NLH Day 1B | $250,000 | $1,100 | 10.9% |
| 2 p.m. | Rio | Daily Deepstack NLH | | $235 | 14.9% |
WEDNESDAY, MAY 31
| Time | Room | Event | Guarantee | Buy-In | Fees |
| --- | --- | --- | --- | --- | --- |
| 11 a.m. | Rio (WSOP) | Casino Employees NLH | | $565 | 11.5% |
| 11 a.m. | P.H. | Ultimate Goliath PLO | $100,000 | $1,100 | 9.0% |
| 11 a.m. | Venetian | Omaha 8B | $20,000 | $400 | 14.5% |
| 2 p.m. | Rio | Daily Deepstack NLH | | $235 | 14.9% |
| 2:05 p.m. | Venetian | NLH Bounty | $30,000 | $400 | 14.5% |
| 3 p.m. | Rio (WSOP) | Tag Team NLH Championship | | $10,000 | 6.0% |
THURSDAY, JUNE 1
| Time | Room | Event | Guarantee | Buy-In | Fees |
| --- | --- | --- | --- | --- | --- |
| 11 a.m. | Rio (WSOP) | NLH Shootout | | $3,000 | 10.0% |
| 11 a.m. | P.H. | NLH $20k in a Day | $20,000 | $200 | 17.5% |
| 12 p.m. | Venetian | NLH SuperStack | $70,000 | $600 | 13.7% |
| 2 p.m. | Rio | Daily Deepstack NLH | | $235 | 14.9% |
| 3 p.m. | Rio (WSOP) | Omaha Hi-Lo 8 or Better | | $1,500 | 10.0% |
| 7:05 p.m. | Venetian | NLH Bounty | $20,000 | $400 | 14.5% |
FRIDAY, JUNE 2
| Time | Room | Event | Guarantee | Buy-In | Fees |
| --- | --- | --- | --- | --- | --- |
| 10 a.m. | Rio (WSOP) | The Colossus III NLH Flight A | | $565 | 11.5% |
| 11 a.m. | P.H. | NLH $50k in a Day | $50,000 | $250 | 16.0% |
| 11 a.m. | Aria | No-Limit Hold'em | | $400 | 15.0% |
| 11 a.m. | G.N. | NLH $100K Guarantee Flight A | $100,000 | $150 | 26.7% |
| 12 p.m. | Wynn | NLH 5K Survivor | $50,000 | $400 | 14.0% |
| 12 p.m. | Venetian | NLH Bounty | $70,000 | $600 | 12.7% |
| 2 p.m. | Venetian | NLH High Roller Day 1A | $1,000,000 | $10,000 | 4.5% |
| 3 p.m. | Rio (WSOP) | NLH High Roller for One Drop | | $111,111 | 5.0% |
| 3 p.m. | G.N. | NLH $100K Guarantee Flight B | $100,000 | $150 | 26.7% |
| 4 p.m. | Rio (WSOP) | The Colossus III NLH Flight B | | $565 | 11.5% |
| 5:05 p.m. | Venetian | Omaha 8B Day 1A | $150,000 | $600 | 13.7% |
| 6 p.m. | Binion's | NLH Charity Tournament | $20,000 | $230 | 13.0% |
| 7 p.m. | G.N. | NLH $100K Guarantee Flight C | $100,000 | $150 | 26.7% |
SATURDAY, JUNE 3
| Time | Room | Event | Guarantee | Buy-In | Fees |
| --- | --- | --- | --- | --- | --- |
| 10 a.m. | Rio (WSOP) | The Colossus III NLH Flight C | | $565 | 11.5% |
| 11 a.m. | P.H. | NLH $50k in a Day | $50,000 | $250 | 16.0% |
| 11 a.m. | Aria | No-Limit Hold'em | | $400 | 15.0% |
| 11 a.m. | G.N. | NLH $100K Guarantee Flight D | $100,000 | $150 | 26.7% |
| 12 p.m. | Wynn | No-Limit Hold'em | $100,000 | $550 | 12.1% |
| 12 p.m. | Venetian | NLH SuperStack | $70,000 | $600 | 13.7% |
| 1 p.m. | Binion's | NLH Charity Tournament | $20,000 | $230 | 13.0% |
| 2 p.m. | Venetian | NLH High Roller Day 1B | $1,000,000 | $10,000 | 4.5% |
| 3 p.m. | Rio (WSOP) | Mixed Triple Draw Lowball | | $2,500 | 10.0% |
| 3 p.m. | G.N. | NLH $100K Guarantee Flight E | $100,000 | $150 | 26.7% |
| 3:33 p.m. | WSOP.com | Online No-Limit Hold'em | | $333 | 9.9% |
| 4 p.m. | Rio (WSOP) | The Colossus III NLH Flight D | | $565 | 11.5% |
| 5:05 p.m. | Venetian | Omaha 8B Day 1A | $150,000 | $600 | 13.7% |
| 7 p.m. | G.N. | NLH $100K Guarantee Flight F | $100,000 | $150 | 26.7% |
SUNDAY, JUNE 4
| Time | Room | Event | Guarantee | Buy-In | Fees |
| --- | --- | --- | --- | --- | --- |
| 10 a.m. | Rio (WSOP) | The Colossus III NLH Flight E | | $565 | 11.5% |
| 11 a.m. | P.H. | NLH $50k in a Day | $50,000 | $250 | 16.0% |
| 11 a.m. | Aria | No-Limit Hold'em | | $400 | 15.0% |
| 11 a.m. | Binion's | No-Limit Hold'em | $30,000 | $475 | 15.8% |
| 12 p.m. | Wynn | No-Limit Hold'em | $100,000 | $550 | 12.1% |
| 12 p.m. | Venetian | NLH SuperStack | $70,000 | $600 | 13.7% |
| 1 p.m. | G.N. | Daily No Limit Hold'em | $20,000 | $150 | 26.7% |
| 3 p.m. | Rio (WSOP) | Omaha Hi-Lo Championship | | $10,000 | 6.0% |
| 4 p.m. | Rio (WSOP) | The Colossus III NLH Flight F | | $565 | 11.5% |
| 5 p.m. | P.H. | Goliath Milly NLH Flight A | $1,000,000 | $600 | 13.3% |
| 7:05 p.m. | Venetian | NLH Bounty | $30,000 | $400 | 14.5% |
MONDAY, JUNE 5
| Time | Room | Event | Guarantee | Buy-In | Fees |
| --- | --- | --- | --- | --- | --- |
| 11 a.m. | Rio (WSOP) | Tag Team NLH | | $1,000 | 10.0% |
| 11 a.m. | P.H. | Goliath Milly NLH Flight B | $1,000,000 | $600 | 13.3% |
| 11 a.m. | Aria | No-Limit Hold'em | | $400 | 15.0% |
| 11 a.m. | Binion's | H.O.R.S.E. | $20,000 | $365 | 17.8% |
| 12 p.m. | Wynn | No-Limit Hold'em | $100,000 | $550 | 12.1% |
| 12 p.m. | Venetian | NLH MSPT Day 1A | $2,500,000 | $1,100 | 10.9% |
| 1 p.m. | G.N. | Daily No Limit Hold'em | $20,000 | $150 | 26.7% |
| 2 p.m. | Rio | Daily Deepstack NLH | | $235 | 14.9% |
| 3 p.m. | Rio (WSOP) | Dealers Choice 6-Handed | | $1,500 | 10.0% |
| 5 p.m. | P.H. | Goliath Milly NLH Flight C | $1,000,000 | $600 | 13.3% |
| 7:05 p.m. | Venetian | NLH Turbo | $75,000 | $1,100 | 10.0% |
TUESDAY, JUNE 6
| Time | Room | Event | Guarantee | Buy-In | Fees |
| --- | --- | --- | --- | --- | --- |
| 11 a.m. | Rio (WSOP) | No-Limit Hold'em | | $1,500 | 10.0% |
| 11 a.m. | P.H. | Goliath Milly NLH Flight D | $1,000,000 | $600 | 13.3% |
| 11 a.m. | Aria | Limit H.O.R.S.E. | | $465 | 14.0% |
| 11 a.m. | Binion's | Limit Omaha 8 or Better | $20,000 | $365 | 17.8% |
| 12 p.m. | Wynn | No-Limit Hold'em | $50,000 | $400 | 14.0% |
| 12 p.m. | Venetian | NLH MSPT Day 1B | $2,500,000 | $1,100 | 10.9% |
| 1 p.m. | G.N. | Daily No Limit Hold'em | $20,000 | $150 | 26.7% |
| 2 p.m. | Rio | Daily Deepstack NLH | | $235 | 14.9% |
| 3 p.m. | Rio (WSOP) | No-Limit 2-7 Lowball Draw | | $1,500 | 10.0% |
WEDNESDAY, JUNE 7
| Time | Room | Event | Guarantee | Buy-In | Fees |
| --- | --- | --- | --- | --- | --- |
| 11 a.m. | Rio (WSOP) | H.O.R.S.E. | | $1,500 | 10.0% |
| 11 a.m. | Aria | No-Limit Hold'em | | $400 | 15.0% |
| 11 a.m. | Binion's | No-Limit Hold'em | $20,000 | $365 | 17.8% |
| 12 p.m. | Wynn | Pot-Limit Omaha | $50,000 | $400 | 14.0% |
| 12 p.m. | Venetian | NLH MSPT Day 1C | $2,500,000 | $1,100 | 10.9% |
| 2 p.m. | Rio | Daily Deepstack NLH | | $235 | 14.9% |
| 3 p.m. | Rio (WSOP) | NLH Heads Up Championship | | $10,000 | 6.0% |
| 5 p.m. | P.H. | Goliath Stack NLH Flight A | $100,000 | $350 | 14.3% |
THURSDAY, JUNE 8
| Time | Room | Event | Guarantee | Buy-In | Fees |
| --- | --- | --- | --- | --- | --- |
| 11 a.m. | Rio (WSOP) | No-Limit Hold'em 6-Handed | | $1,500 | 10.0% |
| 11 a.m. | P.H. | Goliath Stack NLH Flight B | $100,000 | $350 | 14.3% |
| 11 a.m. | Aria | Pot-Limit Omaha | | $465 | 14.0% |
| 11 a.m. | G.N. | NLH Ultimate Re-Entry Flight A | $200,000 | $200 | 20% |
| 11 a.m. | Binion's | PLO 8 or Better | $20,000 | $365 | 17.8% |
| 12 p.m. | Wynn | No-Limit Hold'em | $50,000 | $400 | 14.0% |
| 1:05 p.m. | Venetian | NLH Bounty | $250,000 | $1,100 | 10.0% |
| 2 p.m. | Rio | Daily Deepstack NLH | | $235 | 14.9% |
| 3 p.m. | Rio (WSOP) | Dealers Choice Championship | | $10,000 | 6.0% |
| 3 p.m. | G.N. | NLH Ultimate Re-Entry Flight B | $200,000 | $200 | 20% |
| 7 p.m. | G.N. | NLH Ultimate Re-Entry Flight C | $200,000 | $200 | 20% |
| 7:05 p.m. | Venetian | NLH Turbo | $75,000 | $1,100 | 10.0% |
FRIDAY, JUNE 9
| Time | Room | Event | Guarantee | Buy-In | Fees |
| --- | --- | --- | --- | --- | --- |
| 11 a.m. | Rio (WSOP) | Pot-Limit Omaha Flight A | | $565 | 11.5% |
| 11 a.m. | P.H. | NLH $20k in a Day | $20,000 | $200 | 17.5% |
| 11 a.m. | Aria | No-Limit Hold'em | | $400 | 15.0% |
| 11 a.m. | G.N. | NLH Ultimate Re-Entry Flight D | $200,000 | $200 | 20% |
| 11 a.m. | Binion's | Seven Card Stud | $20,000 | $365 | 17.8% |
| 12 p.m. | Wynn | No-Limit Hold'em | $50,000 | $400 | 14.0% |
| 12 p.m. | Venetian | NLH SuperStack | $200,000 | $600 | 13.7% |
| 2 p.m. | Rio | Daily Deepstack | | $235 | 14.9% |
| 3 p.m. | G.N. | NLH Ultimate Re-Entry Flight E | $200,000 | $200 | 20% |
| 4 p.m. | Rio (WSOP) | Pot-Limit Omaha Flight B | | $565 | 11.5% |
| 7 p.m. | Rio (WSOP) | The Giant NLH Flight A | | $365 | 17.8% |
| 7 p.m. | G.N. | NLH Ultimate Re-Entry Flight F | $200,000 | $200 | 20% |
| 7:05 p.m. | Venetian | NLH Turbo | $75,000 | $1,100 | 10.0% |
SATURDAY, JUNE 10
| Time | Room | Event | Guarantee | Buy-In | Fees |
| --- | --- | --- | --- | --- | --- |
| 10 a.m. | Rio (WSOP) | Millionaire Maker NLH Flight A | | $1,500 | 10.0% |
| 11 a.m. | P.H. | NLH $50k in a Day | $50,000 | $250 | 16.0% |
| 11 a.m. | Aria | No-Limit Hold'em | | $400 | 15.0% |
| 11 a.m. | G.N. | NLH Ultimate Re-Entry Flight G | $200,000 | $200 | 20% |
| 11 a.m. | Binion's | Limit Omaha/7 Card Stud/8B | $20,000 | $365 | 17.8% |
| 12 p.m. | Wynn | No-Limit Hold'em | $100,000 | $550 | 12.1% |
| 12 p.m. | Venetian | NLH Day 1A | $400,000 | $600 | 13.7% |
| 2 p.m. | Rio | Daily Deepstack NLH | | $235 | 14.9% |
| 3 p.m. | Rio (WSOP) | 8-Game Mix 6-Handed | | $1,500 | 10.0% |
| 3 p.m. | G.N. | NLH Ultimate Re-Entry Flight H | $200,000 | $200 | 20% |
| 5 p.m. | P.H. | Goliath Stack PLO Flight A | $125,000 | $400 | 13.8% |
| 7 p.m. | G.N. | NLH Ultimate Re-Entry Flight I | $200,000 | $200 | 20% |
| 7:05 p.m. | Venetian | NLH Bounty | $50,000 | $600 | 12.7% |
SUNDAY, JUNE 11
| Time | Room | Event | Guarantee | Buy-In | Fees |
| --- | --- | --- | --- | --- | --- |
| 10 a.m. | Rio (WSOP) | Millionaire Maker NLH Flight B | | $1,500 | 10.0% |
| 11 a.m. | P.H. | Goliath Stack PLO Flight B | $125,000 | $400 | 13.8% |
| 11 a.m. | Aria | No-Limit Hold'em | | $400 | 15.0% |
| 11 a.m. | Binion's | No-Limit Hold'em | $30,000 | $475 | 15.8% |
| 12 p.m. | Wynn | No-Limit Hold'em | $50,000 | $400 | 14.0% |
| 12 p.m. | Venetian | NLH Day 1A | $400,000 | $600 | 13.7% |
| 1 p.m. | G.N. | Daily No Limit Hold'em | $20,000 | $150 | 26.7% |
| 2 p.m. | Rio | Daily Deepstack NLH | | $235 | 14.9% |
| 3 p.m. | Rio (WSOP) | NL 2-7 Lowball Draw Champ. | | $10,000 | 6.0% |
| 5:05 p.m. | Venetian | PLO 8/B | $75,000 | $600 | 13.7% |
MONDAY, JUNE 12
| Time | Room | Event | Guarantee | Buy-In | Fees |
| --- | --- | --- | --- | --- | --- |
| 11 a.m. | Rio (WSOP) | The Marathon No-Limit Hold'em | | $2,620 | 10.0% |
| 11 a.m. | P.H. | NLH $20k in a Day | $20,000 | $200 | 17.5% |
| 11 a.m. | Aria | Pot-Limit Omaha | | $465 | 14.0% |
| 11 a.m. | Wynn | No-Limit Hold'em Seniors (50+) | $100,000 | $600 | 12.2% |
| 11 a.m. | Binion's | No-Limit Hold'em | $20,000 | $365 | 17.8% |
| 12 p.m. | Venetian | NLH Day 1B | $400,000 | $600 | 13.7% |
| 1 p.m. | G.N. | Daily No Limit Hold'em | $20,000 | $150 | 26.7% |
| 2 p.m. | Rio | Daily Deepstack NLH | | $235 | 14.9% |
| 3 p.m. | Rio (WSOP) | Limit Hold'em | | $1,500 | 10.0% |
| 5 p.m. | P.H. | Ultimate Goliath Stack NLH Flight A | $500,000 | $600 | 13.3% |
| 7:05 p.m. | Venetian | NLH Bounty | $30,000 | $400 | 14.5% |
TUESDAY, JUNE 13
| Time | Room | Event | Guarantee | Buy-In | Fees |
| --- | --- | --- | --- | --- | --- |
| 11 a.m. | Rio (WSOP) | Pot-Limit Omaha | | $1,000 | 10.0% |
| 11 a.m. | P.H. | Ultimate Goliath Stack NLH Flight B | $500,000 | $600 | 13.3% |
| 11 a.m. | Aria | No-Limit Hold'em | | $400 | 15.0% |
| 11 a.m. | Binion's | Seven Card Razz | $20,000 | $365 | 17.8% |
| 11 a.m. | Venetian | Seniors (50+) NLH Day 1A | $400,000 | $600 | 13.7% |
| 12 p.m. | Wynn | No-Limit Hold'em | $50,000 | $400 | 14.0% |
| 1 p.m. | G.N. | Daily No Limit Hold'em | $20,000 | $150 | 26.7% |
| 2 p.m. | Rio | Daily Deepstack NLH | | $235 | 14.9% |
| 3 p.m. | Rio (WSOP) | Razz Championship | | $10,000 | 6.0% |
| 5 p.m. | P.H. | Ultimate Goliath Stack NLH Flight C | $500,000 | $600 | 13.3% |
| 5:05 p.m. | Venetian | BIG O (5Card PLO 8B) | $75,000 | $600 | 13.7% |
WEDNESDAY, JUNE 14
| Time | Room | Event | Guarantee | Buy-In | Fees |
| --- | --- | --- | --- | --- | --- |
| 11 a.m. | Rio (WSOP) | No-Limit Hold'em 6-Handed | | $3,000 | 10.0% |
| 11 a.m. | P.H. | Ultimate Goliath Stack NLH Flight D | $500,000 | $600 | 13.3% |
| 11 a.m. | Aria | No-Limit Hold'em | | $400 | 15.0% |
| 11 a.m. | Binion's | Seven Card Stud 8 or Better | $20,000 | $365 | 17.8% |
| 11 a.m. | Venetian | Seniors (50+) NLH Day 1B | $400,000 | $600 | 13.7% |
| 12 p.m. | Wynn | No-Limit Hold'em Day 1A | $1,000,000 | $1,100 | 10.3% |
| 1 p.m. | G.N. | Daily No Limit Hold'em | $20,000 | $150 | 26.7% |
| 2 p.m. | Rio | Daily Deepstack NLH | | $235 | 14.9% |
| 3 p.m. | Rio (WSOP) | Limit 2-7 Lowball Triple Draw | | $1,500 | 10.0% |
| 7:05 p.m. | Venetian | NLH Turbo | $75,000 | $1,100 | 10.0% |
THURSDAY, JUNE 15
| Time | Room | Event | Guarantee | Buy-In | Fees |
| --- | --- | --- | --- | --- | --- |
| 11 a.m. | Rio (WSOP) | No-Limit Hold'em | | $2,500 | 10.0% |
| 11 a.m. | Aria | Seniors NLH (50+) | | $465 | 14.0% |
| 11 a.m. | Binion's | PLO Championship Day 1A | $50,000 | $585 | 14.5% |
| 12 p.m. | Wynn | No-Limit Hold'em Day 1B | $1,000,000 | $1,100 | 10.3% |
| 12 p.m. | Venetian | NLH Bounty | $250,000 | $1,100 | 10.0% |
| 1 p.m. | G.N. | Daily No Limit Hold'em | $20,000 | $150 | 26.7% |
| 2 p.m. | Rio | Daily Deepstack NLH | | $235 | 14.9% |
| 3 p.m. | Rio (WSOP) | H.O.R.S.E. Championship | | $10,000 | 6.0% |
| 5:05 p.m. | Venetian | PLO Bounty | $50,000 | $600 | 12.7% |
FRIDAY, JUNE 16
| Time | Room | Event | Guarantee | Buy-In | Fees |
| --- | --- | --- | --- | --- | --- |
| 10 a.m. | Rio (WSOP) | Seniors NLH Championship (50+) | | $1,000 | 10.0% |
| 11 a.m. | Aria | No-Limit Hold'em | | $400 | 15.0% |
| 11 a.m. | Binion's | PLO Championship Day 1B | $50,000 | $585 | 14.5% |
| 12 p.m. | Wynn | No-Limit Hold'em Day 1C | $1,000,000 | $1,100 | 10.3% |
| 12 p.m. | Venetian | NLH 8-Max Day 1A | $800,000 | $800 | 11.3% |
| 1 p.m. | G.N. | Daily No Limit Hold'em | $20,000 | $150 | 26.7% |
| 2 p.m. | Rio | Daily Deepstack NLH | | $235 | 14.9% |
| 3 p.m. | Rio (WSOP) | Omaha Hi-Lo 8 or Better Mix | | $1,500 | 10.0% |
| 7 p.m. | Rio (WSOP) | The Giant NLH Flight B | | $365 | 17.8% |
| 7:05 p.m. | Venetian | NLH Turbo | $75,000 | $1,100 | 10.0% |
SATURDAY, JUNE 17
| Time | Room | Event | Guarantee | Buy-In | Fees |
| --- | --- | --- | --- | --- | --- |
| 10 a.m. | P.H. | Seniors NLH | $100,000 | $600 | 13.3% |
| 11 a.m. | Rio (WSOP) | No-Limit Hold'em | | $1,500 | 10.0% |
| 11 a.m. | Aria | No-Limit Hold'em | | $400 | 15.0% |
| 11 a.m. | Binion's | Pot Limit Omaha Second Chance | $20,000 | $365 | 17.8% |
| 12 p.m. | Wynn | No-Limit Hold'em Day 1D | $1,000,000 | $1,100 | 10.3% |
| 12 p.m. | Venetian | NLH 8-Max Day 1B | $800,000 | $800 | 11.3% |
| 1 p.m. | G.N. | Daily No Limit Hold'em | $20,000 | $150 | 26.7% |
| 3 p.m. | Rio (WSOP) | 2-7 Lowball Triple Draw Champ. | | $10,000 | 6.0% |
| 5 p.m. | P.H. | Ultimate Goliath NLH Flight A | $500,000 | $600 | 13.3% |
| 7:05 p.m. | Venetian | NLH Bounty | $20,000 | $400 | 14.5% |
SUNDAY, JUNE 18
| Time | Room | Event | Guarantee | Buy-In | Fees |
| --- | --- | --- | --- | --- | --- |
| 10 a.m. | Rio (WSOP) | Super Seniors NLH (60+) | | $1,000 | 10.0% |
| 11 a.m. | Aria | No-Limit Hold'em | | $400 | 15.0% |
| 11 a.m. | Binion's | No-Limit Hold'em | $30,000 | $475 | 15.8% |
| 12 p.m. | Venetian | NLH 8-Max Day 1C | $800,000 | $800 | 11.3% |
| 1 p.m. | G.N. | Daily No Limit Hold'em | $20,000 | $150 | 26.7% |
| 2 p.m. | Rio | Daily Deepstack NLH | | $235 | 14.9% |
| 3 p.m. | Rio (WSOP) | No-Limit Hold'em 6-Handed | | $5,000 | 7.0% |
| 3 p.m. | P.H. | Ultimate Goliath NLH Flight B | $500,000 | $600 | 13.3% |
MONDAY, JUNE 19
| Time | Room | Event | Guarantee | Buy-In | Fees |
| --- | --- | --- | --- | --- | --- |
| 11 a.m. | Rio (WSOP) | No-Limit Hold'em | | $1,000 | 10.0% |
| 11 a.m. | Aria | Seniors NLH (50+) | | $465 | 14.0% |
| 12 p.m. | Wynn | No-Limit Hold'em | $50,000 | $400 | 14.0% |
| 12 p.m. | Venetian | NLH Day 1A | $2,000,000 | $1,600 | 9.8% |
| 1 p.m. | G.N. | Daily No Limit Hold'em | $20,000 | $150 | 26.7% |
| 2 p.m. | Rio | Daily Deepstack NLH | | $235 | 14.9% |
| 3 p.m. | Rio (WSOP) | Limit Hold'em Championship | | $10,000 | 6.0% |
| 3 p.m. | P.H. | Ultimate Goliath NLH Flight C | $500,000 | $600 | 13.3% |
| 5:05 p.m. | Venetian | PLO | $75,000 | $600 | 13.7% |
TUESDAY, JUNE 20
| Time | Room | Event | Guarantee | Buy-In | Fees |
| --- | --- | --- | --- | --- | --- |
| 11 a.m. | Rio (WSOP) | NLH Super Turbo Bounty | | $1,000 | 10.0% |
| 11 a.m. | P.H. | Ultimate Goliath NHL Flight D | $500,000 | $600 | 13.3% |
| 11 a.m. | Aria | No-Limit Hold'em | | $400 | 15.0% |
| 11 a.m. | Binion's | H.O.R.S.E. Championship Day 1A | $50,000 | $585 | 14.5% |
| 12 p.m. | Wynn | No-Limit Hold'em | $50,000 | $400 | 14.0% |
| 12 p.m. | Venetian | NLH Day 1B | $2,000,000 | $1,600 | 9.8% |
| 1 p.m. | G.N. | Daily No Limit Hold'em | $20,000 | $150 | 26.7% |
| 2 p.m. | Rio | Daily Deepstack NLH | | $235 | 14.9% |
| 3 p.m. | Rio (WSOP) | Seven Card Stud Hi-Lo | | $1,500 | 10.0% |
| 7:05 p.m. | Venetian | NLH Bounty | $50,000 | $600 | 12.7% |
WEDNESDAY, JUNE 21
| Time | Room | Event | Guarantee | Buy-In | Fees |
| --- | --- | --- | --- | --- | --- |
| 11 a.m. | Rio (WSOP) | Pot-Limit Omaha | | $1,500 | 10.0% |
| 11 a.m. | Aria | No-Limit Hold'em | | $400 | 15.0% |
| 11 a.m. | Binion's | H.O.R.S.E. Championship Day 1B | $50,000 | $585 | 14.5% |
| 12 p.m. | Wynn | No-Limit Hold'em | $50,000 | $400 | 14.0% |
| 12 p.m. | Venetian | NLH Day 1C | $2,000,000 | $1,600 | 9.8% |
| 1 p.m. | G.N. | Daily No Limit Hold'em | $20,000 | $150 | 26.7% |
| 2 p.m. | Rio | Daily Deepstack NLH | | $235 | 14.9% |
| 3 p.m. | Rio (WSOP) | NLH 6-Handed Championship | | $10,000 | 6.0% |
| 4 p.m. | P.H. | Ultimate Goliath PLO Flight A | $100,000 | $600 | 13.3% |
THURSDAY, JUNE 22
| Time | Room | Event | Guarantee | Buy-In | Fees |
| --- | --- | --- | --- | --- | --- |
| 11 a.m. | Rio (WSOP) | No-Limit Hold'em Shootout | | $1,500 | 10.0% |
| 11 a.m. | Aria | Pot-Limit Omaha 8/B | | $465 | 14.0% |
| 11 a.m. | Binion's | No-Limit Hold'em | $20,000 | $365 | 17.8% |
| 12 p.m. | P.H. | Ultimate Goliath PLO Flight B | $100,000 | $600 | 13.3% |
| 12 p.m. | Wynn | No-Limit Hold'em | $50,000 | $400 | 14.0% |
| 12 p.m. | Venetian | NLH Bounty | $200,000 | $1,100 | 10.0% |
| 1 p.m. | G.N. | Daily No Limit Hold'em | $20,000 | $150 | 26.7% |
| 2 p.m. | Rio | Daily Deepstack NLH | | $235 | 14.9% |
| 3 p.m. | Rio (WSOP) | H.O.R.S.E. | | $3,000 | 10.0% |
| 7:05 p.m. | Venetian | NLH Bounty | $50,000 | $600 | 12.7% |
FRIDAY, JUNE 23
| Time | Room | Event | Guarantee | Buy-In | Fees |
| --- | --- | --- | --- | --- | --- |
| 11 a.m. | Rio (WSOP) | No-Limit Hold'em Turbo | | $5,000 | 7.0% |
| 11 a.m. | P.H. | NLH $20k in a Day | $20,000 | $200 | 17.5% |
| 11 a.m. | G.N. | NLH $100K Guarantee Flight A | $100,000 | $150 | 26.7% |
| 11 a.m. | Binion's | Seven Card Razz | $25,000 | $475 | 15.8% |
| 12 p.m. | Wynn | No-Limit Hold'em | $50,000 | $400 | 14.0% |
| 12 p.m. | Venetian | NLH SuperStack | $200,000 | $600 | 13.7% |
| 1 p.m. | Aria | No-Limit Hold'em | | $1,000 | 10.0% |
| 2 p.m. | Rio | Daily Deepstack NLH | | $235 | 14.9% |
| 3 p.m. | Rio (WSOP) | Pot-Limit Omaha Hi-Lo | | $1,500 | 10.0% |
| 3 p.m. | G.N. | NLH $100K Guarantee Flight B | $100,000 | $150 | 26.7% |
| 7 p.m. | Rio (WSOP) | The Giant NLH Flight C | | $365 | 17.8% |
| 7 p.m. | G.N. | NLH $100K Guarantee Flight C | $100,000 | $150 | 26.7% |
| 7:05 p.m. | Venetian | NLH Turbo | $75,000 | $1,100 | 10.0% |
SATURDAY, JUNE 24
| Time | Room | Event | Guarantee | Buy-In | Fees |
| --- | --- | --- | --- | --- | --- |
| 10 a.m. | Rio (WSOP) | Monster Stack NLH Flight A | | $1,500 | 10.0% |
| 11 a.m. | P.H. | NLH $50k in a Day | $50,000 | $250 | 16.0% |
| 11 a.m. | G.N. | NLH $100K Guarantee Flight D | $100,000 | $150 | 26.7% |
| 11 a.m. | Binion's | Triple Stud (Stud-Stud 8-Razz) | $20,000 | $365 | 17.8% |
| 12 p.m. | Wynn | No-Limit Hold'em | $200,000 | $1,100 | 9.8% |
| 12 p.m. | Venetian | NLH Day 1A | $300,000 | $600 | 13.7% |
| 2 p.m. | Rio | Daily Deepstack NLH | | $235 | 14.9% |
| 2 p.m. | Venetian | PLO 8B 8-Max | $75,000 | $1,100 | 10.0% |
| 3 p.m. | Rio (WSOP) | Seven Card Stud Hi-Lo Champ. | | $10,000 | 6.0% |
| 3 p.m. | G.N. | NLH $100K Guarantee Flight E | $100,000 | $150 | 26.7% |
| 5 p.m. | Venetian | NLH Day 1B | $300,000 | $600 | 13.7% |
| 7 p.m. | G.N. | NLH $100K Guarantee Flight F | $100,000 | $150 | 26.7% |
SUNDAY, JUNE 25
| Time | Room | Event | Guarantee | Buy-In | Fees |
| --- | --- | --- | --- | --- | --- |
| 10 a.m. | Rio (WSOP) | Monster Stack NLH Flight B | | $1,500 | 10.0% |
| 11 a.m. | P.H. | NLH $50k in a Day | $50,000 | $250 | 16.0% |
| 11 a.m. | Aria | Pot-Limit Omaha 8/B | | $465 | 14.0% |
| 11 a.m. | Binion's | NLH Championship Day 1A | $200,000 | $850 | 13.5% |
| 12 p.m. | Wynn | No-Limit Hold'em | $100,000 | $550 | 12.1% |
| 12 p.m. | Venetian | NLH Day 1C | $300,000 | $600 | 13.7% |
| 1 p.m. | G.N. | Daily No Limit Hold'em | $20,000 | $150 | 26.7% |
| 2 p.m. | Rio | Daily Deepstack NLH | | $235 | 14.9% |
| 3 p.m. | Rio (WSOP) | Limit Omaha 6-Handed | | $3,000 | 10.0% |
| 5 p.m. | P.H. | Ultimate Goliath NLH Flight A | $500,000 | $600 | 13.3% |
MONDAY, JUNE 26
| Time | Room | Event | Guarantee | Buy-In | Fees |
| --- | --- | --- | --- | --- | --- |
| 11 a.m. | Rio (WSOP) | No-Limit Hold'em Bounty | | $1,500 | 10.0% |
| 11 a.m. | Aria | WPT500 NLH Day 1A | $1,000,000 | $565 | 11.5% |
| 11 a.m. | Binion's | NLH Championship Day 1B | $200,000 | $850 | 13.5% |
| 12 p.m. | Wynn | No-Limit Hold'em | $50,000 | $400 | 14.0% |
| 12 p.m. | Venetian | No Limit Hold'em Day 1A | $3,000,000 | $3,500 | 8.6% |
| 1 p.m. | G.N. | Daily No Limit Hold'em | $20,000 | $150 | 26.7% |
| 2 p.m. | Rio | Daily Deepstack NLH | | $235 | 14.9% |
| 3 p.m. | Rio (WSOP) | Pot-Limit Omaha Hi-Lo Champ. | | $10,000 | 6.0% |
| 3 p.m. | P.H. | Ultimate Goliath NLH Flight B | $500,000 | $600 | 13.3% |
TUESDAY, JUNE 27
| Time | Room | Event | Guarantee | Buy-In | Fees |
| --- | --- | --- | --- | --- | --- |
| 11 a.m. | Rio (WSOP) | No-Limit Hold'em | | $1,500 | 10.0% |
| 11 a.m. | Aria | WPT500 NLH Day 1B | $1,000,000 | $565 | 11.5% |
| 11 a.m. | Binion's | NLH Championship Day 1C | $200,000 | $850 | 13.5% |
| 12 p.m. | Wynn | No-Limit Hold'em Day 1A | $250,000 | $600 | 12.2% |
| 12 p.m. | Venetian | No Limit Hold'em Day 1B | $3,000,000 | $3,500 | 8.6% |
| 1 p.m. | G.N. | Daily No Limit Hold'em | $20,000 | $150 | 26.7% |
| 2 p.m. | Rio | Daily Deepstack NLH | | $235 | 14.9% |
| 3 p.m. | Rio (WSOP) | Limit Hold'em 6-Handed | | $3,000 | 10.0% |
| 5 p.m. | P.H. | Goliath Main Event NLH Flight A | $2,000,000 | $2,000 | 10.0% |
WEDNESDAY, JUNE 28
| Time | Room | Event | Guarantee | Buy-In | Fees |
| --- | --- | --- | --- | --- | --- |
| 11 a.m. | Rio (WSOP) | PLO 8-Handed Championship | | $10,000 | 6.0% |
| 11 a.m. | P.H. | Goliath NLH Main Event Flight B | $2,000,000 | $2,000 | 10.0% |
| 11 a.m. | Aria | WPT500 NLH Day 1C | $1,000,000 | $565 | 11.5% |
| 11 a.m. | Binion's | No-Limit Hold'em | $20,000 | $365 | 17.8% |
| 12 p.m. | Wynn | No-Limit Hold'em Day 1B | $250,000 | $600 | 12.2% |
| 12 p.m. | Venetian | No Limit Hold'em Day 1C | $3,000,000 | $3,500 | 8.6% |
| 1 p.m. | G.N. | Daily No Limit Hold'em | $20,000 | $150 | 26.7% |
| 2 p.m. | Rio | Daily Deepstack NLH | | $235 | 14.9% |
| 3 p.m. | Rio (WSOP) | Seven Card Stud | | $1,500 | 10.0% |
| 4 p.m. | P.H. | Goliath NLH Main Event Flight C | $2,000,000 | $2,000 | 10.0% |
THURSDAY, JUNE 29
| Time | Room | Event | Guarantee | Buy-In | Fees |
| --- | --- | --- | --- | --- | --- |
| 11 a.m. | Rio (WSOP) | No-Limit Hold'em | | $5,000 | 7.0% |
| 11 a.m. | P.H. | Goliath NLH Main Event Flight D | $2,000,000 | $2,000 | 10.0% |
| 11 a.m. | Aria | WPT500 NLH Day 1D | $1,000,000 | $565 | 11.5% |
| 11 a.m. | G.N. | NLH $500K Guarantee Day 1A | $500,000 | $570 | 12.2% |
| 12 p.m. | Wynn | No-Limit Hold'em | $100,000 | $550 | 12.1% |
| 1 p.m. | G.N. | Daily No Limit Hold'em | $20,000 | $150 | 26.7% |
| 2 p.m. | Rio | Daily Deepstack NLH | | $235 | 14.9% |
| 3 p.m. | Rio (WSOP) | Omaha/Stud Hi-Lo Mix | | $2,500 | 10.0% |
| 4 p.m. | P.H. | Goliath NLH Main Event Flight E | $2,000,000 | $2,000 | 10.0% |
| 7:05 p.m. | Venetian | NLH Turbo | $75,000 | $1,100 | 10.0% |
FRIDAY, JUNE 30
| Time | Room | Event | Guarantee | Buy-In | Fees |
| --- | --- | --- | --- | --- | --- |
| 11 a.m. | Rio (WSOP) | No-Limit Hold'em | | $1,500 | 10.0% |
| 11 a.m. | Aria | WPT500 NLH Day 1E | $1,000,000 | $565 | 11.5% |
| 11 a.m. | G.N. | NLH $500K Guarantee Day 1B | $500,000 | $570 | 12.2% |
| 11 a.m. | Binion's | Pot Limit | $20,000 | $365 | 17.8% |
| 12 p.m. | Wynn | No-Limit Hold'em | $50,000 | $400 | 14.0% |
| 12 p.m. | Venetian | NLH SuperStack Day 1A | $300,000 | $600 | 14.5% |
| 1 p.m. | G.N. | Daily No Limit Hold'em | $20,000 | $150 | 26.7% |
| 2 p.m. | Rio | Daily Deepstack NLH | | $235 | 14.9% |
| 3 p.m. | Rio (WSOP) | Big Bet Mix | | $2,500 | 10.0% |
| 5:05 p.m. | Venetian | PLO 8B Day 1A | $200,000 | $1,100 | 10.9% |
| 7 p.m. | Rio (WSOP) | The Giant NLH Flight D | | $365 | 17.8% |
SATURDAY, JULY 1
| Time | Room | Event | Guarantee | Buy-In | Fees |
| --- | --- | --- | --- | --- | --- |
| 10 a.m. | Rio (WSOP) | Crazy Eights NLH Flight A | | $888 | 10.0% |
| 11 a.m. | P.H. | NLH $20k in a Day | $20,000 | $200 | 17.5% |
| 11 a.m. | Aria | WPT500 NLH Day 1F | $1,000,000 | $565 | 11.5% |
| 11 a.m. | G.N. | NLH $500K Guarantee Day 1C | $500,000 | $570 | 12.2% |
| 11 a.m. | Binion's | H.O.R.S.E. | $20,000 | $365 | 17.8% |
| 12 p.m. | Wynn | No-Limit Hold'em | $100,000 | $550 | 12.1% |
| 12 p.m. | Venetian | NLH SuperStack Day 1B | $300,000 | $600 | 14.5% |
| 2 p.m. | Rio | Daily Deepstack NLH | | $235 | 14.9% |
| 3:33 p.m. | WSOP.com | Online NLH High Roller | | $3,333 | 9.9% |
| 4 p.m. | Rio (WSOP) | Crazy Eights NLH Flight B | | $888 | 10.0% |
| 5:05 p.m. | Venetian | PLO 8B Day 1B | $200,000 | $1,100 | 10.9% |
SUNDAY, JULY 2
| Time | Room | Event | Guarantee | Buy-In | Fees |
| --- | --- | --- | --- | --- | --- |
| 10 a.m. | Rio (WSOP) | Crazy Eights NLH Flight C | | $888 | 10.0% |
| 11 a.m. | P.H. | NLH $20k in a Day | $20,000 | $200 | 17.5% |
| 11 a.m. | Aria | WPT500 NLH Day 1G | $1,000,000 | $565 | 11.5% |
| 11 a.m. | Binion's | No-Limit Hold'em | $30,000 | $475 | 15.8% |
| 12 p.m. | Wynn | No-Limit Hold'em | $50,000 | $400 | 14.0% |
| 12 p.m. | Venetian | SuperStack Day 1C | $300,000 | $600 | 14.5% |
| 2 p.m. | Rio | Daily Deepstack NLH | | $235 | 14.9% |
| 3 p.m. | Rio (WSOP) | Poker Players Championship | | $50,000 | 4.0% |
| 4 p.m. | Rio (WSOP) | Crazy Eights NLH Flight D | | $888 | 10.0% |
| 5 p.m. | P.H. | Phamous Low Roller NLH Flight A | $250,000 | $250 | 18.0% |
| 7:05 p.m. | Venetian | NLH Bounty | $30,000 | $400 | 14.5% |
MONDAY, JULY 3
| Time | Room | Event | Guarantee | Buy-In | Fees |
| --- | --- | --- | --- | --- | --- |
| 11 a.m. | Rio (WSOP) | No-Limit Hold'em | | $1,000 | 10.0% |
| 11 a.m. | Aria | WPT500 NLH Day 1H (Turbo) | $1,000,000 | $565 | 11.5% |
| 11 a.m. | P.H. | Phamous Low Roller NLH Flight B | $250,000 | $250 | 18.0% |
| 11 a.m. | Binion's | Limit Omaha 8-or-Better | $25,000 | $475 | 15.8% |
| 12:00 p.m. | Venetian | NLH Bounty | $200,000 | $1,100 | 10.5% |
| 2 p.m. | Rio | Daily Deepstack NLH | | $200+35 | 14.9% |
| 3 p.m. | Rio (WSOP) | NLH/PLO Mix | | $1,500 | 10.0% |
| 5 p.m. | P.H. | Phamous Low Roller NLH Flight C | $250,000 | $250 | 18.0% |
| 7 p.m. | Aria | WPT500 NLH Day 1I (Turbo) | $1,000,000 | $565 | 11.5% |
| 7:05 p.m. | Venetian | NLH Bounty | $50,000 | $600 | 12.7% |
TUESDAY, JULY 4
| Time | Room | Event | Guarantee | Buy-In | Fees |
| --- | --- | --- | --- | --- | --- |
| 11 a.m. | Rio (WSOP) | NLH (30-Minute Levels) | | $1,000 | 10.0% |
| 11 a.m. | P.H. | Phamous Low Roller NLH Flight D | $250,000 | $250 | 18.0% |
| 12 p.m. | Wynn | NLH Championship Day 1A | $1,000,000 | $1,600 | 9.3% |
| 12 p.m. | Venetian | NLH SuperStack | $100,000 | $600 | 13.7% |
| 2 p.m. | Rio | Daily Deepstack NLH | | $235 | 14.9% |
| 5 p.m. | P.H. | Phamous Low Roller NLH Flight E | $250,000 | $250 | 18.0% |
| 7:05 p.m. | Venetian | NLH Bounty | $30,000 | $400 | 14.5% |
WEDNESDAY, JULY 5
| Time | Room | Event | Guarantee | Buy-In | Fees |
| --- | --- | --- | --- | --- | --- |
| 11 a.m. | Rio (WSOP) | No-Limit Hold'em | | $1,500 | 10.0% |
| 11 a.m. | P.H. | Goliath Stack - BIG O | $125,000 | $400 | 13.8% |
| 12 p.m. | Wynn | NLH Championship Day 1B | $1,000,000 | $1,600 | 9.3% |
| 12 p.m. | Venetian | NLH SuperStack | $300,000 | $1,100 | 11.4% |
| 2 p.m. | Rio | Daily Deepstack NLH | | $235 | 14.9% |
| 3 p.m. | Rio (WSOP) | PLO High Roller | | $25,000 | 5.0% |
| 5:05 p.m. | Venetian | PLO/PLO8B/BIG O | $100,000 | $1,100 | 11.4% |
THURSDAY, JULY 6
| Time | Room | Event | Guarantee | Buy-In | Fees |
| --- | --- | --- | --- | --- | --- |
| 10 a.m. | Harrah's | Ladies Event | $10,000 | $240 | 16.7% |
| 11 a.m. | Rio (WSOP) | No-Limit Hold'em | | $3,000 | 10.0% |
| 11 a.m. | P.H. | $20k in a Day - NLH | $20,000 | $200 | 17.5% |
| 11 a.m. | Aria | No-Limit Hold'em | | $400 | 15.0% |
| 12 p.m. | Wynn | NLH Championship Day 1C | $1,000,000 | $1,600 | 9.3% |
| 12:00 p.m. | Venetian | NLH Bounty | $200,000 | $1,100 | 10.5% |
| 2 p.m. | Rio | Daily Deepstack NLH | | $235 | 14.9% |
| 3 p.m. | Rio (WSOP) | Razz | | $1,500 | 10% |
| 7:05 p.m. | Venetian | NLH Bounty | $50,000 | $600 | 12.7% |
FRIDAY, JULY 7
| Time | Room | Event | Guarantee | Buy-In | Fees |
| --- | --- | --- | --- | --- | --- |
| 11 a.m. | Rio (WSOP) | Ladies Championship | | $1,000 | 10.0% |
| 11 a.m. | Aria | No-Limit Hold'em | | $400 | 15.0% |
| 11 a.m. | P.H. | $20k in a Day - NLH | $20,000 | $200 | 17.5% |
| 12 p.m. | Venetian | NLH Bounty | $500,000 | $1,600 | 9.8% |
| 2 p.m. | WSOP.com | Online Championship | | $1,000 | 10.0% |
| 2 p.m. | Rio | Daily Deepstack NLH | | $235 | 14.9% |
| 3 p.m. | Rio (WSOP) | Seven Card Stud Championship | | $10,000 | 6.0% |
| 7 p.m. | Rio (WSOP) | The Giant NLH Flight E | | $365 | 17.8% |
SATURDAY, JULY 8
| Time | Room | Event | Guarantee | Buy-In | Fees |
| --- | --- | --- | --- | --- | --- |
| 11 a.m. | Rio (WSOP) | NLH Main Event Flight A | | $10,000 | 6.0% |
| 11 a.m. | Aria | Ladies NLH | | $300 | 16.7% |
| 12 p.m. | Wynn | No-Limit Hold'em | $100,000 | $550 | 12.1% |
| 12 p.m. | Venetian | NLH SuperStack | $100,000 | $600 | 13.7% |
| 2 p.m. | Rio | Daily Deepstack NLH | | $235 | 14.9% |
| 7:05 p.m. | Venetian | NLH Turbo | $75,000 | $1,100 | 10.0% |
SUNDAY, JULY 9
| Time | Room | Event | Guarantee | Buy-In | Fees |
| --- | --- | --- | --- | --- | --- |
| 11 a.m. | Rio (WSOP) | NLH Main Event Flight B | | $10,000 | 6.0% |
| 11 a.m. | P.H. | The Grand Finale NLH Flight A | $1,000,000 | $1,600 | 9.0% |
| 11 a.m. | Aria | No-Limit Hold'em | | $400 | 15.0% |
| 12 p.m. | Wynn | No-Limit Hold'em | $50,000 | $400 | 14.0% |
| 12 p.m. | Venetian | NLH Bounty | $100,000 | $600 | 12.7% |
| 2 p.m. | Rio | Daily Deepstack NLH | | $235 | 14.9% |
| 7:05 p.m. | Venetian | NLH Bounty | $30,000 | $400 | 14.5% |
MONDAY, JULY 10
| Time | Room | Event | Guarantee | Buy-In | Fees |
| --- | --- | --- | --- | --- | --- |
| 11 a.m. | Rio (WSOP) | NLH Main Event Flight C | | $10,000 | 6.0% |
| 11 a.m. | P.H. | The Grand Finale NLH Flight B | $1,000,000 | $1,600 | 9.0% |
| 12 p.m. | Wynn | No-Limit Hold'em | $100,000 | $550 | 12.1% |
| 12 p.m. | Venetian | NLH SuperStack | $100,000 | $600 | 13.7% |
| 2 p.m. | Rio | Daily Deepstack NLH | | $235 | 14.9% |
| 5:05 p.m. | Venetian | PLO Bounty | $40,000 | $400 | 14.5% |
TUESDAY, JULY 11
| Time | Room | Event | Guarantee | Buy-In | Fees |
| --- | --- | --- | --- | --- | --- |
| 11 a.m. | P.H. | The Grand Finale NLH Flight C | $1,000,000 | $1,600 | 9.0% |
| 12 p.m. | Wynn | No-Limit Hold'em | $50,000 | $400 | 14.0% |
| 12 p.m. | Venetian | NLH SuperStack | $200,000 | $600 | 13.7% |
| 3 p.m. | Rio (WSOP) | Little One for One Drop Flight A | | $1,111 | 10.0% |
| 7:05 p.m. | Venetian | NLH Bounty | $30,000 | $400 | 14.5% |
WEDNESDAY, JULY 12
| Time | Room | Event | Guarantee | Buy-In | Fees |
| --- | --- | --- | --- | --- | --- |
| 12 p.m. | Wynn | No-Limit Hold'em | $100,000 | $550 | 12.1% |
| 12 p.m. | Venetian | NLH Bounty | $100,000 | $600 | 12.7% |
| 3 p.m. | Rio (WSOP) | Little One for One Drop Flight B | | $1,111 | 10% |
| 7:05 p.m. | Venetian | NLH Bounty | $30,000 | $400 | 14.5% |
THURSDAY, JULY 13
| Time | Room | Event | Guarantee | Buy-In | Fees |
| --- | --- | --- | --- | --- | --- |
| 12 p.m. | Wynn | No-Limit Hold'em | $200,000 | $1,100 | 9.8% |
| 3 p.m. | Rio (WSOP) | Little One for One Drop Flight C | | $1,111 | 10% |
FRIDAY, JULY 14
| Time | Room | Event | Guarantee | Buy-In | Fees |
| --- | --- | --- | --- | --- | --- |
| 12 p.m. | Wynn | No-Limit Hold'em | $100,000 | $550 | 12.1% |
| 12 p.m. | Venetian | NLH SuperStack Day 1A | $1,500,000 | $1,100 | 11.4% |
SATURDAY, JULY 15
| Time | Room | Event | Guarantee | Buy-In | Fees |
| --- | --- | --- | --- | --- | --- |
| 12 p.m. | Wynn | No-Limit Hold'em | $100,000 | $550 | 12.1% |
| 12 p.m. | Venetian | NLH SuperStack Day 1B | $1,500,000 | $1,100 | 11.4% |
SUNDAY, JULY 16
| Time | Room | Event | Guarantee | Buy-In | Fees |
| --- | --- | --- | --- | --- | --- |
| 12 p.m. | Wynn | No-Limit Hold'em | $200,000 | $1,100 | 9.8% |
MONDAY, JULY 17
| Time | Room | Event | Guarantee | Buy-In | Fees |
| --- | --- | --- | --- | --- | --- |
| 12 p.m. | Venetian | NLH CPPT Day 1A | $2,000,000 | $5,000 | 7% |
TUESDAY, JULY 18
| Time | Room | Event | Guarantee | Buy-In | Fees |
| --- | --- | --- | --- | --- | --- |
| 12 p.m. | Venetian | NLH CPPT Day 1B | $2,000,000 | $5,000 | 7% |
THURSDAY, JULY 20
| Time | Room | Event | Guarantee | Buy-In | Fees |
| --- | --- | --- | --- | --- | --- |
| 12 p.m. | Venetian | NLH SuperStack Day 1A | $250,000 | $600 | 12.7% |
FRIDAY, JULY 21
| Time | Room | Event | Guarantee | Buy-In | Fees |
| --- | --- | --- | --- | --- | --- |
| 12 p.m. | Venetian | NLH SuperStack Day 1B | $250,000 | $600 | 12.7% |
SATURDAY, JULY 22
| Time | Room | Event | Guarantee | Buy-In | Fees |
| --- | --- | --- | --- | --- | --- |
| 12 p.m. | Venetian | NLH SuperStack Day 1C | $250,000 | $600 | 12.7% |