'Social Experiment' Tournament Attempts to Highlight Fun in Poker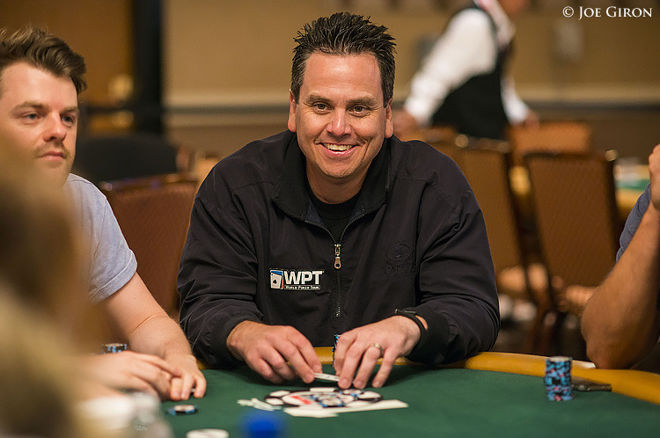 "Poker is fun for everyone," Prahlad Friedman once infamously rapped in a short interview on ESPN at the World Series of Poker.
But is it really fun if you're sitting at a table with a bunch of people hiding under hoods and behind sunglasses, faces silently buried in their smartphones while they wait for the next deal?
That's a question that's been on the mind of World Poker Tour Executive Tournament Director Matt Savage, and he's looking to make everyone practice avoidance on those actions with his special new tournament. Dubbed "The Social Experiment," it's a $350 event with a $100,000 guarantee set for April 29 as part of Commerce Casino's California State Poker Championship.
Sunglasses, cell phones, headphones and hoods are banned from the tournament area in an attempt to "create social interaction among players," the event's official structure sheet says.
Pervasive use of those things has dumbed down poker and made it less attractive to recreational players, many have argued in recent years. People have so many options for entertainment, and turning them off of poker with a boring table atmosphere hurts the game in the long term.
Savage sees it firsthand at the many tournaments he organizes and officiates.
"It basically started with conversations I've had with photographers, who I think are vital to our industry," he said in an interview with PokerNews in Florida in early April. "They're walking around the table. There's no interaction, there's nobody not looking at their cell phones. When they take photographs, it's almost impossible to catch somebody without a phone in front of them.
"People are watching movies, playing video games. I see people walking around on their phones playing Pokemon Go. It's ridiculous, it's getting out of hand."
"People are watching movies, playing video games. I see people walking around on their phones playing 'Pokemon Go.' It's ridiculous, it's getting out of hand."
Savage is an amateur player himself who has totaled a little under $100,000 in live cashes and can usually be found firing in a few WSOP events during the summer. He admitted he's no better than anyone else, spending time in between hands obliviously pecking away at his screen.
"I myself am probably the worst offender," he said. "I would love to play in an event where I wasn't able to use them at the table to see how I would react."
So, Savage decided to go ahead with The Social Experiment, announcing it in late March.
Buzz spread through the poker world immediately, as the proliferation of the devices in question has been a hot topic in poker in recent years. Many have voiced disgust with the so-called "sunglasses and hoodie" crowd, while the players who prefer to sit in silent focus have staunchly defended their rights to act as such.
There's been plenty of time for feedback on the event in the month since its announcement. The vast majority of it, Savage insists, has been positive, as players tell him they'd love to play in such an event.
Mid-States Poker Tour Team Pro Blake Bohn is among that number. He will not be making it out to L.A. for The Social Experiment, as he has a commitment to an MSPT event in his home state of Minnesota. However, he's never been known as the quiet guy at the table, so he's a huge proponent of the idea.
"I love it," he said. "Technology, with improved iPhones, has hurt poker in general both cash games and tournaments. There are people that play for the social aspect and they are turned off by poker [if it's missing]. It also creates less action, because when people can do something else at the table, they play less hands and are less likely to mix it up."
Of course, there have been a few detractors as well. One player said his wife is pregnant, and he has to have access to his phone that day if he's going to be playing.
Not a problem, Savage said. Put it on vibrate and simply step away from the table if you absolutely must use it.
"It makes me wonder how these people go to see a movie," Savage said. "Can we get away from our devices for a couple of hours?"
Others have complained that their eyes are light-sensitive and they need sunglasses. Still others say they get too cold in a poker room without a hood over their heads.
"I think it's funny, it's just hilarious," Savage said. "It will be no Amazon Room, I promise."
It's perhaps interesting that this new set of rules come from Savage, a man who some have accused of trying to legislate table talk out of the game. Savage has often butted heads with talkative players like Daniel Negreanu, who are at odds with the rule against discussing the contents of one's hand.
Bohn has run into issues with this rule before, memorably being handed a penalty at an MSPT stop for excessive table talk. He has perfected the art of talking opponents out of their chips and said he's for any rule that encourages more table talk.
Savage, for his part, maintains eliminating table talk has never been his goal. As someone working for the WPT, he knows table talk can brighten up any broadcast, and a lack of it can make for a boring product for viewers.
"I'm always a big fan of table talk," he said. "I think some table talk is part of the game for sure. Interaction is good television."
Never has that been more clear than during the recent heads-up match between Cate Hall and Mike Dentale. Though Dentale threw some verbal jabs at his opponent, Hall stayed silent and coolly separated Dentale from his money. A win for her but, many felt, a loss for the viewers who tuned in hoping to see fireworks.
Afterward, event organizer Matt Glantz admitted he erred in allowing the players access to their phones, saying he'd change that in the future.
Looking to his own future events, Savage said he certainly doesn't expect the rule set in The Social Experiment to become the norm. He said depending on the event's level of success, he may include it in future festivals as a recurring side event.
If players can't handle it, he said, they should simply stay home for that particular tournament as there are plenty of other options. For this event, it's all about Friedman's old motto.
"That's the goal, to make it fun for everyone," he said. "Hopefully, with this experiment, we'll find out if it does."
Stay tuned for PokerNews' full recap of Saturday's 'Social Experiment' tournament, complete with player reactions and interviews with event organizers.
Finding a trustworthy room to play online poker can be a monumental burden. That's all the more true if you're just looking for a place to play poker for free. We've listed five of the best play-money poker sites to enjoy and help hone your skills.