Inside Gaming: Resorts World Las Vegas Open Delayed; Melco Crown Philippines Surging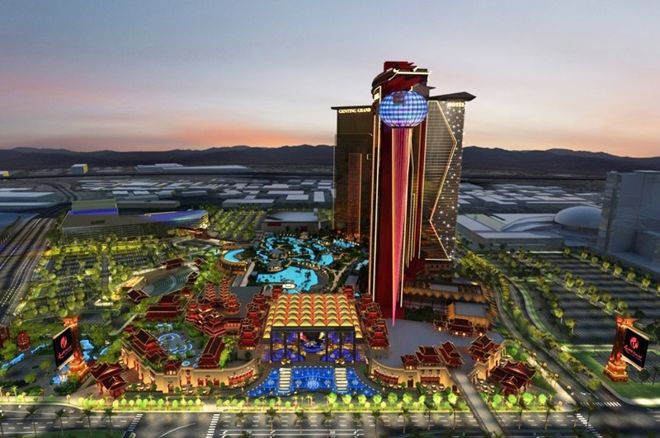 In this week's installment of Inside Gaming, there's a new point man leading the construction of Resorts World Las Vegas the opening of which has been pushed back once more, Paddy Power Betfair jumps into daily fantasy sports in the United States, and Melco Crown Philippines enjoys a fast start to the year.
Resorts World Las Vegas Opening Pushed Back (Again) to 2020
It doesn't seem that long ago, but it has been just over a decade since the demolition of the Stardust Resort and Casino on the northern Las Vegas Strip by Boyd Gaming. Boyd's plans for a new hotel-casino called Echelon Place were subsequently thwarted, and in 2013 Boyd sold the site to the Malaysia-based Genting Group for $350 million who soon set about planning the new Resorts World Las Vegas.
The original plan was for a 2016 opening, but a slow start to construction meant pushing that date back multiple times. This week came news of yet another delay, with 2020 now the target for opening.
On Wednesday the Genting Group announced the appointment of Edward Farrell, a casino industry veteran for three decades, as President of Resorts World Las Vegas. Following the announcement, Farrell outlined plans for the property which will cater both to younger gamblers and the city's Chinese and Chinese-American tourists, reports the Associated Press.
"The initial drawing had a lot of traditional, older Chinese architecture and elements that were within it," explained Farrell. (See an artist's rendering above.) "The company has really taken a look at the market in Las Vegas throughout the past couple of years, and it has really shifted to something that's much more modern."
Farrell went on to describe the new design as "more Shanghai than... Beijing, with technology and a modern-looking feel."
The $4 billion project is scaled back from previous iterations, but continues to include plans for two hotel towers with more than 3,000 rooms, a 100,000-square-foot casino (with lots of baccarat), numerous restaurants featuring Asian cuisine, retail and convention space and more. A parking garage built to accommodate 3,000 vehicles has already been completed.
Optimism surrounds the appointment of Farrell and revised plans, with construction set to begin this summer.
Paddy Power Betfair to Enter DFS Market in the U.S.
We haven't looked in on the constantly shifting legal landscape of daily fantasy sports here lately, where the current big news continues to be the pending merger of DFS giants FanDuel and DraftKings. Following a lengthy review process by regulators, that merger is expected to be finalized in time for the upcoming NFL season in September.
Meanwhile, the fact that the newly-combined mega-DFS site will enjoy something like a 95 percent market share hasn't deterred competition completely, as this week Paddy Power Betfair acquired the U.S. based DRAFT DFS site for a $48 million, reports Forbes.
It is a full acquisition of DRAFT by the Ireland-based bookmaking business and online betting operator. Expectations are for the company to double in size (from 10 to 20 people) and to "increase its marketing spend by roughly 100x over what was spent last year," according to DRAFT founder Jeremy Levine.
Levine previously sold another DFS site, StarStreet, to DraftKings in 2014.
"I think [Paddy Power Betfair] saw our game and the kind of user experience and the team and realized we were in a really good position to quickly take market share," Levine explained to Forbes.
Levine noted his site's easy-to-learn "snake draft system that did not require fancy algorithms or a special skill-set" for players to be competitive to be something that distinguishes DRAFT from the big players.
"Everyone else kind of offers the same salary cap game," said Levine. "We learned the downfalls of it and how hard it is for casual fans to win. Tens of millions of people want to play fantasy sports and many of them have realized they have little chance of winning with FanDuel and DraftKings and other salary cap games."
Paddy Power Betfair's plan going forward includes expanding DRAFT's reach beyond the 35 U.S. states it currently serves. That said, the company's CEO Breon Corcoran "estimates that the substantial marketing investment will cause DRAFT to incur a $20 million operating loss during this financial year."
Bloomberg: Melco Crown Philippines Best-Performing Casino Stock
Curious which casino stock is currently the hottest worldwide? According to a new article from Bloomberg declaring "This Is the Best-Performing Casino Stock in the World," Melco Crown Philippines Resorts Corp. is the answer.
The subsidiary of Melco Resorts & Entertainment Ltd. "has returned almost eight times more than a Bloomberg Intelligence index of global casino stocks," reports the site. "The company is posting the steepest gains among casino operators with a market value of at least $500 million this year."
Chief among the reasons presented by Forbes for "this year's 125 percent surge in shares of Melco Crown Philippines" is the influx of Chinese players at the company's City of Dreams Manila property.
Philippines President Rodrigo Duterte was in the U.S. news three weeks ago following his phone conversation with President Donald Trump, with Trump's invitation to Duterte to visit the White House viewed critically by those familiar with the Philippines leader's bloody drug war.
Meanwhile Duterte has spoken frequently of a need to improve relations between his country and Beijing. "The rhetoric appears to be paying off," explains Forbes, "with Chinese tourists to the Philippines up 25 percent in the first two months of 2017."
Also beneficial to Melco Crown Philippines has been the anti-corruption crackdown by Chinese President Xi Jinping and its negative impact on Macau where gaming revenue has only just begun to recover from a decline lasting over two years.
The introduction of phone betting by City of Dreams Manila is also cited by Forbes as a cause for growth.
Image: Resorts World Las Vegas.