Samuel Hernandez Leads Day 1b of the 888Live Barcelona Main Event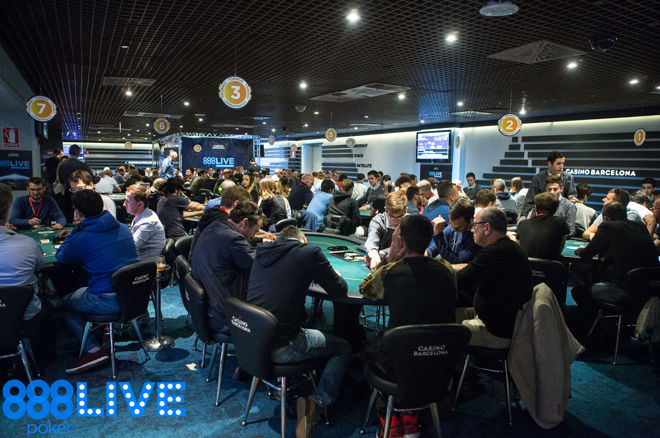 Day 1b of the 888Live Poker Festival Barcelona Main Event received another 172 entries added to Day 1a's 104 registrations, and when the play concluded, Samuel Hernandez led the way with 247,600 chips.
Day 1b welcomed several of 888poker's stable of stars into the Main Event, but it was one of the biggest names in the field who would bust early.
Cate Hall was gone in Level 2 when she called all in for her tournament life when she hit her flush on the river, only for that card to give her opponent a full house. She was not the only one heading for an early trip around Barcelona's many hotspots.
Oleg Egorov lost when his two-pair was flushed on the river. High roller crusher Catalin Pop saw his bubble burst when his ballsy shove with ace-high was called by Tomas Fara, who rivered a full house for good measure.
If the early losers defined the first forays, Fara dominated the latter levels. William Kassouf came and went very quickly. Daragh Davey's incisively pinned Thierry Gogniat to rake in a decent stack. But the Czech player Fara was always accumulating chips in the background.
Coming back from the dinner break with an above average 54,000, Fara's biggest hand was when he flopped two-pair against a king-high flush draw for Gregor Waltermann. The pair were all in on the flop, and after surviving turn and river, Fara had 200,000 and the chip lead in the room. He would end the day marginally higher on 207,100.
In the end, Samuel Hernandez would take the biggest stack of Day 2 from Day 1b. There are plenty of talented names in his rearview, however.
Oscar Romero (236,700), Auktumas Dambrauskas (236,700 also), Jose Manuel Cesepims (196,100) and Jose Manuel Henriques (190,100) will all feel like they have a great chance of overtaking the chip leader when Day 2 takes place.
Before that, of course, there is tomorrow's Day 1c, which kicks off at the earlier time of 3 p.m. local time. That's gone down very well with players who took today off, but the efforts of those deep into the night here on Day 1b may see a flurry of late registrations as those who ran out of luck late in the day catch up on some much needed sleep as recourse for a grueling first day at the felt.
The PokerNews team will be back in action to bring you every bink, bust-out or blow-up from 3 p.m. tomorrow afternoon as we find out which players will make Day 2 and if the €500,000 guarantee is exceeded.
End of Day Notables and Big Stacks
| Player | Chip Count |
| --- | --- |
| Samuel Hernandez | 247,600 |
| Oscar Romero | 236,700 |
| Tomas Fara | 207,100 |
| Jose Manuel Cesepims | 196,100 |
| Jose Manuel Henriques | 190,000 |
| Auktumas Dambrauskas | 188,800 |
| Daniel Soler | 165,600 |
| Haykel Cherif Vidal | 159,000 |
| Daniel Lopez | 126,500 |
| Antonio Saez Zamorano | 106,900 |
| Kaido Koorits | 93,200 |
| Marti Roca | 73,500 |
| Sebastian Langrock | 71,100 |
Everybody needs an account at one of these online poker rooms! They're the biggest, the best, and we get you the best poker bonuses. Check out our online poker section for details on all the online poker rooms around.