Tweet, Tweet, Bad Beat: Times Are A-Changing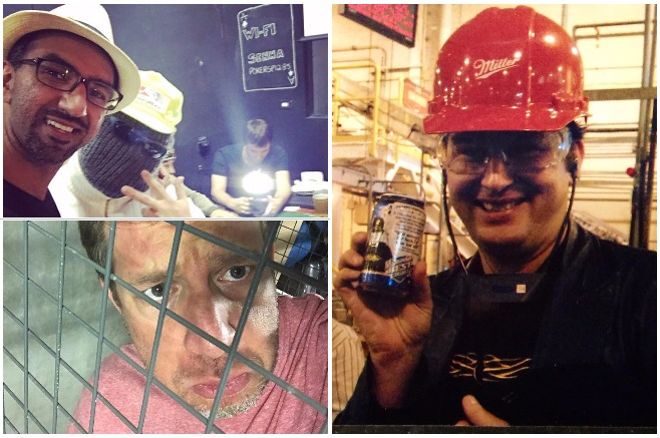 This week in social media, poker players largely responded with yays or nays to the changes of various poker programs and changes on the way.
Obviously there was still some time to goof off.
Yes, best to look like you're going to rob someone at the poker table.
Life's hard when you're working.
The best throwbacks are the ones with you in a hard hat.
Friends awkwardly lift you up when you're...the winner of a reality show?
Yikes.
Puppies and puppies and puppies...
For some reason, this post was so endearing to me and made Moneymaker into a workout teddy bear...
Ha?
This chiplead no one can take from me ♣️######chipleader #globetrotter #grinder #believer #neveraquitter… https://t.co/cfnfbXVErE

— Felipe Mojave Ramos (@FelipeMojave)
Not a bad view...
All my peeps are here.
Yesss! The @888poker Brazilian Ambassadors are in the house for #888livebarcelona https://t.co/peyVa7g33p

— Kara Scott (@KaraOTR)
Hopefully from one green location to another #cashmoney
On my way to @Wsop . Had a great vacation with the family, now fired up for a great season of poker. https://t.co/TUuQrQvkVw

— david bach (@gunslingerbach)
Feat recorded well.
Weeeeee
Blegh.
Um how are us girls going to concentrate at the tables?!? Great addition @partypoker @brunogagliasso # https://t.co/EuWI6n8I9i

— Jackie Glazier (@JackieGlazier)
For the sake of humanity.
My friends @RexClinkscales @queenofsets rescued this abandoned pup in Vegas. Anyone looking to adopt? @dreaaathomas https://t.co/cgenMTi9wc

— Allen Kessler (@AllenKessler)
Lead images courtesy of Faraz Jaka, Phil Hellmuth and Matt Salsberg
Finding a trustworthy room to play online poker can be a monumental burden. That's all the more true if you're just looking for a place to play poker for free. We've listed five of the best play-money poker sites to enjoy and help hone your skills.