New Discount Rule in WSOP Ladies Championship Considered Massive Success by Players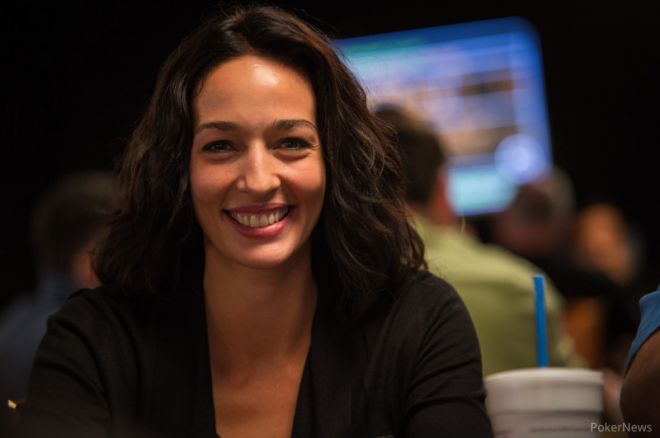 The annual $1,000 Ladies No-Limit Hold'em Championship at the World Series of Poker kicked off on Friday with an official count of 954 entries. It was confirmed by the WSOP that no males registered for the event, marking the first time in several years that the event was truly a Ladies Championship.
The first ladies-only event was introduced in 1977 in the form of a $100 buy-in seven card stud tournament. The ladies played stud for the event's first two decades, but have been playing Texas hold'em since 2001. The buy in jumped to $1,000 in 1992 and had remained at the price tag until this year. At first glance when the schedule was released in February, players noticed the entry fee had been marked up to $10,000. However, a twist in the rules read that ladies got 90% discount to $1,000.
The modification was a creative response by the WSOP to fix the problem of men buying into the Ladies event, one of the major controversies that emerge at the series every summer.
In 2011, Jonathan Epstein not only registered into the women's only event, but also made his way to the final table. It wasn't the first time a man entered the tournament, but it was the first time one had placed in the top nine.
This year, the WSOP appeared to work around the gender-discrimination laws by adding the $10,000 price tag and ladies discount. And it was a complete success.
After it was revealed that no males had entered this year's event, PokerNews got the scoop from some of the female players about whether they thought the $10,000 price tag was a good change.
Danielle Andersen, one of the lead characters in the recently released documentary Bet Raise Fold, said, "The change is great because I think it's important for women to have a safe environment where they can learn poker and just enjoy themselves. The guys who registered in the past were perhaps ruining that environment for a lot of the women. So anything we can do to make it a great time and encourage more women to become more involved in poker is something I will always support. "
Although this year was a success, Andersen wasn't convinced that this would be the end of males entering the tournament forever. "If it remains a $10,000 buy-in, surely a man will lose a prop bet or just want stir up controversy for no good reason. Hopefully the integrity of the event remains intact for the future."
Lauren Billings was more politically-correct on the subject when offering her opinions. "I think it was clever of the WSOP to do such a thing. It's silly that there's a law that prevents private enterprise from doing things they want. It was a good way to get around the issue. I personally think the ladies events are a little antiquated, although I do appreciate the reason that the series started them. It obviously enhances poker. A lot of the players' girlfriends play so it's just overall good for the game. If you are a man and your wife lets you play all the time, then it's good to have that one event that she could play and feel comfortable; it's special for her.
"Also, there are a lot of older women that get intimidated because of the many young kids who maybe aren't very nice and just want to play this event out of spite. Many say women poker players are so horrible and making it the softest field. Perhaps it's true but because many female players are limit players and aren't comfortable or as experienced with no limit Hold'em.
"When all is said and done, I wish the WSOP didn't have to go through extreme measures. I wish that players were classy enough to respect the fact that it should be exclusive. There are other bracelet events and so many more other tournaments around town that they don't need to step the boundaries just to cause a ruckus. I wish there were more players who lead by example and said, 'just let them have that day.'"
Kara Scott, one of the most famous female players in the game, had her own thoughts on the issue: "I think if what the WSOP wanted was to make sure that only women were playing then it was a really great way to go about it. Clearly if guys think they have value in the tournament then they now should realize they really won't if they pay $10,000 instead of the $1,000. I really hope that it means the women who are playing enjoy themselves more. There's not the distraction of a guy who busts and everyone claps so then there's a weird energy. We didn't have to deal with that this year, which is really nice. After all, the whole point is to attract more women to play poker so let's make it more comfortable for them."
We asked Scott if the WSOP should counter the ladies event by creating a male-only event.
"The fact is women are the minority in poker," she replied. "If men feel the need to have a men's event to make it fair then they should realize they're not the minority, which in turn doesn't actually make it fair."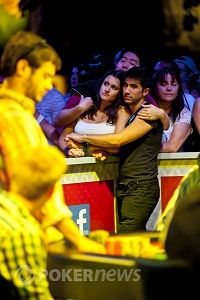 Ashley Sleeth, the girlfriend of 2012 WSOP Main Event runner-up finisher Jesse Sylvia and a poker player in her own right, was also a big fan of the change. "I think it's great. The WSOP definitely accomplished what it wanted. I think now all the women feel a lot more comfortable and can sit back and fully enjoy themselves. It's obvious that everyone today was having a great time. The whole point of having a ladies tournament is to make poker seem inviting to women because we are obviously the giant minority in the poker community."
Sylvia, who was in attendance showing his support for his girlfriend, was also available to comment on the subject, adding a male opinion to the matter. "It was funny when there was maybe that one guy who lost a bet and had to wear a dress, but then when there were guys who were seriously grinding, the whole thing just became really absurd. There's no real reason for a male to play in the event other than to cause a debate and gain useless attention. The WSOP did good by changing it and I hope it continues to prevent guys from registering in the future."
Jennifer Shahade agreed, saying, "If there is a woman who doesn't play in many WSOP events and gets knocked out by a guy then it could leave a bitter taste potentially resulting in her never coming back. So it's great that the WSOP found a way to keep men out to make it a more comfortable environment for women. I will say I hope there weren't any transgendered women that were left out."
Ivey Poker Pro Jackie Glazier made her debut in the ladies event this year. She offered a different perspective to the matter, saying, "It's great but I don't necessarily think men are better than women anyway. If they want to buy in for the $10,000 amount, then let them. Us women will be glad to take their extra $9,000 and add it to the prize pool."
Be sure to follow our Live Reporting page for continuing coverage of the Ladies Championship at the 2013 World Series of Poker, and follow PokerNews on Twitter for up-to-the-minute news.