888's Bruno Politano Returns to the Spotlight at the World Series of Poker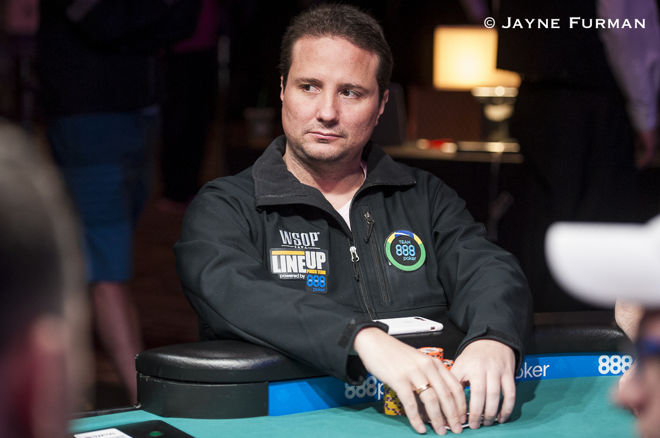 Bruno Politano was happy to be back in his comfort zone: a final table at the World Series of Poker. It was his November Nine appearance in 2014 that propelled Politano to the international poker spotlight and gave Brazil a new hero. On Thursday, in Event #25: $1,000 Pot-Limit Omaha of the 2017 WSOP, the likable Brazilian was all smiles.
"It's amazing to be back under lights again. That was the best time of my life," Politano told PokerNews, referring to the 2014 WSOP Main Event Final Table. "I have a ring in Omaha from a WSOP Circuit event in Brazil, but it's good to be back here playing for a bracelet."
His rail wasn't out in full force Thursday like it was during the November Nine, but the Brazilians in the crowd made themselves known every time Politano dragged a pot.
"My friends are playing, so we support each other. I have a lot of friends here. If I can make it 3-4 hours more, there will be a lot of friends here rooting me on. For sure."
Politano is quite the celebrity in Brazil and a big reason for Brazil's version of the 'Moneymaker Effect.' In the land of fútbol, poker is fighting for a place on the national stage.
"The Brazilian poker community is very large. After my November Nine, there have been a lot of new recreational players and it makes it more interesting for poker. Everybody either currently plays poker or wants to play poker, and they are always trying to find tournaments to play. Poker is still growing."
Politano, the first Brazilian ever to make the November Nine, parlayed his popularity and his infectious laugh to secure a relationship with 888Poker as one of its ambassadors.
"888Poker supports me in all I do," he said. "I love being an ambassador for them. I have a great team that supports me and helps poker in Brazil. 888 does a lot to help the sport, by making it easy for new players to learn how to play poker and also, to love it too. 888Poker is one of the most favorite rooms in Brazil, and it's great to be playing as an ambassador in a room that is busy and fun."
"It's amazing to be back under lights again. That was the best time of my life."
As a poker coach, with a popular poker school at home, Politano not only wants to grow the sport but is putting his business skills to work doing so. Politano believes studying the game is really important for new players, but they don't always know what they should be studying. He tries to teach that "success comes from the information you have and that a positive mental mindset is important."
Prior to winning the November Nine, Politano had a store and poker was just a hobby. After an eighth place finish and nearly $1 million added to his bankroll, poker became his full-time job, something he always dreamed of.
Politano plans on being in Vegas for the entire summer and playing as much as he can. He has already racked up two cashes, not to mention an (unofficial) final table appearance at the Omaha event. He went on to 10th seventh in the tournament as we were preparing to publish this article.
"I'm running good and hope to be running better. I'm looking forward to the Main Event and a big rail. It's my favorite. It's my best and the best."