Inside Gaming: Illinois Senate Passes DFS, Online Gambling Bill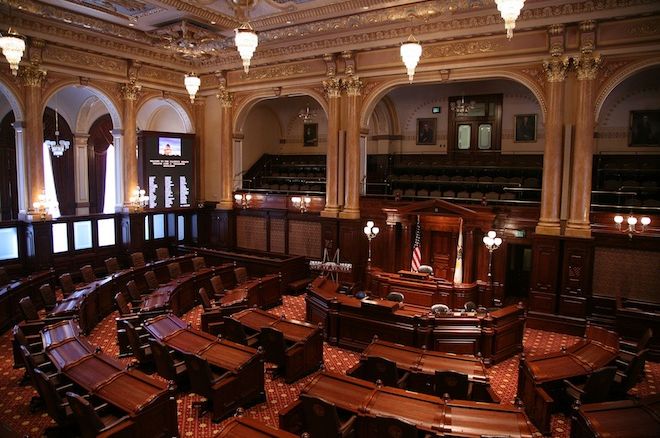 This week's installment of Inside Gaming gets you up to date on Illinois lawmakers' discussions of gambling-related legislation concerning both casinos and online/DFS, shares the story of a new "match poker" league in India and reports on Thursday's devastating attack upon a Manila casino.
Casinos, Online Gambling and DFS on Table for Illinois Lawmakers
Illinois became a focus of attention this week as far as gambling legislation is concerned, with gambling-related proposals before both the state's General Assembly and Senate.
Over in the General Assembly their spring session ended Wednesday without lawmakers dealing specifically with a bill proposing to expand gambling in the state by adding six new casinos. As the State Journal-Register reports, the Senate has already approved a measure allowing for casinos in Chicago, Rockford, Danville, Lake County and in south Chicago, but the General Assembly did not take up the bill for a vote.
A last-minute attempt to add Springfield to the list of potential casino sites was blocked by a House committee, although the delay now means renewed hope for those wishing for the state's capital to be added.
While proponents of adding Springfield continue to make their case, the casino expansion bill may come up again during an extra summer overtime session needed to pass a budget (something Illinois lawmakers have failed to do for two years now).
Meanwhile over in the Senate many were surprised when lawmakers ended their session on Wednesday by passing a bill to legalize both daily fantasy sports and online gambling (including online poker).
The Senate passed HB 479 by a 42-10 margin, and while the House failed to address it before the close of business Wednesday, they could pick it up when reconvening for the extra summer session.
Earlier in the week, State Sen. Kwame Raoul, a sponsor of the bill, spoke to The Chicago Tribune about "controversy last year as to why are we regulating daily fantasy sports activity, which is ongoing in the state, and not regulating internet gaming, which is also occurring."
It therefore made sense to Raoul and those voting in favor of HB 479 to back a bill covering both. As Raoul explained, "what this bill attempts to do is also regulate and bring licensure and supervision of internet gaming under the jurisdiction of the Gaming Board. And it would limit the operation of internet gaming to existing casinos."
There are competing bills, however, including one for DFS only, that may hinder further advancement of the bill passed by the Senate this week.
IFP's New Match Indian Poker League to Stage Event in September
Yesterday the International Federation of Poker shared its plans to stage a professional "match poker" tournament in India in September, an event described by Focus Gaming News as marking "the first time a legal and professional poker tournament" will be staged in the Indian market.
The IFP's announcement describes the organization having signed an "agreement with top Bollywood actress Shilpa Shetty Kundra and her entrepreneur husband Raj Kundra's Viaan Industries Ltd to launch the Match Indian Poker League."
The Match IPL "will see city-based teams compete in the world's first professional match poker league." The first eight teams in the Match Indian Poker League will represent the cities of Ahmedabad, Bangalore, Chandigarh, Chennai, Delhi, Goa, Kolkatta and Mumbai.
"Players will be selected for the teams based on their skill based ranking, where their performances have been assessed while playing against one of the world's most advanced Poker 'Bots using the Match Poker app which launches in August," the IFP explains.
"Match Poker" is a team sport that incorporates the "duplicate poker" concept some may remember being introduced about a decade ago.
Team members are split up with one player at each table in each of the different seats. The same hole cards and community cards are then dealt at each table (e.g., everyone in Seat 1 gets the same hand, etc.). The game is usually played as pot-limit preflop and no-limit postflop. The team whose members collectively accumulate the most chips by the end of a session wins.
IFP President Patrick Nally describes the organization as having "worked tirelessly for many years to develop the sport and the technology to support it and make it... a truly 21st century mind sport."
"It is a mind sport in an e-sport wrapper," says Nally, who adds that interest in India "has been simply phenomenal."
The International Federation of Poker describes itself as "the international governing body for the sport" and is a member of the International Mind Sports Association. First launched in 2009, the IFP currently has 60 member Federations worldwide.
Manila Casino Site of Brutal Attack, Dozens Dead
Finally, in a still developing story, the popular Resorts World Manila casino in Newport City in Manila was the site of a brutal attack on Thursday in which a gunman carrying a container of gasoline set fires in the casino causing panic among patrons, with the latest reports indicating at least 36 dead, most from smoke inhalation.
The New York Times today describes the chaotic scene in detail, including how the attacker shot his weapon upwards but not at anyone, filled a backpack with a "large quantity of casino chips" (worth 113 million pesos or around $2.3M USD, according to other reports), then set fire to tables before escaping into a hotel room where he committed suicide.
Other news outlets have reported the terrorist group ISIS having claimed responsibility for the attack, with U.S. President Donald Trump also describing it as a "terrorist attack" prior to his speech yesterday announcing the U.S. was leaving the Paris climate agreement.
However authorities in Manila deny such a characterization and dispute ISIS's claim, with a police spokesman describing it as an unsuccessful robbery attempted by an "apparently... mentally disturbed" individual.
Photo: "Illinois State Senate," Daniel Schwen, CC BY-SA 4.0.