Inside Gaming: Congress to Consider Sports Betting, Online Gambling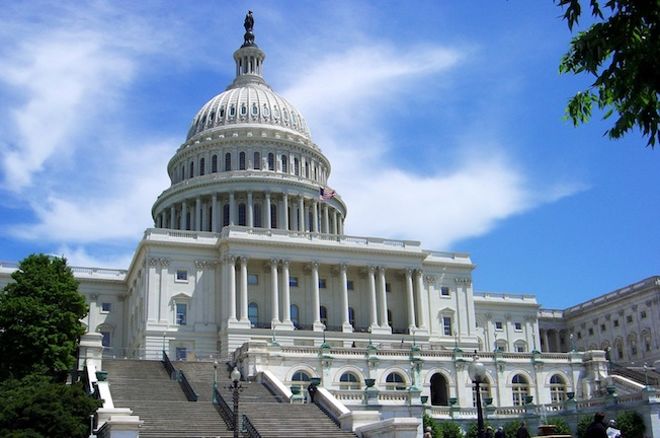 This week's installment of Inside Gaming shares news of new legislation being considered by a House committee regarding both sports betting and online gambling in the United States, tells of a choice piece of Strip-facing property being put on the market in Las Vegas and reports on a recent purchase agreement regarding another Vegas hotel-casino.
House Committee to Consider Draft of Legislation Affecting Sports Betting and Online Gambling
The fate of sports betting in America — and the possibility of its becoming legal nationwide rather than just a few states (Nevada, and in a more limited way Delaware, Oregon and Montana) — is one of those ongoing legislative debates that never seems to gather a lot of momentum. That said, this week some news did come out of Capitol Hill that could theoretically become meaningful not just with regard to sports betting in the U.S., but online gambling as well.
On Thursday the House Energy and Commerce Committee released a "discussion draft" describing new legislation, The Gaming Accountability and Modernization Enhancement Act or the GAME Act for short. The bill would repeal the existing federal prohibition on sports betting — i.e., the Professional and Amateur Sports Protection Act of 1992, a.k.a. PASPA — as well as allow states to legalize online gambling.
Currently only Nevada, New Jersey and Delaware have legalized online gambling.
A section-by-section summary of the GAME Act outlines how it would make "gaming activity" entirely a state matter, removing it from the aegis of federal law entirely and leaving oversight and consumer protection to the Federal Trade Commission.
Other sections rule out the use of credit cards as a payment method for any type of gambling, discuss enforcement procedures, require gaming addiction prevention and treatment programs and define "bet or wager" as "the risking of something of value, including virtual currency or virtual items, upon the outcome of a contest of others, a sporting event, or a game of skill or a game of chance, on the expectation that the person will receive something of value in the event of a certain outcome."
The final sections clarify the GAME Act would not affect current state law or tribal-state compacts, and that it would repeal PASPA.
Rep. Frank Pallone, a Democrat from New Jersey, is the primary impetus behind the GAME Act. In a statement from Pallone yesterday, he notes that "despite the federal gaming laws in place today, Americans are betting up to $400 billion a year on sporting events alone."
"It's time to recognize that the laws are outdated, and the GAME Act will modernize them by increasing transparency, integrity, and consumer protections."
Reporting on the new legislation, ESPN shares optimism expressed by Geoff Freeman, CEO of the American Gaming Association who have long espoused the need for PASPA being repealed and new legislation related to sports betting.
"President [Donald] Trump will have sports betting legislation on his desk during his term," said Freeman.
Whether such optimism is warranted at present is difficult to know. For a thorough first impression of the GAME Act and its potential, check out Legal Sports Report's response to the question "New Congressional Bill Would End Sports Betting Ban, But What Are Its Odds Of Passing Soon?"
Crown Resorts Puts Vegas Strip Property on the Market
This week The Australian reports that Crown Resorts has now engaged a commercial real estate company to list for sale the 35-acre location opposite the Encore and Wynn on Las Vegas Boulevard. The news marks the beginning of the end of Crown's Executive Chairman James Packer's hopes to own a casino on the famed Strip.
The real estate company CBRE is listing the property currently owned by Crown Resorts and Oaktree Capital Management. The land traded for $1.2 billion in 2007. Crown purchased the land in 2014.
In December 2016 we reported on Crown's decision to abandon its $2.5 billion Alon Las Vegas project after nearly two years of planning and initial construction.
"Crown will now be more focused on driving greater returns in Australia and ensuring the company is well prepared to deliver Crown Sydney in 2021," said a spokesman, alluding to the currently under-construction hotel-casino in Barangaroo, Sydney.
Meruelo Group Agrees to Purchase SLS Las Vegas
Finally, there is more news from Las Vegas to report this week as the Meruelo Group announced it has agreed to buy the SLS Las Vegas from the Stockbridge Real Estate Group. That's the site of the former Saraha Hotel and Casino that closed in 2011 and under new ownership reopened as the SLS in 2014.
According to CDC Gaming Reports, no details of the deal's terms were announced, with the sale's completion expected to come in the third quarter of 2017.
Founded by Alex Meruelo, the Meruelo Group is a management company serving a diversified portfolio of more than 35 companies in a variety of industries, among them hospitality and gaming. The company acquired the Grand Sierra Resort Hotel & Casino in 2011. The company is also involved in media, having most recently purchased hip-hop radio station Power 106 in Los Angeles earlier this month.
"This is a once in a lifetime opportunity to acquire a premier gaming property on the world famous Las Vegas Strip," said Meruelo. "We look forward to bringing our experience and successful track record as a casino/hotel owner, and to leverage our Los Angeles-based media and entertainment properties, to position the SLS as one of the most desired destinations in Las Vegas."
Vital Vegas speculates that "it is likely" the Meruelo Group may well rename the property, much as they did with the Grand Sierra Resort in Reno. "One source says there's been some talk of changing the resort's name back to Sahara, which would be several kinds of cool," comments Vital Vegas.
In 1947 Club Bingo was the first casino to open on the site, one of the first half-dozen resorts to open in Las Vegas. In 1952 a new casino-hotel was built on the property and named the Sahara. Among the Sahara's many claims to fame was being the site where the original Ocean's 11 (1960) was filmed.
Sam Nazarian and the Stockbridge Real Estate Group purchased the property in 2007, then in 2011 the Saraha closed. Renovations followed and the hotel opened in 2014 under the new SLS Las Vegas name, then in 2015 Nazarian sold his interest to the Stockbridge Real Estate Group.
Photo: "U.S. Capitol in daylight" (adapted), Kevin McCoy, CC BY-SA 2.0.