John Smith Continues Domination of WSOP $10K Heads-Up Event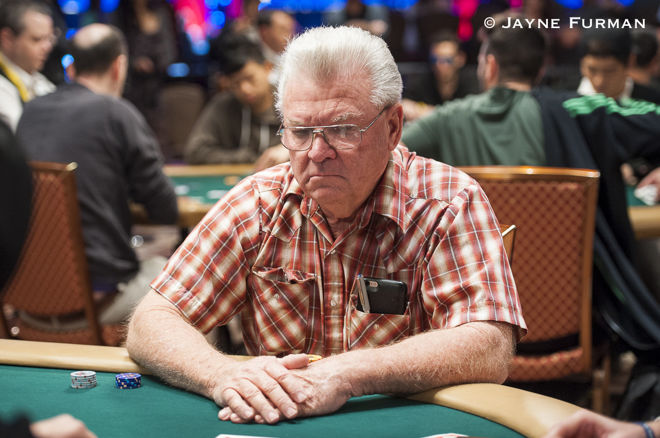 With 32 players locked in heads-up battle on Thursday, young poker savants fill the Brasilia Room at the World Series of Poker looking to make the $10,000 Heads-Up No Limit Hold'em Championship a nice bullet point on their resumés. One more win locks up a trip to the sweet sixteen and a minimum cash of $26,711 – and a chance at much more.
Among the hoodies and sunglasses, one player stands out. John Smith looks at his cards as he battles Denver's Chance Kornuth, a stellar player with numerous titles and more than $5 million in tournament winnings. Smith, who is dressed in shorts and a plaid shirt, goes on to win in one of the round's longest matches, securing his third cash in the event in the last four years.
The white-haired, 70-year-old war veteran from the Los Angeles area has been playing poker for more than 50 years – more than most others in the room have been alive. In recent years, Smith has become a wizard in heads-up tournaments. Last summer, he finished runner-up for $198,192 in the same event and in 2014 took 11th for $26,584. Smith has been playing seriously in casinos as a hobby since the mid-2000s and has several nice five- and six-figure wins in California, with career tournament winnings of more than $1 million.
As Thursday night wrapped up, Smith was 3-0 on the day and had now won 11 of his last 12 matches in the $10K Heads-Up event over the past two years. He will return to final four action on Friday, facing off against former world champion Ryan Riess.
Strategy Man
What's the secret to his success? Smith said the key is that he mixes up his game up well.
"They think I'm a person that is not young and vivacious like they are," he says. "They just don't know how to read me and that's why I score."
Smith offered more advice for those looking to play in a heads-up event or make it to one-on-one play in a tournament. He believes the mental aspect is much more of a focus in heads-up games.
"Heads-up is a way different game and you have to do a lot of reads and pick up a lot of tells," he says. "And they have to do that on me."
"They just don't know how to read me and that's why I score."
Part of that repertoire is the use of false tells to throw an opponent off or give them an inappropriate read – something common with other players as well. These mind games make for some interesting dynamics.
The Smith-Kornuth showdown was a protracted battle with some swings back and forth. Smith offers some advice for when a player is at a significant chip disadvantage heads-up.
"You have to be more aggressive than you normally would be, just like he was with me," he says. "You have to do that and you have to get lucky."
Purple Heart to Poker Force
Growing up poor in a small California town, Smith joined the Army after graduating high school. As America became more involved in the conflict in Vietnam, Smith was shipped over to help in the fight against the communist North Vietnamese. In the mid- to late-1960s the numbers of young servicemen in the country swelled to as many as 500,000.
Serving in the Army from 1964-67, he spent one year in Europe (1965) and two years in Vietnam (1966-67). In 1967, only a couple months from his tour of duty being over, he was on duty aboard a tank. His crew veered off a main road across a rice paddy when his world changed.
"Apparently the Vietnamese knew we were coming and they set a mine," he says. "The mine went off and blew the tank up. I got shrapnel all in me and an eardrum blown out."
Smith was in the hospital for two weeks, but was lucky to be alive. The explosion blew through the bottom of the tank. He was later awarded the Purple Heart for sustaining an injury in battle.
"I really felt bad because there were soldiers next to me with arms and legs missing and it was really nothing compared to what I was seeing after the explosion," he says about the scene around him after the explosion. He would learn it was even worse. "Everyone got killed except for me. I was lucky."
When the mine exploded, Smith was half in and half out of the tank. The explosion rocked through the bottom of the vehicle, and he believes being partially outside the tank saved his life.
After leaving the service, Smith looked for a new job – something he could work his way up in and build a career. It's a story of hard work and dedication, and he's proud of where he is today.
"After Vietnam, I got a job with a road contractor and worked myself up to my own company," he says. "It's been a success story."
Now Smith owns an asphalt company in Los Angeles and works as a road contractor throughout California. He adds: "I'm a very proud American, and I just love this country."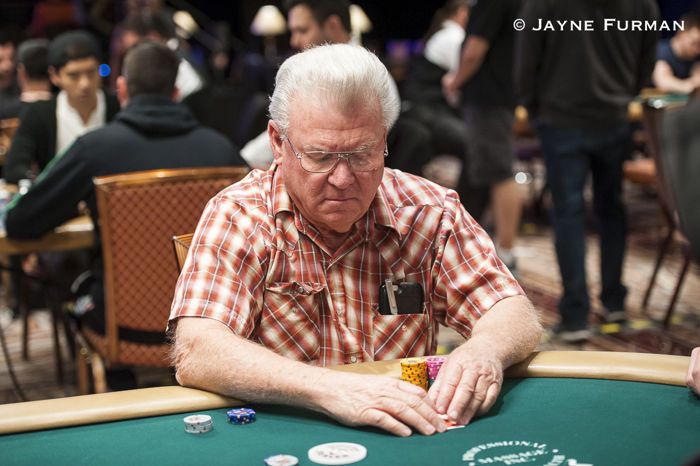 Success at the Table
As for poker, Smith began playing in his garage with friends when he was 18, and it became a lifelong hobby. Back in his hometown of La Habra Heights, Calif., Smith is part of a monthly Omaha game (and Hold'em occasionally mixed in) with friends and fellow contractors. The game has a minimum $3,000 buy-in, he says, and players regularly win or lose $10,00-$20,000.
The heads-up event was his first tournament of the summer and he also plans to buy into the $10,000 No-Limit Hold'em 6-Handed Championship, which is played on June 21. He plans on playing the Main Event, but enjoys the action of events with fewer players at the table more.
"I like the $10,000 tournaments because, in my opinion, you get people who aren't going to monkey around and are serious," he says. "I don't like the $1,500 and $1,000 events."
Other players have taken note of his varied style and he has earned respect among of his younger peers. Alan Percal, who beat Smith for the $10,000 Heads Up title in 2016, says not only is Smith a nice guy, but a great player as well.
"As far as his play, he was definitely a wild card," he says. "I'm not surprised to see him making another run. I heard about his semifinal match from some friends about him making some moves that you don't expect out of the older guys. I hope he takes it down this year."
Married with a grown son and daughter, Smith enjoys spending time with his six grandchildren when he's away from the tables and work. He also enjoys taking his boat out and doing some fishing.
"I like the $10,000 tournaments because, in my opinion, you get people who aren't going to monkey around and are serious"
As the night progressed on Thursday in the Rio, this old school player notched another win in the Round of 16, defeating 2012 November Niner Russell Thomas. His big run continued in the last round of the night, knocking off young pro Jack Duong, a bracelet winner with almost $1.6 million in tournament winnings.
Two more wins on Friday and Smith earns his first bracelet. Players in a heads-up duel with this card shark septuagenarian would be wise not to take him lightly – or they may end up his next victim.
"I seem to do well in these," he says. "That's where I shine."