Sunday Briefing: Half Price Sunday Million Smashes Guarantee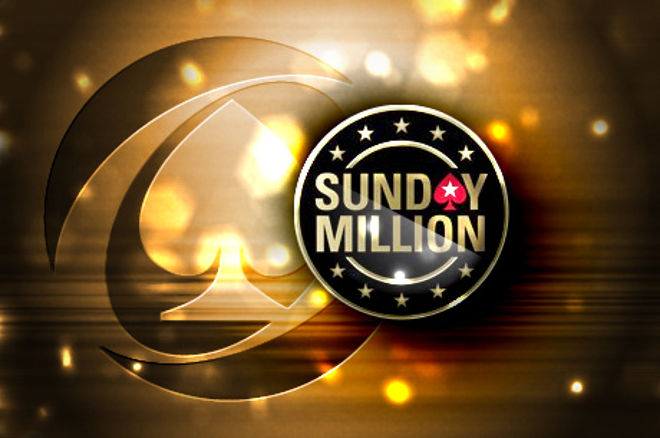 This weekend saw PokerStars slice the $215 buy-in for the Sunday Million in half yet the $1 million guarantee still remained. By the time late registration had closed, a staggering 25,114 players had bought in and created a guarantee-busting prize pool of some $2,511,400.
With only four players remaining in the hunt for what was a $255,289 first place prize, the final quartet paused the tournament to discuss a deal. Those discussions proved fruitful and saw each player lock up a potentially life-changing sum of money.
"tooozoran1" finished in fourth place and banked $136,445 with "Mtss7" busting in third place for a $143,294 score. The runner-up was "ivanbeograd" and they collected $195,867 while the eventual champion was "buba971" who secured a $183,815 prize and bragging rights in the poker community.
Some of the other notable victories at PokerStars in Jun. 18 included:
"JevgenyKO" – winner of the $109 Sunday Starter for $6,241
"CrackdeI29" – winner of the Big $162 for $4,848
Sebastian "w10lvl" Wartensleben – winner of the $109 Sunday Kickoff for $17,112
"ndanny" – winner of the Hot $162 for $6,248
"anrik84" – winner of the $215 Bounty Builder for $13,960
"Far2012" – winner of the $215 Sunday Warm-Up for $45,791
"spaarky777" – winner of the Big $109 for $17,950
"tikidiii" – winner of the Hot $162 for $12,495
"SEWart" – winner of the $700 Super-Sized Sunday for $35,510
Andreas "mrAndreeew" Berggren – winner of the $109 Bounty Builder for $16,003
"h1gher1" – winner of the $109 Bubble Rush for $7,543
Rafael "konnh4nd" Garcia – winner of the Hot $109 for $16,210
"juniorbeagle" – winner of the $1,050 Sunday Grand NLHE - $37,597
Jens "Fresh_oO_D" Lakemeier – winner of the $1,050 Sunday Grand PLO for $28,550
"h1gher1" – winner of the Big $215 for $18,437
Carlos "DIFINI" Felipe Difini – winner of the $109 Sunday Cooldown for $18,316
Norbert "wantme1234" Berent – winner of the $215 Sunday Supersonic for $28,033
"GiVeMeBaLLs" – winner of the Hot $215 for $12,187
Over at partypoker, "dinovaldo" and "hubbare" chopped the $250K Gtd Title Fight and claimed scores of $37,305 and $35,819, while "redcorvette73" raced off with the $25,395 first place prize of the $150K Gtd Main Event.
The $150K Gtd High Roller saw "D0nKanaille_" win the $28,781 first place prize, "chadi6969" triumphed in the $100K Gtd High Roller for a $19,636 addition to his bankroll, and "Nikosthan63" took down the $100K Gtd Title Fight Warm Up for $18,949.
Finally, over to 888poker to complete this week's Sunday Briefing.
Ukraine's Mikhail "zinkAA" Galitskiy topped a field of 224 players in the $100,000 Baby Whale and turned $320 into $20,450, which was a similar score to the $19,000 that "sir.dohoda" won for being triumphant in the $100,000 Mega Deep.
"Ronaldo4112" scored a $9,200 prize by winning the $40,000 Turbo Mega Deep, Norway's "IQHAHA" won the $30,000 Sunday Crocodile for $6,993, and "ego_death" was crowned the $60,000 Sunday Challenge champion, an accolade that came with a $9,016 prize.
Have you ever wanted to write your own articles about poker? Maybe you've got some experiences or opinions about poker that you'd like to share. PokerNews is proud to launch The PN Blog where you can have a platform to make your voice heard. Learn more here.