$2 WSOP Main Event Qualifier Neil Box is Having a BLAST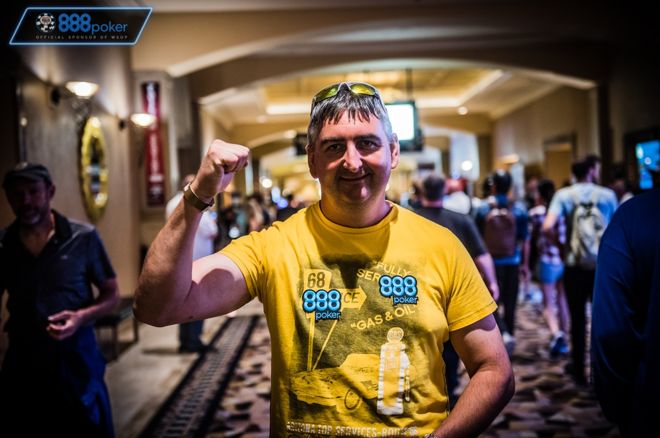 To say the World Series of Poker makes dreams come true is easy, after all, most professionals consider it the best tournament structure of the year, there is a multi-million dollar top prize and the names of every winner in history have taken on an immortal luster akin to the card room equivalent of royalty. But imagine if the first live tournament you ever played was the $10,000 buy-in 2017 World Series of Poker Main Event and the third largest in poker history.
Now imagine it cost you just $2 to enter.
"I'm 45 and I come from Abertridwr just outside Caerphilly in Wales," said Neil Box, the lucky man to have won his $10,000 buy-in for less than the price of a loaf of bread back in his hometown.
"I work for my local council. One or two of my co-workers are following my progress, but the bosses aren't enjoying it quite so much! I said if I'm still here in the second week, I'll have to buy another flight."
Box has made his way to Las Vegas on the back of the most astonishing rookie run surely of all-time. But his poker journey began, like for so many other players, by watching poker on television.
"I saw poker on TV once, flicking through the channels, and caught a bit of Late Night Poker. One day I thought, I'll join up. I joined 888poker and I've been playing at least five or six years now. I try and play the $11 bounty tournament every time it's on."
Not only did Box achieve the near impossible to get to Las Vegas and the card room at the Rio (he played in the gargantuan Pavilion Room), but this is the first time he's ever sat in a chair and taken on other players face-to-face.
"It's totally unbelievable. It's my first time playing live poker. I played the BLAST event for $2 dollars. I played it twice a week for a month. You can win $2 or $10 normally, those sorts of prizes. Only 18 in every million spins produce this kind of prize. It came up on my table."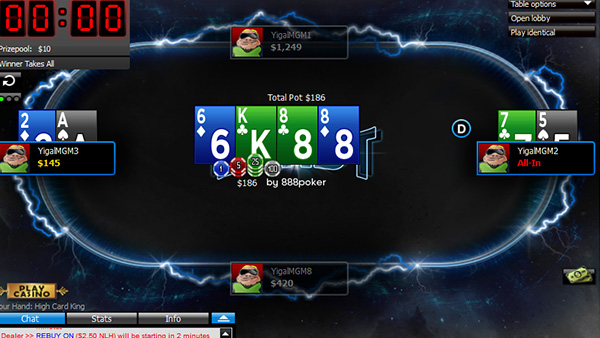 For the uninitiated, BLAST is a 4-handed, super-turbo Texas hold'em sit & go. The $2 entry events wait until everyone has sat down at the table and the spin has revealed exactly what amount is up for grabs. In Box's case, the prize was an amazing $12,500 package to travel and take part in the greatest poker tournament on Earth.
"You try it and never think you're going to win. When the prize came up, I wasn't concentrating, because I was playing my normal $11 bounty tournament. That's my maximum buy-in. I wasn't looking properly at the BLAST table, so having glanced at it, I just thought it was for $10. I never even considered that it would be the package to the World Series. I was doing well in my bounty tournament. I knocked a guy out and won $5 and I was more interested in that. Then I looked over at the other table and noticed it was for the $12,500 Main Event package. The $11 bounty tournament went out of the window."
No kidding. Suddenly, Box was three eliminations from the trip of a lifetime to the heart of the poker world. But he was short-stacked almost from the off.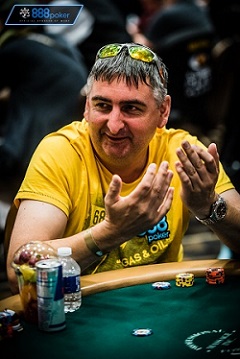 "I went down to around 600 chips which was only eight big blinds. A player put me all-in and I thought 'Oh well, it only cost me $2 entry anyway'. I called with
and I hit a jack on the flop. I can't even remember what he had. I had some chips then and got back to roughly level in chips with everyone else. I knocked a player out, but I couldn't tell you the hand. Three-handed, around a dozen hands later I knocked another guy out. It's all a blur in my mind now. I had 6,000 chips and my opponent had around 2,000. I'm thinking 'Oh my goodness.'"
Neil Box wasn't alone while he was playing. In fact, he was just a few hours from departing on vacation.
"My other half was upstairs packing our bags for a trip to Cornwall and I was downstairs trying to win a trip to Las Vegas. I ran upstairs holding my laptop, I said 'Look at this, Jaclyn.' She said 'What's the matter?' and I told her 'I might be going to Vegas if I knock this guy out.' She just laughed and said not to be silly."
The heads-up battle for the $12,500 package took just two minutes. The entire $2 tournament took 11 minutes for Neil Box to take down the ticket. He can remember that fateful final hand.
"Three hands later, I had pocket deuces and a deuce came on the flop. I remember him betting 300 chips and Jaclyn said 'Go all-in, go all-in!'. I said that if I did, he might fold. I called and a jack came on the turn. He bet 300 again and he had just over 1,000 chips left. I just called again. I think a king came on the river. He bet another 300, leaving around 800 back and I put him all-in. I think he had the king, but a message popped up to congratulate me!"
Suddenly, Neil Box had done it. The golden ticket to the dream was in his virtual hands. Somehow, he slept that night and whilst on vacation, he and his partner Jaclyn processed the news.
"It's brilliant what 888poker have done. People like me would never get the chance to play this event otherwise."
"We went to Cornwall just after I won it around a fortnight ago. I took a screenshot of the congratulations message on my phone. At first I said I can't really afford to go. The spending money is such that we could go away for that. She told me 'Go out there and enjoy yourself the trip of a lifetime, you'll never do it again.'"
On the following Monday, my phone went crazy with emails from 888poker and they put $1,200 into my account for expenses too. It's brilliant what 888poker have done. People like me would never get the chance to play this event otherwise."
A DREAM COME TRUE
Neil Box made his seat for Day 1c, and is having the absolute time of his life, grinning from ear to ear at just discussing the incredible journey he's been on.
"The World Series is brilliant. I brought my cousin out here with me. He came out in September for his son's stag do and asked me to come with him. I told that Vegas didn't interest me and that I'd only go out there for the World Series of Poker. Here I am, so I brought him with me."
Box, like any poker player, isn't happy with simply turning up. He came here with modest plans to tick off achievements throughout his Day 1c experience and see what happens thereafter.
"To win the WSOP Main Event is a dream. My first aim was to win a hand here. I've won a few now; I had a straight, I've had a full house of aces over kings. My second aim was to avoid going out first, which I've managed to do. The next target was to make it to Day 2 and if I can do that, I'd die happy. I only ever play online up to my $11 buy-in on 888poker. They've made my dreams come true."
Box did in fact make Day 2. Be sure to follow his progress here at PokerNews.com.
Be sure to complete your PokerNews experience by checking out an overview of our mobile and tablet apps here. Stay on top of the poker world from your phone with our mobile iOS and Android app, or fire up our iPad app on your tablet. You can also update your own chip counts from poker tournaments around the world with MyStack on both Android and iOS.