The Star Sydney Championships: Aussie Hall of Famer Jason Gray Wins the $5k Challenge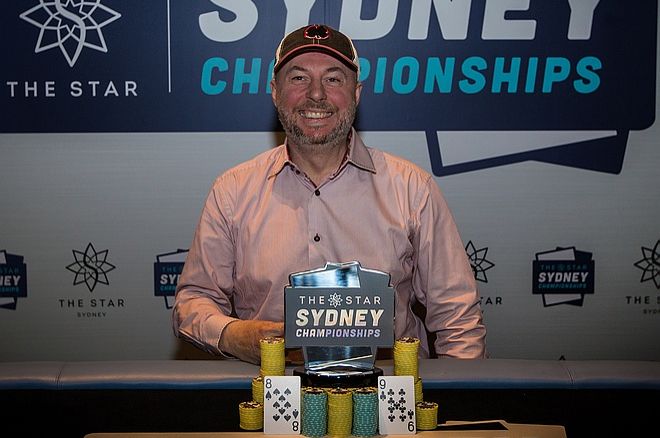 It's still Winter in Australia, but Spring came early for Jason Gray in the $5k Challenge tournament at the Star Sydney Championships. He defeated a field of 142 players to win the event, taking home a welcome AU$188,866 for first place.
Gray was no unknown emerging from the field. He was inducted into the Australian Hall of Fame in 2012, joining 12 other poker legends such as Tony Hachem, Jeff Lisandro and Tony G.
Despite his previous success, this is the first time he has won a live poker tournament in Sydney.
"This may be the first tournament I have won in Sydney," Gray said. "I came second in one about ten years ago but not much apart from that."
The road to victory was not straightforward:
"I was short stacked for most of today," Gray told the Star Poker Live Reporting Team. "I just had to keep patient and find the right spots. It was about trying to survive until the opportunity came along."
The Final Table Saw Big Swings
While Gray was cementing an already solid reputation, second place finisher George "Ninja" Ni was putting the first foot on the ladder. Prior to this event, Ni had less than $6,000 in live tournament cashes.
At the final table, Ni displayed a level of controlled aggression that many players will envy. He managed to acquire much of his stack by tackling the hyper aggressive, but slightly erratic, Michael Addamo, who arrived at the final table as the chip leader.
Addamo's swings were the stuff of poker nightmares, but he still walked away with nearly $62,000 after finishing in fourth place. Ni's second place gave him a payday of $116,728.
Gray Won by Making The Right Decision in a Bad Spot
Going into the heads up battle, Ni and Gray had almost equal stacks, and the first hands saw no real change as chips swapped between stacks fairly equally. The big hand that devastated Ni's stack came in the penultimate hand of the match.
Ni held
and saw a flop of
hit the table. Gray led out on the flop and spade turn with Ni calling each street.
A third spade on the river made for a threatening board, and Ni seized the opportunity to jam the rest of his chips into the middle. With straight and flush possibilities on the table Gray was now in a very tough spot; if he calls and is right, then the tournament is over, but if he calls and he's wrong, Ni would have a massive chip lead.
With a pay difference of AU$70k resting on the hand, somehow Gray pulled out the right decision and called showing two pair, aces and queens, well ahead of Ni's top pair.
The Star Sydney Championships Continue Until August 7
There is still over a week left of poker to be played in the Star Sydney Championships, including a AU$20k High Roller, and the AU$3k Main Event which comes with AU$1 million guaranteed. For players with bankrolls that don't quite stretch that far, there are Main Event satellites running this weekend.
The full schedule can be found on the StarPoker website.
Have you ever wanted to write your own articles about poker? Maybe you've got some experiences or opinions about poker that you'd like to share. PokerNews is proud to launch The PN Blog where you can have a platform to make your voice heard. Learn more here.