Graham Cowan is the Masters Champion at the 2017 Sydney Championships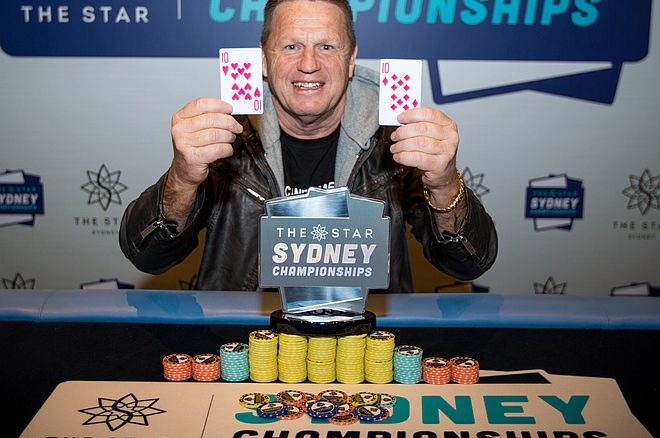 Powerful emotions surround any poker player's first live tournament victory, but for Graham Cowan the emotion was even more intense because his first win has come in a tournament for the over 50s—now that's playing the long game!
The 2017 Star Sydney Championships Masters Event was being run for the first time as part of the annual series which is now in its ninth incarnation. Entry was restricted to players aged 50 and above, and 147 of them registered for the event.
"I've never even come close to winning a tournament before," Cowan told the Star Poker Live Reporting Team. "I'd never even made a final table, so it was pretty special."
The Masters was a 14 Hour Marathon
Play went on for an exhausting 14 hours before Cowan was crowned as champion. The Live Reporting team at the Star made the most of the opportunity for light humor, posting:
"Considering most of our field usually has dinner at around 4pm the players have opted to not have a dinner break. Our remaining players will instead opt for a nap time in our next break!"
Not only had Cowan not won a live event before, he'd never played in an event that lasted so long:
"I've never played for that long before so it was getting hard to stay focused. I just did my best to keep playing my game and making sure I was having fun. The other players were really friendly which made it a lot of fun".
The Action Started Early
Shortly after the first break, one of the most dramatic hands was played out between Dion Slabbers, Trevor Saunders and Peter Robertson.
On a flop of
Slabbers pushed his luck by shoving all-in against his two opponents. To his dismay, both called.
Saunders tabled a pair of red aces
, giving him an overpair and a draw to the Ace high flush. Slabbers shove was based on a combo draw with
providing chances of either the Queen high flush or a straight.
But both players were drawing dead, because the flop had hit Robertson about as hard as it possibly could. He showed his
for a made straight flush, an unbeatable hand.
Final Table Masters at the Masters
The Final Table finally arrived as the last nine players got ready to play down to a champion. Shortstack was Terence Sims on 42,000 chips, while the chip leader was Greg Russell on 376,000. Cowan was not far behind with 352,000 chips.
The early hands saw Sims double up twice and he ultimately finished in 4th. The last lady standing was Patricia Schulberg, and she managed to outlast Sims before going out in 3rd.
That left a heads-up pair of Greg Russell and Graham Cowan to compete for the glory and first prize money.
The most significant hands both involved the
.
First Russell managed a double up holding
against Cowan's pair of tens. Russell avoided the exit after spiking a King on the flop, but the luck couldn't hold to the end.
The next time Cowan held the same pair of tens, Russell held the worst hand in poker,
. Russell was desperately short, so all the chips went in pre-flop and the board failed to rescue Russell again.
After 14 hours of tough play, Cowan can finally boast of winning a live event – poker life can start at 50!
Finding a trustworthy room to play online poker can be a monumental burden. That's all the more true if you're just looking for a place to play poker for free. We've listed five of the best play-money poker sites to enjoy and help hone your skills.