Inside Gaming: Atlantis Readies for Competition in Bahamas from Baha Mar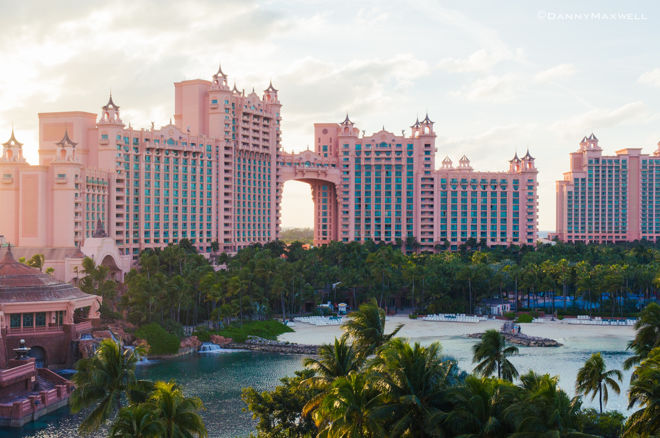 This week's installment of Inside Gaming reports on plans by a couple of different casinos to work on upgrades — one in the Bahamas, the other in Australia — and also shares news of a famed sports bettor being sentenced for insider trading.
Baha Mar Opening Provides Impetus for Atlantis Improvements
It was back in 2011 when the groundbreaking on a new casino-resort in Nassau, Bahamas called Baha Mar first took place. After numerous delays the $4.2 billion property located on Cable Beach that includes three hotels, 2,300 rooms, and a 100,000-square-foot casino is in the midst of multi-phase roll out, with the full opening of all its hotels and other features due next spring.
The first of Baha Mar's three hotels, the Grand Hyatt, opened in April, with the SLS Baha Mar due to open later this year and the Rosewood Baha Mar next spring. In addition to the casino, the resort features 42 restaurants, 11 swimming pools, and an 18-hole Jack Nicklaus Signature Golf Course and Golf Club.
Meanwhile just seven miles to the east the Atlantis Paradise Island Resort is readying for the competition. This week Howard Karawan, president and managing director of the Atlantis, shared with Tribune Business plans to spend "north of $80 million" on property enhancements this year, "with another $50 million likely injected in 2018."
"By the end of next year, every single room in Atlantis [will be] redone," said Karawan, noting also intended improvements also to the physical plant.
In his comments Karawan emphasized the commitment by the Atlantis "to enhance the indigenous experience and provide more economic benefits to Bahamian businesses," including its partnering with "20-30 local companies."
"It's rewarding," said Karawan, "because we are making a difference in the country by supporting these local businesses, and it is also great benefit to our guests, so it's a win-win for everybody."
For many years each January the Atlantis has been the site of the PokerStars Caribbean Adventure — now PokerStars Championship Bahamas.
SkyCity Entertainment to Expand, Seek More VIPs
Speaking of upgrades, a $330 million one to the SkyCity Adelaide Casino in south Australia will finally go forward now that the SkyCity Entertainment Group has given its approval, reports The Advertiser.
SkyCity announced to the New Zealand Stock Exchange on Wednesday "that it has reached a development agreement with the State Government for the upgrade," which will include adding restaurants, bars, and hotel rooms, as well as allocating $10 million to remodel the casino's building. Construction will begin early next year and is due to be completed by mid-2020.
The plans will also importantly facilitate the Adelaide Casino's ability to attract a wider range of high-roller, "VIP" customers.
According to the announcement, SkyCity "will be given greater discretion over who can access its high-roller rooms by allowing to invite up to 1,000 prospective customers." Such premium customers "will be given an 'increased number' of guest passes to the VIP room which has no limit on maximum bets."
As The Advertiser explains, "SkyCity was understood to have demanded the Government abandon scrutiny of its VIP rooms, arguing it should be free to decide which high rollers to reward through its loyalty programs."
The Adelaide Casino first opened in 1985, and in 2000 was sold to the SkyCity Entertainment Group who renamed it the SkyCity Adelaide in 2001.
Famous Sports Bettor Gets Five Years for Insider Trading
Also from week's gaming headlines, yesterday legendary sports bettor William "Billy" Walters was sentenced to five years in prison after being found guilty of being involved in an insider trading scheme, reports Bloomberg.
In April, Walters was found guilty of 10 separate counts of conspiracy, securities fraud, and wire fraud after having made more than $43 million on trades based on information he'd obtained from Tom C. Davis, chairman of Dean Foods.
In addition to receiving a five-year prison sentence, Walters was fined $10 million.
Over several decades as a successful sports bettor, Walters earned both a considerable fortune and a reputation for betting and winning big, including once winning $3.5 million betting on the Super Bowl. The 71-year-old built a large business along the way that included real estate, golf courses, and car dealerships.
Professional golfer (and occasional sports bettor) Phil Mickelson was drawn into the case at one point as he, too, netted significant sums from related trades made in 2011 and 2012. Mickelson avoided any charges, though agreed to pay back over $1 million made from those trades.
According to Bloomberg, "U.S. District Judge P. Kevin Castel described Walters as a rich Las Vegas celebrity who sought to exploit his relationship with Davis out of pure greed and to be seen as a winner."
"Billy Walters is a cheater and a criminal, and not a very clever one," added Judge Castel. "The crime was amateurishly simple."
Davis has pleaded guilty and still awaits sentencing. During Walters's trial, Davis explained how he had "passed on information because Walters provided him with loans of almost $1 million that he needed to pay off gambling debts, cover failed investments and finance a bitter divorce."
Among the more than 100 supporters penning letters advocating leniency for Walters were professional golfers Jim Colbert and Peter Jacobson, retired tennis star Andre Agassi, and ex-Senate Majority Leader Harry Reid.