Inside Gaming: Optimism in New Jersey Despite July Revenue Decrease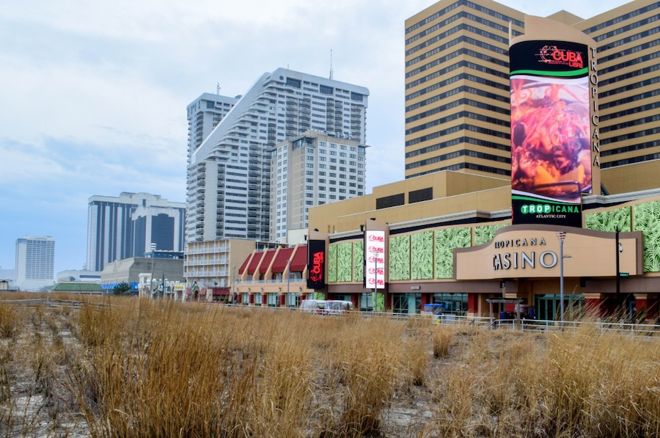 This week's installment of Inside Gaming looks first at the most recent revenue figures for New Jersey, tells of a new community college gaming training program, reports on a new poker room opening in Vegas, and shares a recently declassified report regarding a Donald Trump casino bid down under that went south.
NJ Decrease in July, But Current Operators Up Nearly 10 Percent for Year to Date
Casinos in Atlantic City endured a 2.7 percent decrease in July, reports the New Jersey Division of Gaming Enforcement. Even so, the numbers for the year have given some observers cause for optimism looking ahead.
The total gaming win — including both casino and online gaming — totaled $267.9 million in July, down from $275.3 million in revenue for Atlantic City casinos in July 2016. Casino gaming was down 4.1 percent overall, while online gaming was up 18.5 percent (from $17.4 million a year ago to $20.6 million).
However, looking only at current operators — i.e., not counting the Trump Taj Mahal that closed in October 2016 — the casino win was up 2.9 percent.
Looking at the year-to-date totals, the Atlantic City casinos are collectively ahead of last year's pace, with a total gaming win of almost $1.59 billion for the first seven months of 2017, a 2.4 percent increase over the just over $1.52 billion from Jan.-July 2016.
And again, only looking at current operators paints an even brighter picture, showing a 9.8 percent increase in total gaming win among the seven casinos when comparing year-to-date totals.
David Rebuck, director of the New Jersey DGE, found that figure encouraging, according to the Press of Atlantic City.
"While there are fluctuations in monthly revenue, it is encouraging that Atlantic City's current operators' casino win figures are up nearly 10 percent for the year so far, illustrating that overall, there is continued stabilization in the industry," said Rebuck.
As several outlets reported this week, New Jersey passed the $600 million milestone for online gambling revenue since the first sites were launched in late 2013. July marked the fifth-straight month of $20 million-plus revenue from online gambling in NJ.
Massachusetts Community College Offering Casino Industry Training
Bristol Community College in Fall River, Massachusetts has opened a unique "Gaming Lab" designed to train students to become workers in the casino industry, reports CBS Boston.
The school had to obtain certification from the Massachusetts Gaming Commission to begin the program, the first of its kind to be offered in the state.
"We are so excited now to have this ability to offer gaming training," said Bristol Community College President Laura Douglas. "We are ready for this and it really does mean a lot that the gaming commission has blessed our institution and... our curriculum."
The program covers casino gaming and operations, hospitality, tourism, security surveillance, and the culinary arts.
Students spend three semesters studying the industry on campus, then during a fourth will spend 200 hours in the hands-on casino "lab" located at the Silver City Galleria mall in nearby Taunton.
Westgate Opens New Poker Room
The Westgate Las Vegas Hotel — home of the wildly popular pro football handicapping contest, the Westgate Las Vegas SuperContest — has recently opened a new poker room situated in the old "Fan Cave" in the sportsbook.
A "soft opening" of the new six-table poker room came last week, reports CardsChat.
After purchasing the Las Vegas Hotel and Casino in 2014, the Westgate closed the small poker room. The LVH had opened and closed the poker room on a couple of occasions before that as well, though the Westgate's Poker Room Supervisor David Fried expressed hopes to CardsChat for better fortune with the room this time around.
"It will be word of mouth at first, but I think people will find out pretty quickly about us," said Fried, noting that the close proximity of the new room to the sportsbook is well-timed with the coming of a new NFL season.
Open daily from 8 a.m. to 2 a.m., the room is currently offering low-stakes no-limit and fixed limit games, with pot-limit Omaha also available. Small buy-in daily tournaments are part of the plan going forward as well.
The Guardian Reports Details of Rejected Late '80s Trump Bid for Sydney Casino
Finally, last week we were reporting in this space how a company representing of President Donald J. Trump had filed for trademark applications in Macau, including one for gambling and casino services and facilities. The filing of such applications would indicate either a potential future investing interest or an intention to guard against others using the Trump logo or brand in Macau.
Not to inundate you too much further with Trump-related news, but this week there's yet another gaming-related story involving the casino-mogul-turned-politician, as The Guardian has shared a feature this week provocatively titled "Trump's bid for Sydney casino 30 years ago rejected due to 'mafia connections.'"
As the headline suggests, a proposal by Trump to build what would have been Sydney's first casino was rejected by the state treasurer after reports from the police board expressing concerns about such links and describing Trump's group (and two others) as potentially "dangerous." The police board report went on to advise government officials to avoid trying to replicate the model of gaming growth then being demonstrated by Atlantic City.
The New South Wales government rejected the bid in early May 1987. The documents chronicling the decision only just were made public under rules declassifying NSW cabinet papers after 30 years.
Photo: "The Boardwalk" (adapted), Hilary Halliwell, CC BY 2.0.
Finding a trustworthy room to play online poker can be a monumental burden. That's all the more true if you're just looking for a place to play poker for free. We've listed five of the best play-money poker sites to enjoy and help hone your skills.