L.A. Poker Pro Oddie Dardon Chases WPT Legends Title on His Home Turf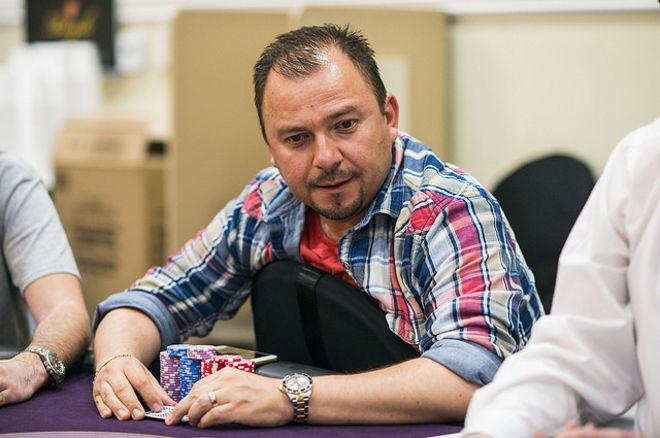 Osmin Dardon, better known as "Oddie" (pronounced OH-dee), has been a dominant force in the L.A. poker scene for quite some time and is currently attempting to make his mark on the World Poker Tour as chip leader entering Day 3 of the $4,000 Legends of Poker Main Event.
The Guatemala native has called California his home since the late 1980s and now lives in Hollywood, California. Dardon has poker results dating back to 2005 and over $2.3 million in total cashes.
Finding Poker
Dardon told PokerNews he got into poker "by accident." More than ten years ago, he went out for dinner and drinks in L.A. with a friend who suggested they go play poker. "In Vegas?" Dardon asked his friend.
You see, Dardon had never played poker before and did not even realize there were casinos right there in L.A. They ended up going to a local casino and he sat down to a $3/$6 Limit game.
"I guess I was kind of annoying at the table. I didn't know when it was my turn, I didn't know when it was my time to bet or whatnot. And I remember I upset this older gentleman because I wanted to keep betting and betting, and he kept saying, 'It's not your turn.'
Then he said, 'Hey you big shot, if you really want to play for more money, go to the other side,'" meaning the higher limit area.
"In five days I was playing the biggest stakes there was at the local casino ... And I had no idea what a kicker was."
"Long story short, in five days I was playing the biggest stakes there was at the local casino, which was $100/$200 Limit. And I had no idea what a kicker was."
"I remember playing these pots for thousands of dollars, and they would go like 'He's got a better kicker' and I would go like, 'Better what?' I had no idea."
Pretty soon, Dardon switched to no-limit.
"Because when I was playing limit, I cannot describe how annoying I probably was at the table... I always wanted to bet it all. And then they said, 'Go to no-limit if you want to bet it all.' So that's what I did."
Dardon has been playing poker ever since, and luckily for him, he's gotten better with time. He started playing full time in 2007 and has been a winning player for years. He admits that only in the past three or four years has he treated poker as a business, tracking his wins, losses, and expenses, and it has made all the difference.
"In poker, I've had my ups and downs. I've been very lucky that I have a wife that supports me and we have a great business."
Poker Resume
Dardon's breakout year was 2008 when he got not one, but two six-figure scores. In June of that year, he placed third in a $1,500 World Series of Poker event with over 2,000 entries for $243,734. Four months later, he added a half million-dollar score, again taking third place. This time, it was in the $15,400 WPT Championship in Las Vegas and he finished behind Nam Le and event winner Bertrand "ElkY" Grospellier.
His next several years were relatively quiet, but steady. His next big year was 2015 when he again had two six-figure scores. He won the Card Player Poker Tour Big Poker Oktober Main Event at The Bicycle Casino where he outlasted a field of 521 to take down the $155,850 top prize. That win came three months after he won the Larry Flynt Grand Slam of Poker for $100,000 also in the Los Angeles area.
Most recently, Dardon took down a $1,180 Venetian Deepstacks event for $311,664 in July and earlier this month placed tenth in the $5,250 SHRPO Championship for $61,303. Dardon told PokerNews he decides what tournaments to play based on value, which is what took him to Florida for SHRPO. He was clearly disappointed with bubbling the final table, but remains optimistic.
"I had a deep run. Hopefully this one is the one."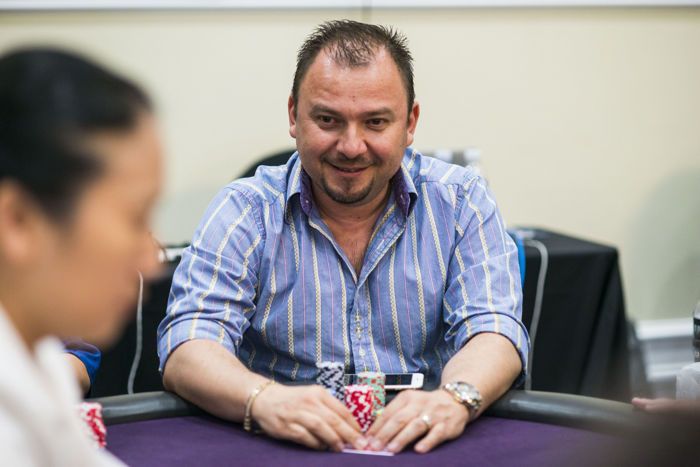 Life as an L.A. Poker Pro
Dardon called The Bike his "home turf" and said about the venue, "I love playing tournaments here. It's one of my favorite places."
The fact that he has had a six-figure win here probably contributes to those positive sentiments as well.
"I spend most of my time at the poker tables because she runs the whole operation."
His wife is a dentist and they own a dental practice. "I spend most of my time at the poker tables because she runs the whole operation," he said with a laugh.
Dardon smiled as he told the story of meeting his wife, Rachel, nine years ago at a restaurant in Los Angeles. They will be celebrating their third wedding anniversary soon.
Outside of poker, he loves traveling. In fact, after he "hopefully wins this one," he and Rachel are heading on a well-needed vacation after two long months of poker to her hometown in El Salvador for two weeks. Some extra travel money would be nice.
Chip Leading on Day 2 of WPT Legends of Poker
Dardon busted on Day 1b but bagged 160,000 on Day 1c. He took a big chip lead early on Day 2 after flopping set over set to double up, and at the third break of the day, he was the overwhelming chip leader with more 570,000. He credited his early chipping up to making a lot of great hands against people who just had good, but second-best hands, and also to having position on some very aggressive players.
"Everything's going my way today. Hopefully it continues!"
His Day 2 table was packed with poker talent and chips. He had Ben Ludlow, Jared Jaffee, and Day 1 chip leader Cody Slaubaugh to his right. Also at the table were Scott Clements, Valentin Vornicu, Michael Kamran, and second in chips to start the day, Mel Wiener.
Dardon's presence at the table was calm and collected, even as the chips were flying. At one point, Vornicu complained to Dardon across the table, "Every hand you've played is against me."
Dardon's response in a sincere, deadpan tone was, "And I'm rooting for you every time."
William Kassouf Joins the Fray
To make things even more interesting, just before dinner break, the famed William Kassouf took the seat of an eliminated Ludlow immediately to Dardon's right, and even before he sat down had this to say:
"Oh! It's the feature table! Look at this lineup. All the bosses at this table. I've got the worst seat. The chip leader on my left. The boss."
Dardon was still the chip leader at dinner, and PokerNews caught up with him.
When asked if the presence of Kassouf would change the table dynamics, Dardon responded.
"Well absolutely. I mean the table is probably going to get noisier now. I got my headphones ready."
In the level after dinner break, Kassouf tweeted about the table, which had already changed quite a bit in personnel, and about a nine-high bluff by Vornicu.
WPT LOP Just been moved to the sickest table with all the bosses and @mblasterx who's just bluffed a pot with 96o… https://t.co/l4y04zPvnl

— William Kassouf (@WilliamKassouf)
Also in the level after dinner, Dardon eliminated Mel Wiener when he flopped the nut straight against the second-nut straight for a big pot that extended his chip lead even more. Wiener was also the first victim in the set-over-set cooler earlier in the day.
Dardon finished the day still at the top of the counts with 775,000 chips (194 big blinds), in good position to battle for the title eight from the money going into Day 3.
Chasing the WPT Title
Dardon seems very content in his life as a poker professional in Los Angeles with his wife of three years, enjoying the great poker action and weather.
The only thing missing?
"I've been, I guess we can call it chasing, a WPT title for a while. I made [a final table] some years back at the Bellagio. Finished third in that one. But hopefully, you know, we're waiting for that moment to pick up that trophy."
Images courtesy of WPT/Flickr
Be sure to complete your PokerNews experience by checking out an overview of our mobile and tablet apps here. Stay on top of the poker world from your phone with our mobile iOS and Android app, or fire up our iPad app on your tablet. You can also update your own chip counts from poker tournaments around the world with MyStack on both Android and iOS.