Making the Call: Poker Players Chip in to Help Texas Hurricane Victims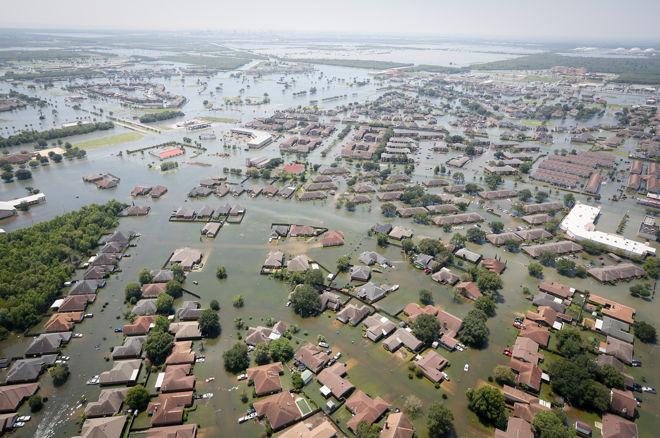 It was a surreal few days for David "ODB" Baker. As he battled it out at the World Poker Tour's Legends of Poker at the Bicycle Casino during the final days of August, the Texan and longtime poker pro's thoughts were elsewhere. He was making a deep run, but focusing on straights and flushes proved difficult as Hurricane Harvey zeroed in on south Texas.
Baker's Conflict
Baker's ex-wife Renee and 14-year-old daughter live in Katy, just outside of Houston, and were escaping the flood waters that covered much of the region.
"The waters hit the door of the house, so we got them on a boat and taken out of the house before it flooded," he said as the waters were rising for many in the area. "They are currently safe at a neighbor's house they didn't know before yesterday. We don't know the extent of the flooding in the house yet."
As Houston and other communities in south Texas struggle to rebuild and find some sense of normalcy after Hurricane Harvey, some in the poker world were either directly affected or know others who were – and have been trying to rally others to donate and help out.
At the WPT tournament in California, Baker went on to finish 11th for $31,500. However, poker was certainly not his main priority.
"It was tough to concentrate, but I tried my best," he said. "They are safe and that's all that matters. Possessions and the house can be repaired or replaced."
He expressed his divided state of mind via Twitter during the event.
Physically at the Bike for day 2 of Legends with 58k, mentally back in Houston with family and friends

— David Baker (@audavidb)
Dealing With the Aftermath
Like many Texans, the Bakers' home received extensive damage and they face big and costly reconstruction projects.
"The entire downstairs is wrecked and has to be completely redone," he said. "We don't have flood insurance and it's going to cost a lot of money to clean and rebuild. We are hoping for some FEMA relief, but this could take quite a while. I am assisting them but the expense will be great. It's kind of scary depending on the government at this stage considering what is going on everywhere."
Despite the future headaches, Baker is simply happy that his family is alive.
"Renee is scared of the whole process but at this point, my job is to keep her spirits up," he said. "We are lucky. They are safe, and her job didn't get flooded. She has amazing friends that have taken her in and provided a comfortable shelter."
More Texas Pros Pitch In
Longtime Houston poker player Ray Henson's home sustained little damage, but some of his friends weren't so lucky. Several players reached out to help victims on a personal level, Henson said, with many efforts led by Chance Kornuth.
"I didn't have too much time to be on social media, so didn't even see a lot of the poker players' efforts to try to reach out and help," Henson said. "But I'm pretty good friends with Chance. I told him that he should do something on a more personal level. He agreed and I got him in contact with some friends that literally lost everything. The cars will be covered on insurance but their entire house is a loss.
"It's been quite amazing and there has been an overwhelming amount of love the poker community has shown during all this"
"And to make matters worse, when they evacuated, some looters came through and stole all the valuables they took upstairs. I feel really bad for them because they have a kid and have to start all over again, but there have been quite a few people reach out and help them. I know there are several stories like this, but they are pretty good friends so it's more personal to me."
Henson has also been helping to deliver donations of clothes, cleaning supplies, and items for children. At the time of his interview, Henson was dropping off some clothes to a 2-year-old girl donated by a poker player.
"It's been quite amazing and there has been an overwhelming amount of love the poker community has shown during all this," he said.
Mina Greco was fortunate. Her home was okay, but she was helping a friend whose neighborhood was flooded. They evacuated together when the waters began to rise.
"The reservoir released its water down this entire neighborhood and caused every home to flood," she said. "I was staying here until we had to evacuate. It needs repairing from top to bottom."
Like many, Greco's friend has already begun demolition work with the help of a big group of friends. Sheetrock and flooring have been stripped out and a cleanup effort is already underway.
Support Around the Poker Community
Other players are helping the situation in Texas as well. Through social media, many have committed a percentage of their winnings to hurricane relief. Others have even donated pet food for hurricane victims' displaced pets.
So far @suganills @vinpahuja @BobBrady2 and myself all committed 5% of @BorgataPoker cashes to Harvey relief efforts. Who else is in? #BPO

— Asher Conniff (@misterashmoney)
Another Houston-based poker pro, DJ Alexander, was playing in the same WPT Legends of Poker event as Baker, and while his family was not directly affected, he pledged early on in the tournament to donate 5% of his winnings in the event to Hurricane Harvey victims. His fourth-place finish was worth $161,490, which also meant a nice contribution going to the relief efforts.
Houston's Mint Poker Club will also be holding a special Hurricane Relief Tournament on Sept. 16 at 2 p.m. in support of J.J. Watt's Hurricane Harvey Relief Fund, which has so far raised almost $31 million. The event will also benefit local first responders.
For seven days, popular poker clothing brand Run Good Gear also donated a large percentage of sales to hurricane relief in Texas.
No doubt many in the poker world will be ready to assist Floridians in need as Hurricane Irma bears down on the state. Despite the damage in Texas, Baker is amazed at the resiliency of those affected and how Texans and other Americans have chipped in to help.
"The whole area is coming together to help each other," he said. "We as a country can learn a lot from the people of Houston and the surrounding area. Hopefully our government will put party politics aside and come up with funding needed to rebuild one of the best cities in the country."
Images courtesy of David Baker and Mina Greco
Everybody needs an account at one of these online poker rooms! They're the biggest, the best, and we get you the best poker bonuses. Check out our online poker section for details on all the online poker rooms around.