Hurricane Irma Impacts Poker Plans in Caribbean, Southern Florida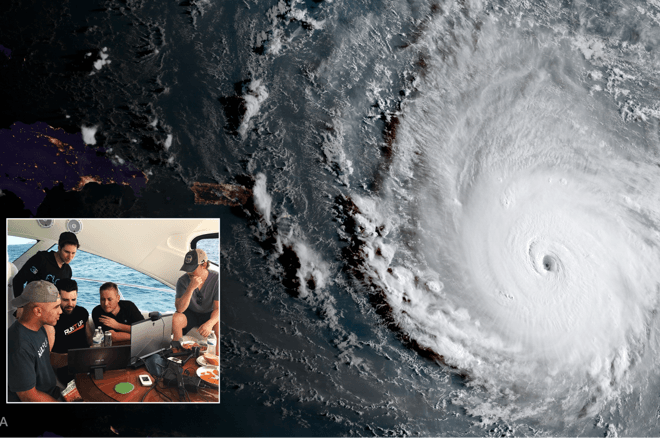 According to news sources on Wednesday, Hurricane Irma is currently a Category 5, which is the highest possible on the hurricane scale, with winds reported at 185 mph. It has been called one of "the most intense storms on record" and is tied for the second strongest storm ever in the Atlantic Basin.
Irma has ripped through the Caribbean and is heading towards Puerto Rico, on track to pass near or just north of the island. While it is still unclear whether or not it will touch the US mainland, forecasts show it could turn toward Florida over the weekend, and authorities urge residents to evacuate.
Poker Streaming Plans in Caribbean Derailed
Bill Perkins' "Streamboat" project which took some top poker streamers to his yacht in the Caribbean in the spring, was all set to sail this month for some streaming of WCOOP on "Streamboat2."
Jaime Staples posted a Vlog documenting his evacuation from the Caribbean on a private jet (thanks to Perkins). In the video, he tells viewers, "We just want to get back to Streamboat2, get on the boat, start streaming WCOOP. But there's a storm in the way."
Jaime and Matt Staples are featured in the video evacuating to New York. Jeff Gross and Kevin Martin were also scheduled to be streaming poker from Perkins' yacht in the British Virgin Islands, but according to Perkins' Twitch channel, the next stream is "unknown due to hurricane Irma."
WSOP Circuit Event Cancelled
After damage sustained by Sonesta Maho Beach Resort & Casino in St. Maarten, Caribbean Wednesday, the property has cancelled all reservations now through the end of 2017.
That includes the World Series of Poker International Circuit stop that was scheduled to take place at the resort from Nov. 1-15.
The resort released a statement saying, "The damages to Sonesta Maho Beach Resort & Royal Casino are severe, as is widespread damage and destruction on our beloved island of Sint Maarten. Severe damage has also occurred at Princess Juliana International Airport, and we do not have news as to when the airport will resume operations."
According to TK Poker Events, all prepaid reservations for the event will be refunded. The property hopes to rebuild as soon as possible and rescheduling of the event will depend on that process.
Florida Poker Prepares for the Worst
WPT Deepstacks reported on its website that the event that was to be held at the Seminole Casino Hotel in Immokalee, Florida from Sept. 1-10 has been cancelled "due to the potential impact of Hurricane Irma on South Florida."
According to WPTDS, they will be working with their partners at Seminole Casino Hotel Immokalee to reschedule the event at a later date.
As Irma's exact path through the weekend remains in question, Floridians are preparing for the worst. It is unclear at this time how other poker plans may be impacted in the region, but players are advised to check weather forecasts and plan accordingly.
For an updated list of poker rooms closing in Florida, visit this week's edition of Inside Gaming.
Photo courtesy of Cayobo/Flickr
Finding a trustworthy room to play online poker can be a monumental burden. That's all the more true if you're just looking for a place to play poker for free. We've listed five of the best play-money poker sites to enjoy and help hone your skills.