Richard Roeper Shares Poker Movie Picks, Thoughts on 'Molly's Game'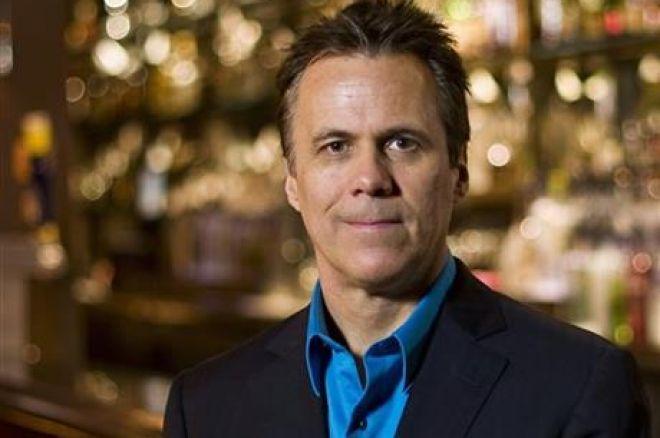 Poker and the movies have had a rocky relationship. There were some good times (think Rounders) and some very bad times (think Lucky You).
And it's no wonder there is excitement around the November release of Molly's Game. It might not be the next Rounders, but it certainly has the promise to give an exciting glimpse into our beloved game.
Ahead of Molly's Game hitting theaters on Dec. 25, PokerNews caught up with Richard Roeper, columnist and film critic for the Chicago Sun-Times and former co-host of At the Movies, with Roger Ebert.
Roeper's Review Process
According to the Motion Picture Association of America, the average number of movies released in the United States is about 600, and while Roeper sees about 400 of them, he reviews far less.
"The number of films I actually review is closer to 250. A little-known part of the job: in addition to the two or three major Hollywood releases that come out nearly every weekend, there are about 12-15 smaller films to sift through. Usually, I screen five or six of those, and then select two or three to review."
It seems inconceivable that there are 250 films to get excited about, so we asked Roeper how he approaches a film when he has little interest in it.
"Nearly every week, there's a film I'm less than thrilled about seeing. Still, I try to have the same approach to every single film. As the lights dim and the movie begins, I'm rooting for it to be good. I'm hoping a seemingly subpar project will surprise me. I keep an open mind throughout the screening.
"I'm often pleasantly surprised by a movie. For example: Bad Moms. I figured it was going to be a suburban, mommy ripoff of Bridesmaids. It turned out to be really funny and also kind of sweet, in its own way."
Poker Dabblings
One of the reasons we wanted to reach out to Roeper is he also happens to be a poker player. He's made appearances on Poker Night in America and even has a WSOP cash from placing 24th in 2013 in Event #9: $3,000 No-Limit Hold'em Shootout.
When we asked him how much poker he plays, we got the feeling Roeper wanted to respond, "not enough." Instead, he talked about his seat in a Chicago home game and a desire to hang out in Vegas more.
"I play in a monthly house game that's been going on for 15 years. Lots of fun and some pretty good poker talent. I also play in as many charity tournaments as possible — in Chicago and from time to time in Vegas. I've played in a handful of WSOP events over the years (had one cash a few years back). Because the movies never have an 'off-season,' it's tough for me to block out more than a few days to play poker, but I'm hoping one of these summers I can take two or three weeks off and play in six or seven WSOP events."
As a poker-playing film critic, Roeper is uniquely qualified to talk about the good and the bad of poker in film. So we asked him to share his favorite and least favorite poker movies.
Poker Movie Review
"I know everyone says 'Rounders,' but there's a reason for that — the screenwriters and the director clearly knew the game. (And the performances were great.) The Cincinnati Kid is a solid poker movie from back in the day. Sadly, some great movies with poker scenes have some pretty ridiculous poker. The poker game on the train in The Sting is filled with inaccuracies. And the poker showdown in the James Bond movie Casino Royale is ridiculous."
Like most poker players, Roeper has some gamble in him and not just at the poker table either. In 2010, he wrote the book, "Bet the House: How I Gambled Over a Grand a Day for 30 Days on Sports, Poker, and Games of Chance." So just how much of a gambler is he?
"I've been fascinated by gambling since I was in my teens. I love poker because it's a game of math and strategy and instinct and reading your opponent — and then there's that often exciting, often infuriating element of luck. I'm also an avid sports bettor. Not for huge stakes, but I've been betting on football and other sports for years."
Molly's Game
Knowing he's going to be paying attention to the poker scenes, we asked Roeper what Molly's Game would need to do to make it on his list of all-time great poker movies.
"My guess is Aaron Sorkin will remain true to Molly's actual story but will also create something original and unique. Honestly, I think it has a very good chance of becoming one of the greatest poker movies of all time. Partially because poker is much more of a mainstream game than it was in past generations, and far more people know the basic rules and strategy of the game — so the filmmakers have to make it much more realistic and plausible than old-timey poker movies."
The Molly's Game trailer has set high expectations for the film, and most of the poker community is waiting in anticipation for its release. We asked Roeper if he thinks, Molly's Game will live up to the hype.
"Absolutely! I found the book fascinating. And I'm especially excited to see the movie because the great Aaron Sorkin is the writer/director, and the cast includes some of my favorite actors: Jessica Chastain, Kevin Costner, Idris Elba. I recently exchanged emails with Jessica about the movie. She says Sorkin's work was extraordinary."
Sorkin and extraordinary seem to go hand-in-hand which automatically makes this film a must-see. November is just around the corner, and yet it seems so far away.