partypoker Reveals New, Beefed-Up PLO Schedule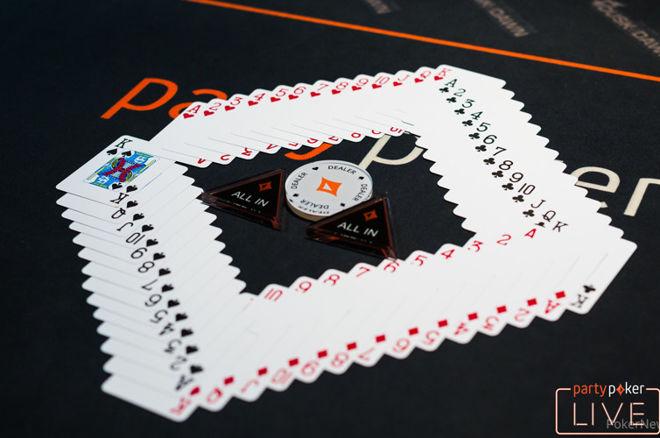 While the partypoker live operations team busies themselves hosting the Caribbean Poker Party Festival, with its millions in guarantees, the online team continues to revamp the offerings on the virtual felt in response to player feedback.
The latest changes come in the form of a new, beefed-up pot-limit Omaha weekly schedule released on Friday. The new schedule features 25 daily tournaments with combined weekly guarantees totaling nearly $180,000. The tournaments run nearly around the clock each day, ranging from $5.50 with a $500 guarantee to $109 with a $5,000 guarantee during the week. Many guarantees are pumped up on Sunday, topping out at $7,500 for the $109 buy-in.
Furthermore, all of the tournaments will run with six-handed tables.
"The schedule has been in place for a few days now and the feedback from PLO specialists has been positive," partypoker officials said in the schedule's release.
It's the latest move in a continuing effort by partypoker to cater to player feedback in operations decisions. Most recently, the company ended a long-running policy of charging dormant accounts a small monthly fee.
GVC, parent company of partypoker, has seen their moves bear fruit both monetarily, in the form of revenue increases, and through industry and player plaudits. The team wrested Operator of the Year honors from rival PokerStars after a dominating three-year of victories by the red spade.
Here's a look at the revamped PLO schedule on partypoker:
| Time (EST) | Time (U.K.) | Tournament | Buy-in | Weekday Guarantee | Sunday Guarantee |
| --- | --- | --- | --- | --- | --- |
| 02:30 | 07:30 | Featherweight: $500 Gtd | $5.50 | $500 | $500 |
| 04:30 | 09:30 | Featherweight: $500 Gtd | $5.50 | $500 | $500 |
| 05:30 | 10:30 | Featherweight: $500 Gtd Turbo | $5.50 | $500 | $500 |
| 06:30 | 11:30 | Featherweight: $500 Gtd | $5.50 | $500 | $500 |
| 07:30 | 12:30 | Featherweight: $500 Gtd Turbo | $5.50 | $500 | $500 |
| 08:30 | 13:30 | Featherweight: $500 Gtd | $5.50 | $500 | $500 |
| 08:30 | 13:30 | Middleweight: $1K Gtd | $22 | $1,000 | $1,000 |
| 09:30 | 14:30 | Featherweight: $500 Gtd Turbo | $5.50 | $500 | $500 |
| 10:30 | 15:30 | Featherweight: $500 Gtd | $5.50 | $500 | $500 |
| 10:30 | 15:30 | Middleweight: $1K Gtd | $22 | $1,000 | $1,000 |
| 11:30 | 16:30 | Featherweight: $500 Gtd Turbo | $5.50 | $500 | $500 |
| 12:30 | 17:30 | Featherweight: $750 Gtd | $5.50 | $750 | $1,000 |
| 12:30 | 17:30 | Middleweight: $1.5K Gtd PLO | $22 | $1,500 | $2,000 |
| 14:30 | 19:30 | Featherweight: $1K Gtd Turbo | $5.50 | $1,000 | $1,000 |
| 14:30 | 19:30 | Middleweight: $2K Gtd | $22 | $2,000 | $2,000 |
| 14:30 | 19:30 | Heavyweight: $5K Gtd | $109 | $5,000 | $7,500 |
| 16:30 | 21:30 | Featherweight: $750 Gtd Turbo | $5.50 | $750 | $1,000 |
| 16:30 | 21:30 | Middleweight: $1K Gtd Turbo | $22 | $1,000 | $2,000 |
| 17:30 | 22:30 | Featherweight: $500 Gtd Turbo | $5.50 | $500 | $500 |
| 18:30 | 23:30 | Featherweight: $500 Gtd | $5.50 | $500 | $500 |
| 18:30 | 23:30 | Middleweight: $1.5K Gtd | $22 | $1,500 | $1,500 |
| 18:30 | 23:30 | Heavyweight: $2K Gtd | $109 | $2,000 | $2,000 |
| 20:30 | 01:30 | Featherweight: $500 Gtd Turbo | $5.50 | $500 | $500 |
| 20:30 | 01:30 | Middleweight: $1K Gtd Turbo | $22 | $1,000 | $1,000 |
| 21:30 | 02:30 | Featherweight: $500 Gtd Turbo | $5.50 | $500 | $500 |