Poker Star Wars: The Greatest Grinders in the Galaxy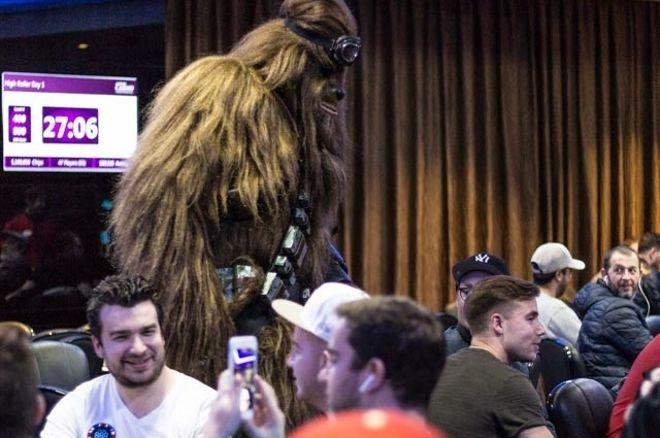 Stars Wars nerds (including this author) eagerly awaited the new chapter in the series, The Last Jedi, and the new film will soon top $500 million in worldwide ticket sales. With a tip of the cap to George Lucas's space opera and just for some fun, PokerNews takes a look at Poker Star Wars. Which poker star fills the role of your favorite Star Wars-inspired characters? Here's just a little fun for the holidays.
Luke Skywalker (Daniel Negreanu)
Kid Poker fits the bill well here — the young prodigy breaking into the poker world with amazing skills. Want a little irony? Luke traveled a long way from his home desert planet to join the rebel alliance. Daniel becomes a bit of a rebel — leaving his hometown north of the border to settle in the desert of Las Vegas. While Daniel leaves the cold winters of Toronto behind him, Luke eventually makes his way to the snowy planet of Hoth, home of the rebel base in Empire Strikes Back.
Luke stumbles and changes along the way, learning to control his emotions. Daniel goes broke a few times in Sin City before big breakthroughs in the WSOP and WPT. Luke may have The Force, but Daniel has The Reads — a Jedi with cards, if you will.
No word if Daniel has his own lightsaber.
Han Solo (Phil Hellmuth)
Solo was always a little bit of a wild card. And with his rants, foul language, and occasional unorthodox play at the tables, Phil Hellmuth plays the rogue in the poker world. Who could forget that scene at the table in the bar in Star Wars: A New Hope?
Han wasn't about to let the crazy foreigner with the thick accent get the best of him at the table. Greedo gets wasted and sent to bounty hunter heaven. Make a "wrong" play against Phil, face his wrath as well.
Always a businessman, Solo was quick to let you know his record time in making the Kessel Run when smuggling a shipment. The Poker Brat? He's got no qualms in telling you about the pots he's shipped as well — and the latest celebs he's hanging with.
Yoda (Doyle Brunson)
A young Luke Skywalker seeks out this crusty veteran of the Force to learn about its mysterious ways. Still regularly Tweeting his wisdom and advice at age 84, Doyle has the skills and his own version of the Force at the tables. The two are quite the dichotomy in physical appearance. Yoda maxes out at what, two feet? The Godfather of Poker towers at 6 foot, 2 inches. But don't underestimate either.
Despite his stature, Yoda can raise an X-wing from the swamp and make it fly. Doyle can win back-to-back WSOP Main Events with ten-deuce. He also uses his skills to pick off bluffs from players half his age.
The Force is strong in this one.
Princess Leia (Jennifer Tilly)
Beauty, brains, and each can handle any situation. Leia may have a tiara, but Jennifer has a bracelet. Never afraid to mix it up with the boys, both have a quick wit and not afraid to call someone out. Leia certainly knows how to use a blaster — and Jennifer can wreak some of her own havoc with bullets.
Relationships? They both have their own roguish gamblers — Leia has a smuggler and Jennifer has the Unabomber.
C3PO (Allen Kessler)
Always calculating the odds of disaster, complaining about entering an asteroid belt, and always the negative voice in the room, the Chainsaw seems like the right fit to play this golden-domed droid. Both always have an opinion.
C3PO:
Chainsaw:
And they even kind of look alike.
Boba Fett (Phil Ivey)
Everyone's favorite bounty hunter has a cool ship and a cool suit. He's a man of few words and always ready to get the upper hand — and make a few bucks in the process. Phil Ivey seems like the right guy.
Boba Fett is smart and elusive — seen and not heard. Phil didn't even play the WSOP in 2017! You might not hear from him, but you better beware. Your chip stack may just get frozen and whisked away like a cryo-frozen Solo.
The bounty hunter catches his prey — plenty of chips.
Darth Vader (Chris Ferguson)
Every fantasy needs a bad guy. Most poker players would say Chris Ferguson fits the mold. With law enforcement calling Full Tilt Poker a "pyramid scheme" and owners using player funds as their own personal ATM machine, the feds blew up the company like the rebels blew up the Death Star. Ferguson became the dark figure in the poker galaxy.
Ferguson's legacy continues to upset poker fans with moves like winning WSOP Player of the Year, not apologizing for his role in the Full Tilt scandal, and that hairdo that makes him look like a member of '80s rock band Night Ranger or Cinderella. Vader wears a black helmet-facemask contraption. Ferguson sports a black cowboy hat, which was also the sign of a bad guy in cowboy movies.
Both are equally destructive when they put their minds to it. Who can forget the fight scene between Luke and Vader in Empire Strikes Back. Vader amputates Luke's entire hand with his lightsaber, sending it falling away into deep space. Vader gains the upper hand and is the face of the dark side. No slouch himself, Ferguson has done his own bit of slicing. Playing card — meet banana.
Take that! He even sounds a little like Vader in that one.
***
R2D2, Jabba the Hutt, Kylo Ren, Chewie, even that hammerhead-looking guy from the cantina scene — there are tons of crazy characters in the Star Wars universe. Poker certainly has its characters as well. Which players do you see playing some of the heroes and villains throughout the galaxy?
Sean Chaffin is a freelance writer in Dallas, Texas, and the writer and host of the new "True Gambling Stories" podcast, which makes its debut as part of the PokerNews Podcasting Network on Jan. 31. The show will feature unique stories from poker and gambling lore. For more on the show, follow on Twitter @GamblingPod and on Facebook @TrueGamblingStories.
Have you ever wanted to write your own articles about poker? Maybe you've got some experiences or opinions about poker that you'd like to share. PokerNews is proud to launch The PN Blog where you can have a platform to make your voice heard. Learn more here.