What New Year's Resolutions Did 888poker Ambassadors Make?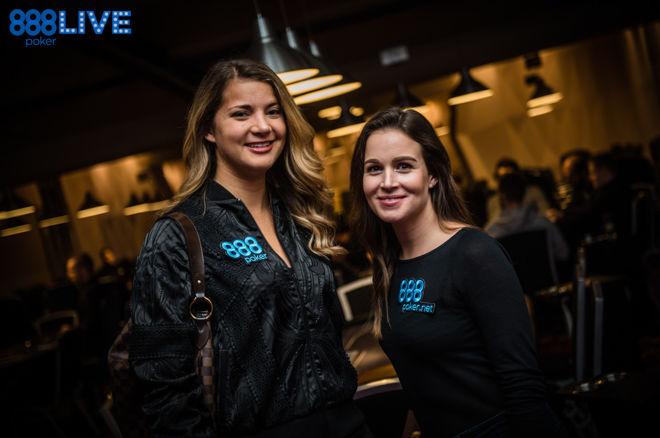 It is not uncommon for people around the world to set themselves goals and challenges when a new year begins. Poker players are among those who regularly set themselves targets for the coming year and members of the 888poker ambassador team have publicly released their ambitions for 2018.
Reflecting on the Previous Year
The start of a new year is also a time for reflecting on the previous 12 months and it seems that the 888poker ambassadors are happy with how 2017 panned out for them. Chris Moorman was particularly happy about winning a World Series of Poker bracelet.
"I feel good about my 2017," said Moorman, "as I won my first WSOP bracelet, which had been a long-term goal of mine for the past 10 years. To finally get the win was an amazing feeling."
Both Natalie Hof and relative newcomer to the 888poker stable Vivi Saliba were also happy with how poker went over the past 12 months, mostly because of how their game had transformed after putting in plenty of hours away from the tables.
Sofia Lovgren achieved most of her goals, namely playing at least 20 days per month in cash games, but fell short of winning a live event; this will roll over to Lovgren's 2018 goals.
Goals, Targets and Ambitions for 2018
It should not be surprising that all of the 888poker ambassadors questioned in their emagazine are looking to continue improving their poker skills in the coming year. Poker is a game that constantly evolves and if you're not always learning and improving, you're going to get left behind by those who are, which is a disaster if you play the game professionally.
Dominik Nitsche highlighted the importance of making alterations to your poker skill set sooner rather than later.
"I never know what to say when people ask me about my New Year's resolutions. I never try to change anything in my life simply because it's a New Year. Anything I want to change, I try to change as quickly as possible rather than wait for a New Year to begin. So, if you define resolutions as my goals for the immediate future, I'd have to say it's just to continue studying and improving at poker. My goal is also to keep putting a lot of volume in high roller events."
Others in the 888poker stable are looking to make changes to their lifestyle during 2018, changes that could help them play better.
Both Hof and Parker "tonkaaa" Talbot hope to take up meditation, while Lovgren hopes to make more videos of her travels, not lose her cell phone or passport and improve both her piano playing skills and continue to learn the Chinese language.
Which 888poker Ambassador Will Have the Best 2018?
Seven of the 888poker ambassadors were asked who, aside them themselves, did they think would enjoy the best year on the felt in 2018. Five of them answered with Nitsche, with the other two giving Saliba the nod.
Talbot said his choice wasn't even close. "Dominik. Easily Dom. He probably plays the most, studies the most, and is far and away the best 888 Ambassador."
Kara Scott mirrored Talbot's sentiments. "I'm going to say Dominik. He's on such a great roll after winning his fourth bracelet at the One Drop event. He's always so committed to playing well and like all great players, he isn't complacent about his skills. I really admire that. In fact, it's a trait I see in a lot of the 888 ambassadors!"
Hof was full of praise for Saliba and believes 2018 is her year to shine. "I think our newest teammate, Vivian, will have a glorious future in poker. She is such a lovely girl, working hard on her game, wanting to grow so much. So I would love to see her running super-hot in poker."
All of the 888poker ambassadors plan to travel a lot during the coming year, as would you if you wanted to play in all of the biggest poker events around the world. Moorman, Scott, and Saliba will be present and correct in many of the 888live events around the globe, and almost all of the pros will be heading to Las Vegas for the 2018 WSOP.
Play against the 888poker ambassadors by qualifying for 888live events at 888poker. Download 888poker via PokerNews and when you create your new account you will receive a free $88 worth of cash and tournament tickets — this is a free £20 in the United Kingdom. When you come to make your first deposit, 888poker matches it 100 percent up to a maximum of $888.
Finding a trustworthy room to play online poker can be a monumental burden. That's all the more true if you're just looking for a place to play poker for free. We've listed five of the best play-money poker sites to enjoy and help hone your skills.