The Muck: Remembering the Good Old Days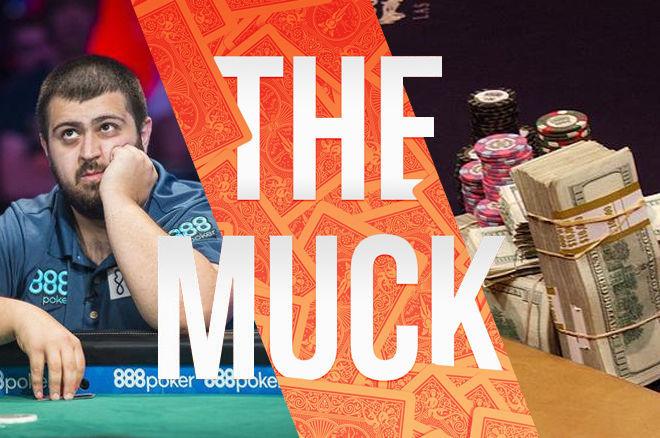 Poker, like most things, continues to evolve. Many players are classified by when they started playing (pre- or post-Chris Moneymaker), how they play (Gut instinct, Math, or GTO), and their poker spirit animal (fish or shark).
It's always fun to take a look back at poker back in the day and hear the stories from the legends in the game. In fact, at PokerNews we love looking back so much we do a throwback to the good old days on many Thursdays.
But it wasn't until we saw a tweet from2017 World Series of Poker Main Event Champion, Scott Blumstein, that we really started thinking about the things we love and miss about the game.
I know its cliche but I really wish I could take a trip back to when I first fell in love with poker. I used to liv… https://t.co/mx28kiWumU

— Scott Blumstein (@SBlum2711)
It's probably fair to say that if you've been playing poker for any length of time, there's something about poker that has you thinking fondly about the good old days.
Maybe, you miss seeing a favorite player regularly take to the felt.
Or maybe, it's the bricks of cold hard cash.
#PokerAfterDark has seen it all, but "Tupperware Money" is definitely uncharted territory. @PhilLaak, @elielezra1,… https://t.co/2z4vswG0sJ

— PokerGO (@PokerGO)
And we weren't the only ones that took a deep sigh after reading Blumstein's tweet and started taking a trip down memory lane. Here are just a few of the replies that came in response.
@SBlum2711 When I started playing in LV, it was at the Stardust, the only place you could find a game, which was lo… https://t.co/LgmHagXSNW

— Neil Blumenfield (@nrb1)
@Kevmath @EricDanisPoker @SBlum2711 TS, the good ole days. Played a 230$ tournament and sidebet @Jet5087 where we c… https://t.co/hjebew1DRc

— Christian Harder (@realcharder30)
@SBlum2711 I used to drive 8 hours from DC. Me and several friends would rent 1 hotel room and sleep in shifts so w… https://t.co/AJdAAbNNOY

— Max Steinberg (@MaxJSteinberg)
@SBlum2711 I was washed up by the time you went there for the first time. Blows my mind. I felt like I got into t… https://t.co/jaH7PZ6Y0i

— Jimmy Fricke (@jvfricke)
@SBlum2711 Playing a $5 tourney every night at midnight and eventually winning it for 1k, but all my friends were a… https://t.co/9G9zavP7iG

— Amanda Baker (@Mandy22Baker)
@SBlum2711 This is a fun thread. One of my earliest memories of Poker Love was @Ko_Daniel1 and I driving in the mid… https://t.co/IhLGBguWDo

— BraudaBlowup (@AppstOnSome)
Who can forget the teaching videos from the good old days? Not Matthew Parvis, who reminded us of these gems in response to Ingram's tweet from above.
You know what we miss? We miss online poker in the U.S., watching Stu Ungar play, and when the WSOP prize money fit on the table. While we love the bigger prize pools, there's something pretty awesome about playing cards next to a stack of bricks.
But most of all, we also miss WSOP final tables at Binion's Horseshoe Casino. Those walls were witness to the game in its heyday. It was the first to cover their sawdust floors with carpet and the first to offer free drinks to players (thanks, Horseshoe!). Oh, the good old days.
It sort of makes us wonder what Johnny Lodden thinks.
While writing this article, one thing became crystal clear ... the good old days conjure up feelings in all of us. That and the fact that the age of players sharing memories of the past makes us feel really old.
Do you have a story about the good old days - a story that made you fall in love with the game? Ready. Set. Share.