Kristen Bicknell Defeats David Peters to Take Down APPT High Roller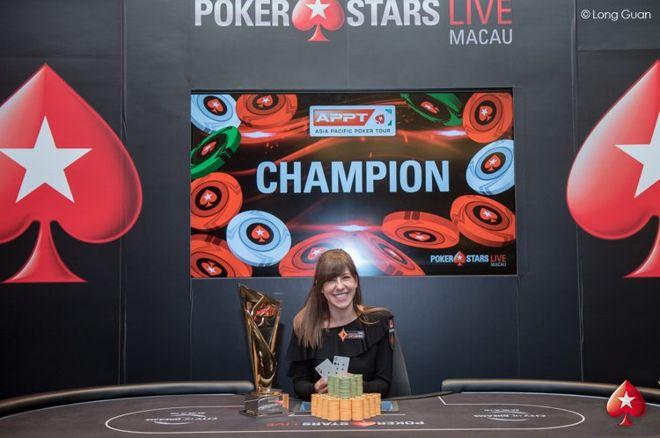 Team partypoker's Kristen Bicknell has defeated David Peters to win the HK$80,000 ($10,200) Asia Pacific Poker Tour High Roller.
Bicknell came out on top of a 117-entry field, which made for a total prize pool of HK$8,714,160 (just over $1.1 million).
A total of 17 players finished in the money, coming from all over the world with the final table on St Patricks Day. Among the players to cash, but not reach the final table, were such familiar faces as Luc Greenwood, Rainer Kempe, Jan-Eric Schwippert, and Michael Addamo.
"What drives me is definitely competition, I'm just always trying to get better as a player," Bicknell told the crew in Macau.
"Women are crushing this year; it's pretty insane!"
"I want to do well to represent women in poker, and that drives me a lot. It kind of motivates me to compete with all the guys. And showing that, you know, women are welcome in this industry, I think is a big step; the more women that play and do well it should hopefully turn things around," Bicknell continued.
"Women are crushing this year; it's pretty insane!" Bicknell said, reiterating on comments made earlier about the state of poker in 2018 with more women taking down titles than ever before.
"The money is one aspect, and it's great for poker, but it's really not what drives me that much. It's really the competition and me feeling comfortable to play against the best players in the world. It really is fun for me. I just love poker, and it's fun! So if I can keep making money and doing this; I'm happy."
| Position | Player | Country | Prize in HK$ | Prize in US$ |
| --- | --- | --- | --- | --- |
| 1 | Kristen Bicknell | Canada | HK$2,192,000 | $279,549 |
| 2 | David Peters | United States | HK$1,480,160 | $188,767 |
| 3 | Klaus Pautrot | France | HK$963,000 | $122,813 |
| 4 | Felix Daniel Schulze | Germany | HK$797,000 | $101,642 |
| 5 | Hong Zhu | China | HK$643,000 | $82,003 |
| 6 | Matthew Moss | United Kingdom | HK$507,000 | $64,658 |
| 7 | Yong Wang | China | HK$388,000 | $49,482 |
| 8 | Allan Bedwick | United States | HK$292,000 | $37,239 |
| 9 | Alex Lindop | England | HK$218,000 | $27,802 |
Finding a trustworthy room to play online poker can be a monumental burden. That's all the more true if you're just looking for a place to play poker for free. We've listed five of the best play-money poker sites to enjoy and help hone your skills.