Poker Player Streams on Twitch for 1,000 Hours in 125 Days Straight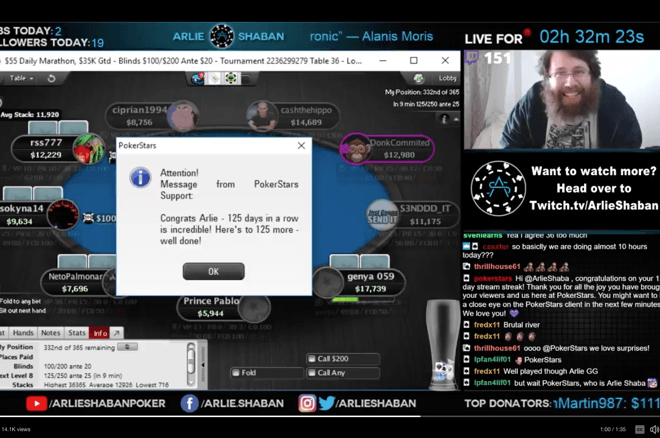 Arlie Shaban is not a familiar name — except maybe to Big Brother Canada fans — but after the crazy streaming milestone he just hit, you might want to remember his name and follow him on Twitch.
That milestone? He streamed his online poker sessions on Twitch for 125 consecutive days, streaming for a total of 1,000 hours. It all started on November 6, 2017. He planned out the feat and hit the ground running.
But while November marked the start of his streak, June 10 marked the real beginning of it all, the day Shaban decided he'd be pursuing poker as a full time profession.
"I always knew I was going to give streaming a shot," the former reality TV contestant told PokerNews. "I started obsessing over twitch and I decided that if I was going to be a streamer I wasn't going to half ass it."
And so it all began.
Starting up my 1st @TwitchPoker stream in 1.5hrs! @KevinRobMartin @jaimestaples @MattStaplesPKR @spraggy @EasyWithAces TY for paving the way

— Arlie Shaban (@ArlieShaban)
But why 1,000 hours? The initial plan, according to Shaban, was to do 50 days straight of streaming eight hours on average, which was a goal he set even before his first stream. In fact, Shaban even checked with Guinness Book of World Records, inquiring whether streaming eight hours per day for a whole year would register as a recognized feat.
"I applied three weeks before my first stream, but unfortunately it was denied," Shaban said.
Still, he soldiered in. By day 62 he had reached 500 hours of total streaming and that's "when it clicked." It was in that moment his game plan changed.
"I was aiming for 100 days at that point but thought that's only 800 hours and 1,000 hours is so close," he said. "I used 100 days as a decoy and didn't tell anyone my true intentions until the end of day 100."
So then he continued on to his new goal.
"One thousand hours in 125 days adds up to a perfect eight hours per day," he said. "I really enjoy numbers and statistics, and when I saw all the stats align like that I just set the goal and went after it."
And then the day finally came. On Saturday, March 10, Shaban reached his goal. He hit 1,000 hours after streaming for 125 consecutive days.
This is by far the most difficult thing I have ever done in my life! My very first @TwitchPoker stream was Nov. 6/2… https://t.co/1a95DWlCWX

— Arlie Shaban (@ArlieShaban)
He even explained a little bit about his habits during this long stretch posting a timeline of his sleep, workout, hygiene schedule.
But how much did he lose? Of course, that's what you're thinking. But in an Instagram question to Arlie, he answered that in fact, he won "$10K during that time."
To honor his achievement, PokerStars even created a tribute video.
Hey @ArlieShaban we put together a little something from your 125th consecutive stream, we hope you like it as much as we like you! ♥ pic.twitter.com/u1vpZXoOcC

— PokerStars (@PokerStars) March 13, 2018
When he started this personal challenge in November 2017, Shaban had roughly 140 total Twitch subscribers. Now he's nearly approaching 7,000. One of our personal favorites was this clip from January. Just watch because it's pretty epic.
There could potentially be another big stream project from Shaban in the near future as he said that right now he's relaxing, unwinding, and regrouping so that he could "then formulate a new plan of attack once I have a clear head."
As for celebrating the feat, he didn't exactly throw a party.
"I have just slept," he said. "My body was donezo."
He is planning one "nice treat" for himself though: a trip to Run It Up Reno at the end of March. After that, be on the lookout for Shaban to target, and likely crush, another big poker goal.
Everybody needs an account at one of these online poker rooms! They're the biggest, the best, and we get you the best poker bonuses. Check out our online poker section for details on all the online poker rooms around.