Card Collecting: WSOP Champ Blumstein Earns Topps Honor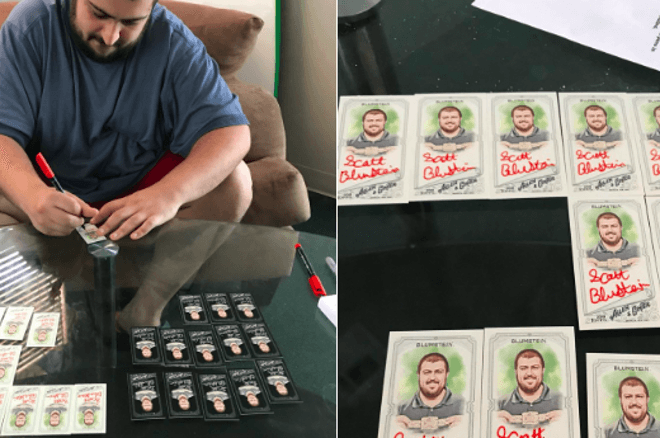 As a teenager, World Series of Poker Main Event champion Scott Blumstein was quite the sports fan. An offensive lineman for the Morristown High School Colonials in New Jersey, his love of sports carried over to card collecting. Blumstein even worked in a card shop after school for three years – hocking rookie cards, displaying those rare finds for collectors and ringing up sales.
Many can probably relate to his thrill of opening that latest pack – hoping for a rookie Joe Montana or Ken Griffey Jr. Or better yet, maybe you'd be one of those lucky collectors to snag a promotional card autographed by an MLB, NFL or NBA superstar.
Now a decade after stocking those shop shelves, Blumstein has been signing his own trading cards to be stocked in boxes of packs of the 2018 Topps Allen and Ginter Baseball set. The brand incorporates an antique look in its 350-card set, and according to Beckett.com, "The checklist is predominantly baseball players past and present, but this wouldn't be a modern Allen & Ginter set without some cards from outside the sport. The brand celebrates champions from other sports and areas of a much broader pop culture."
Blumstein: "I both sold and collected cards growing up, so to be able to be a part of the product is really special"
That includes poker, and for this card-collecting poker champ, it's a dream come true to be featured alongside stars of the diamond-like Mike Trout and Derek Jeter.
"It's pretty surreal," Blumstein told PokerNews. "I both sold and collected cards growing up, so to be able to be a part of the product is really special – especially being in the same pack as my favorite baseball players."
A few lucky collectors will unwrap a Blumstein card with his signature as he recently displayed on Twitter.
Poker Trading Card Trend
This isn't the first time Topps has added poker players to its lineup. Blumstein actually becomes one of several players to make the cut to a trading card. 2016 Main Event champion Joe McKeehen was also featured, as was Annie Duke in 2012 as part of the Topps set. Both were available on eBay last weekend for under $10 – without the signature.
Through the years, poker has been a regular feature for card companies looking to capitalize on the game's popularity. Well-known players have been featured in packs and sets by companies including Upper Deck, Leaf, and others.
In 2006, Razor Entertainment even released a 76-card set exclusively of poker players in the height of the poker boom. Many are still available on the resale market with cards of popular players like Antonio Esfandiari, Carlos Mortensen, Daniel Negreanu, Erik Seidel, Greg Raymer, Jennifer Harman and Chris Moneymaker.
As part of its set featuring Blumstein, Topps has some other cards that stray quite a bit outside of the baseball world including features like the World's Greatest Beaches, Magnificent Moons and the World's Hottest Peppers. So if you don't land that autographed Blumstein, you may take home a nice jalapeño or ghost pepper instead.
Looking to build a nice collection of Main Event winners after snagging a McKeehen and Blumstein? There are some easy and affordable resale options online. After all, a Phil Hellmuth isn't quite as rare as that T206 Honus Wagner, which has sold for millions of dollars. A little budget collecting is possible.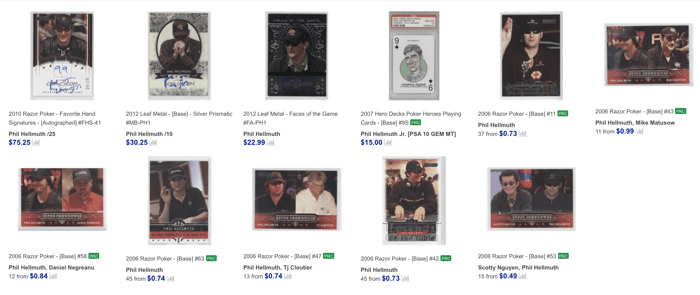 A quick online search will show that a collector can easily purchase a Moneymaker, Joe Hachem, Mortensen, Greg Raymer and Phil Hellmuth, all for a total of about $10.
Maybe you're looking to expand that collection even more? A 2009 trading card featuring 2000 Main Event champion, Full Tilt Poker founder and 2017 WSOP Player of the Year Chris Ferguson will set you back all of $2.95, a pittance of what you may have had frozen on the FTP site.
Unfortunately, not every Main Event winner has been immortalized with a trading card, so don't count on adding 1994 champion and alleged UltimateBet cheater Russ Hamilton to your collection. Sometimes it just seems impossible to complete a set!
Sean Chaffin is a freelance writer in Dallas, Texas, and the host of the PokerNews Podcasting Network's newest podcast True Gambling Stories. To listen, click here.