Interview Sunday Million Winner "Daenarys T" ($1,000,044): "I'm Still in Shock!"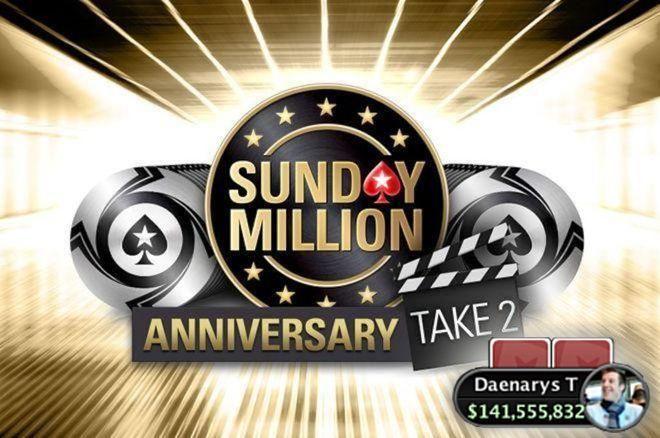 Want to win a million dollars with online poker? You better be pretty good at poker. For cash games, you likely need to play at the highest levels, whereas in tournaments, you need to play a lot, be very good, and have a ton of fortune to boot. If you want to do it in a single tournament, well, there are just a few chances a year to do so. One of them was the PokerStars Sunday Million Anniversary Take 2 this past Sunday and Monday, and Dutchman "Daenarys T" was the one to accomplish it!
We spoke with the 24-year-old full-time poker player from Amsterdam. Although he prefers not to have his real name mentioned publicly, he fully opened up about the biggest score of his poker career.
Online, "Daenarys T" was mostly a tournament player before focusing on PLO cash games. Lately, he decided to make the switch back to his former love. His Sunday session was his third or fourth session since rekindling his passion for tournament poker. He admitted he's become more lazy after moving to Amsterdam, playing mostly live instead of grinding online.
"I was truly stressed at the final three and two tables, as well as the final table. I almost fainted, man, I went totally crazy."
On the first day, the focus wasn't even on the Sunday Million for long and "Daenarys T" admitted he wasn't paying that much attention. "I had to play a final table and wasn't really paying attention to the Sunday Million. It went well; I had a large stack, but I can't remember much more aside from that. Nothing specific comes to mind. The reason was mostly that this past Sunday, I had my biggest ever online score up until that point, $19,000!" That amount is relatively small compared to the $1,000,044 he'd win a day later, but on Sunday, the $109 Bounty Builder, where he'd eventually finish in second place, had priority.
When the Sunday Million resumed on Monday, there was no stress at the start, even with just 735 out of 56,130 players remaining and $1,102 already locked up. That all changed once players started busting in rapid succession and "Daenarys T" was building his stack. "I was truly stressed at the final three and two tables, as well as the final table. I almost fainted, man, I went totally crazy!"
While playing for those amounts might be stressful, it didn't result in a scared-like approach. On the contrary: "I've kept on pounding because everyone was insane scared money. I played ridiculously aggressive throughout the entire day." Even though never playing for these amounts of money, "Daenarys T" wasn't scared money himself: "I was just playing my game and won a lot of all ins. I lost quite a few of them as well, but I won every important one. That was nice."
The level of opposition didn't impress him much at the final three tables: "In my opinion, there weren't that many good players left. Everyone was just folding all the time. I simply clicked raise and everyone folded. I was playing ridiculously aggressive, and it worked; everyone was scared money."
"Daenarys T" dwindled down to a shorter stack at the final two tables and had to adjust his game slightly. At the start of the final table, he was short as well, and tighter play became the norm. "It was a very surreal experience; every time someone got eliminated, I received a hundred thousand dollars more. That's pretty extreme. I don't know man; I thought it was pretty sick. It's the first time I made such a big final table, so it was exciting in that regard."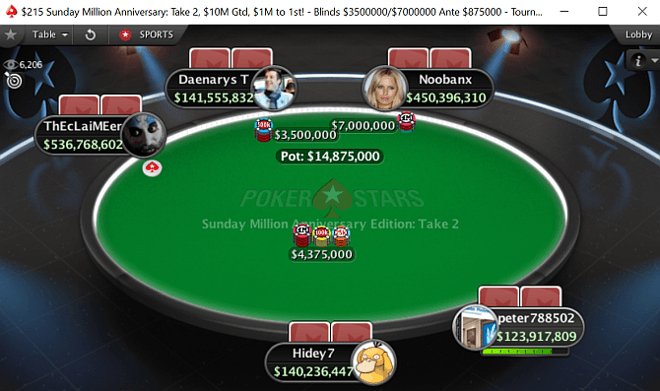 From the moment play got down to three-handed, "Daenarys T" could bring out his favored aggressive game again. Heads-up, he was facing Rick "ThEcLaiMEer" Trigg, a British regular. There was no deal, even though the difference between winning ($1,000,044) and second ($715,335) was substantial. This was mainly because of PokerStars demanding at least $225,000 to be left to play for heads-up. This way, "only" $60,000 was left to deal for. "That's a lot of money, but not that much relatively to what we already had locked up. In the end, I simply thought 'this guy is truly bad, let's just play.'"
"I just clicked raise the entire time and everyone folded."
The fact that, if he'd win, he could say he'd won a million dollars also counted as well. It turned out to be the right choice when looking at the results. "Heads-up I simply crushed that guy. He's a good tournament player; he was the only regular left at the final three tables, but heads-up isn't his specialty while I'm relatively strong there I think. I was also running really well; I had it over with in about fifteen minutes."
What happened next reads like something out of a movie script. "Daenarys T" was overcome with joy, and screamed as he ran through his house. Upon returning, he said goodbye to his railbirds at Skype and ended up in tears. Next, he called his girlfriend and cried some more. His girlfriend insisted he only call her up if he'd finish fifth or better, making up for the lack of sleep. "I called her and woke her up, in shock, so happy!"
Fifteen minutes later, his roommates came home and he had some beers with them. He walked his dog after. That night, he only slept one hour. The night after wasn't much better with just two hours of sleep. The adrenaline was still raging throughout his body.
"It was a very surreal experience; every time someone got eliminated, I received a hundred thousand dollars more.
His avatar, a picture of Dutch cult hero Tim "FysioTim" Hendriks, brought some extra attention. Hendriks himself tweeted a lot about it, and the story on his picture even appeared in the Dutch mainstream media. "I don't really know him," Daenarys T said of Hendriks. "I just thought it was funny to have that picture. It's just a funny picture.". Even though the avatar brought him good fortune, he's not planning on keeping it. "I'm going to change it again, he's received enough attention for now."
With a million dollars in his PokerStars account, and soon to be in his bank account, life has taken a sudden turn for the Dutchman. Being part of a backing deal, "Daenarys T" received 49% of first place prize money himself — still a massive amount. Where some people might consider their options first, "Daenarys T" made his first large purchase already: he's wearing a brand-new Rolex around his wrist. He's not really a connoisseur and wasn't able to tell which model it was from the top of his head. Or maybe it was because of the lack of sleep because he's still stunned by the win. "I'm completely broken, man, I'm still in shock!"
Next week, "Daenarys T" will fly to Ibiza with his girlfriend. Upon returning, the SCOOP awaits and after that, plans are still up in the air. He's considering playing on his own dime online as opposed to having a backer. Live, there's less doubt in his mind: "Live, I'm definitely keeping a backing deal. I'm already playing €1k, €2k, €4k tournaments live; money can go really fast that way."
There are no specific live tournaments planned on his calendar just yet, but one tournament where he likely won't appear is the WSOP Main Event. With the Dutch government forcing a 30.1% tax on tournament winnings in the United States, playing the fabled event doesn't seem like the smartest investment to "Daenarys T."
Maybe we'll see him in some other live tournament here in Europe. Who knows. Remember, if you find yourself sitting at the table with someone wearing a brand-new Rolex, chances are it could be "Daenarys T"!
Sunday Million Anniversary Take 2
| | |
| --- | --- |
| Date | April 22 |
| Buy-in | $215 |
| Guarantee | $10,000,000 |
| Entries | 56,310 |
| Prize pool | $11,262,000 |
| ITM | 9,296 |
| Place | Player | Country | Prize |
| --- | --- | --- | --- |
| 1 | Daenarys T | Netherlands | $1,000,044 |
| 2 | Rick "ThEcLaiMEer" Trigg | United Kingdom | $715,335 |
| 3 | Noobanx | Mongolia | $505,818 |
| 4 | peter788502 | Bulgaria | $357,667 |
| 5 | Hidey7 | United Kingdom | $252,910 |
| 6 | Mike180373 | Russia | $178,834 |
| 7 | Sholkey989 | Mongolia | $126,456 |
| 8 | kaizerdrea | Norway | $89,418 |
| 9 | Rippedut | Canada | $63,229 |
---
PokerStars' players have plenty more opportunities to win potentially massive prizes as the Spring Championship Of Online Poker (SCOOP) begins on May 6 and lasts until May 21. A total of $65 million is guaranteed across the festival, including a trio of Main Events costing $109, $1,050, and $10,300 that have combined guaranteed prize pools weighing in at $6.5 million.
---
The Stars Group is a majority shareholder in iBus Media